Besides being an avid bibliophile, Vivek loves food and cats. An accidental writer, he indulges and wishes there was more time to write and read. A Bombay boy through and through, the sea is one of his loves. Men are also a part of his existence on and off. Vivek believes in the complete providence of fate. So Now You Know is Vivek's debut book, releasing with Penguin in December this year.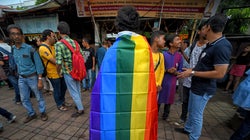 SOPA Images via Getty Images
In his memoir, Tejuja writes how books, from classics to comics, helped him forget the bullying at school.