Tanay Sukumar is a satirist-turned-journalist, and a Teach For India alumnus. Earlier, he founded and edited an international award winning satirical website. He writes on http://tanaysukumar.in.
A government keen to invest in lies is not something that history has not warned us about.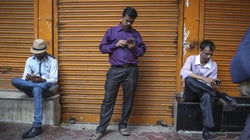 WhatsApp forwards are turning our brains into sludge.
SIGN UP FOR THE DAILY BRIEF FROM HUFFPOST INDIA
Get our top news delivered to your inbox every morning, Monday to Friday. Newsletters may offer personalized content or advertisements. Learn more