Shilpi Choudhury
Chief Storyteller and Co-Founder at Lemonade in Summer
Shilpi Choudhury is the Chief Storyteller and Co-Founder at Lemonade in Summer, a Bangalore-based Design and Communications Startup. She writes on Startup Life, Entrepreneurship, Marketing & Advertising. Shilpi is an English Literature Graduate from Hansraj College, Delhi University and a Post Graduate in Fashion Management from National Institute of Fashion Technology (NIFT), Bangalore.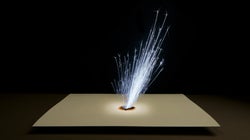 While "cute" in advertising is associated with kids and toddlers, this ad leverages cuteness through the exact other end
Thanks to our camera-enabled smartphones, we have become the selfie generation. We love to be clicked, we love to show off and we love to share on social media. And brands are lapping up this trend. Moving beyond the simple tactic of "use our product, post a selfie", they are looking for new ways to capitalize on the selfie syndrome.