Sampad Swain
CEO & Co-Founder, Instamojo Technologies Pvt. Ltd.
Sampad Swain is popularly known as one of the first movers in the financial technology space in India. He launched Instamojo in 2012 along with Akash Gehani, Aditya Sengupta and Harshad Sharma. The product was an instant success. Since then, Instamojo has helped more than 200,000 individuals and small businesses to expand the market for their products and services in a cost efficient manner. Prior to launching Instamojo, Sampad ran his first start-up, Wanamo which enabled hyperlocal SMEs in digital marketing via e-coupons, which was successfully acquired in 2010. Thereafter, he worked on a business model for small entrepreneurs in the ad-tech domain with Akash, Aditya & Harshad. Soon the idea was shelved in 2012 and together took over Instamojo, which Sampad had been running as a personal project on the side. Sampad has conceptualized, built and promoted Instamojo, to make it India's largest on-demand payments and e-commerce platform. It has simplified the payment ecosystem for thousands of entrepreneurs across India, who struggle with low financial literacy and technological know-how. In 2012, Instamojo was one of the first startups from India to join the prestigious 500 Startups Silicon Valley Accelerator Program. It has also been featured as one of the hottest startups by Economic Times in 2015. Sampad is from Bengaluru, the IT capital of India. In his free time, he likes to play football. He also enjoys watching basketball and is a Poker enthusiast. Sampad has an MBA from IFCAI Hyderabad and a Bachelor's Degree in Technology in Electronics. He believes that every business idea deserves to be on the Internet to grow. But very few can. He also believes that technology married with design & distribution can positively change the lives of millions of people. Sampad is enthusiastic about mentoring newcomers to the dynamic fintech space. He holds trust, transparency and accountability in high regard — both internally & externally.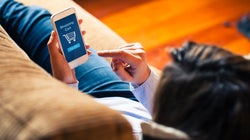 The technology is available and it is becoming cheaper by the day.