Rachel Fairbank
On Assignment For HuffPost
Rachel Fairbank is a freelance science writer based in Houston, TX. Her work has appeared in publications such as the Houston Chronicle, Rice Magazine and Lifehacker. When she is not writing, she can be found spending time with her family or training at her local boxing gym.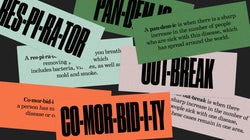 Illustration: Yenwei Liu/Damon Dahlen/HuffPost
Pandemic vs. outbreak? Social distancing vs. stay in place? Here's a glossary of common COVID-19 phrases and what they mean.