graduate of NYU with a BA in journalism and Baruch College Zicklin School of Business with an MBA in marketing, Mary Kearl is a professional writer and digital marketer with 11+ years of experience. She's written for AOL, Forbes, SheKnows, and many other publications, websites, and brands. You can learn more about her on http://marykearl.com/. Feel free to connect on Twitter @marykearl, https://twitter.com/marykearl, and on LinkedIn, https://www.linkedin.com/in/marylkearl/.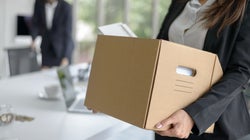 Domepitipat via Getty Images
The already-cruel blow feels all the more painful given the time of year.