Kimberly Zapata
Guest Writer
Kimberly Zapata is the creator and voice behind Sunshine And Spoiled Milk, a blog dedicated to motherhood and mental health. Her work has appeared on HuffPost, The Washington Post, Scary Mommy, Babble, The Mighty, YourTango, Yahoo! Health, MomBabble, Mamalode, Romper, Bonbon Break, in Lose The Cape: Never Will I Ever (and then I had kids!), and in So Glad They Told Me: Women Get Real About Motherhood.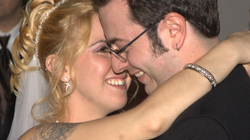 Courtesy of Kim Zapata
I have, and live with, an illness that society still struggles to understand.