Katie Tastrom
Guest writer
Katie Tastrom is a lawyer, writer, sex worker, and activist. Her work focuses on disability, sex work, and sexuality. Her writing has been featured on bust.com, Everyday Feminism, and The Body is Not an Apology, and lots of others. Find out more at katietastrom.com.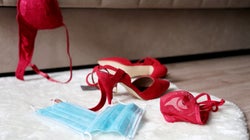 Oleg Elkov via Getty Images
Here I am, trying to figure out whether it is safe to start seeing clients again.