Julian Shen-Berro is a student at Columbia University, where he is the Managing Editor of The Eye, Columbia Daily Spectator's weekly long-form magazine.
ASSOCIATED PRESS
After living her entire life in the public eye, Vanderbilt died from stomach cancer on Monday.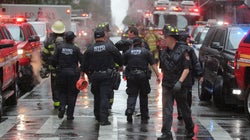 Brendan McDermid / Reuters
In a press conference at the scene, New York Gov. Andrew Cuomo (D) said there is no indication this was anything more than an emergency landing.