Angela Hui is a freelance reporter for HuffPost UK Lifestyle, covering food and drink, health, wellbeing and travel. She loves crisps, like really loves crisps.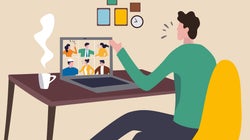 Nuthawut Somsuk via Getty Images
It sounded like a dream but with the lines between work and home life blurring, it's time to set boundaries.