Gavrielle Jacobovitz is a politics fellow at HuffPost, based in Washington. She is the deputy lead story editor of The Eye, the longform magazine of the Columbia Daily Spectator, and has previously worked at NBC Owned Stations, covering national news, and Capital Community News, reporting on local D.C. news. Gavrielle can be contacted at gavrielle.jacobovitz@huffpost.com.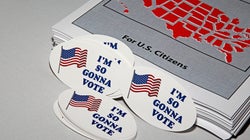 Paul Zimmerman via Getty Images
Lawmakers said they would bring up the automatic voter registration bill again in the next legislative session.