Dr. Bibhu Prasad Routray is Visiting Professor and ICCR chair, India Studies at Murdoch University. He also is the director at Mantraya, a Goa based policy thinktank and previously served as Deputy Director in India's National Security Council Secretariat, New Delhi. He can be contacted at bibhuroutray@gmail.com and followed @BibhuRoutray
It seeks to convert the separatist militancy into a religious mission with a pan-Islamist goal.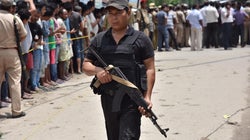 The intelligence inputs gave more than a hint of what was to come. On 29 July 2016, a week before suspected National Democratic Front of Bodoland-Songbijit (NDFB-S) militants killed 14 civilians in Assam's Kokrajhar district, an Assam Police source had told the media, "The ULFA and the NDFB have not been able to carry out any major attack in the past several months, as a result of which they are now desperate to strike in a big way to prove their existence."