Anita Anand
Radio and television journalist
On Television:
From 2008-2011 Anita co-presented 'The Daily Politics' with Andrew Neil on BBC 2. She previously presented 'The Heaven and Earth' show on BBC1 and presented 'The week in politics' strand for 'This Week' on BBC 1.
She has also presented BBC 2's 'Newsnight' and 'The Sunday Politics' on BBC 1.

She has presented 'Have Your Say', on the BBC World Service, and has been a panellist on 'The Last Word', for More4, and 'The Godlist', for Channel 4.
During her career she has interviewed 8 Prime Ministers from the Asian sub-continent, and 3 British Prime Ministers.

On Radio:
Anita presents 'Any Answers' on Radio 4 every Saturday at 2pm. It is the network's flagship political phone-in programme. She can also frequently be heard presenting 'Saturday Live' with Rev Richard Coles on the same network. She has stood in for Libby Purvis on the magazine programme 'Midweek' and recently presented the critically acclaimed 'Woman's Hour' special from India, concerning the Delhi Rape.

She has presented 'The World Today' on BBC World Service, 'Westminster Hour' on BBC Radio 4, and 'Beyond Westminster', also on BBC Radio 4.

Until 2010, Anita co-presented 'Drive' with Peter Allen on BBC Radio 5 Live. She reported live from across the UK and overseas. She was sent to cover the inauguration of President Barack Obama, the first election in Pakistan after the assassination of Benazir Bhutto and the first Mardi Gras after Hurricane Katrina. Before 'Drive', Anita presented the late night 'Anita Anand Show' on the network, a mix of news and entertainment.

Before joining the BBC, Anita was the European Head of News and Current Affairs for Zee TV - an international satellite and cable television station. She was one of the youngest TV news editors in the country, taking over the reins at the age of just 25. She was responsible for a stable of programmes for the Asian diaspora in Europe and was the European political correspondent for the Indian network.

Written Work:
Anita's critically acclaimed "Sophia – Princess Suffragette Revolutionary" was published by Bloomsbury in 2015. She has been a columnist for the Guardian, as well as India Today and The Asian Age newspaper. In 2012, one of her short stories was published in 'The Library Book,' a compilation of works from the likes of Stephen Fry, Alan Bennett, Lionel Shriver and Zadie Smith.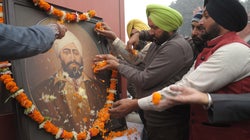 NARINDER NANU via Getty Images
In 'The Patient Assassin', Anita Anand writes that the story of Udham Singh, who killed Michael O'Dwyer, is surprisingly contemporary.