Anand Damani
Partner at communication and behavioural design firm Briefcase.
Anand Damani is a behavioural scientist. He uses science to change consumer, employee and public behaviour for clients; he invents products and solutions like Bleep that change public behaviour; his work has been featured in TIME, BBC, Forbes, France 24, The Atlantic, CNBC and several other media. He read thousands of behavioural science papers and books, writes a blog www.behaviouraldesign.com about innovative, low cost behavioural design solutions that change behaviour, writes about behavioural design in Huffington Post, Mint, ET; gives talks on consumer, employee, investor and public behaviour on platforms like TEDxGateway and at corporate seminars; and helps brands achieve their goals by using communication design.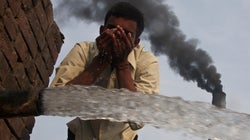 Studies show that relabeling can make a huge difference in people's behaviour.