Parle G — the name is enough to bring back childhood memories of fragrant biscuits dunked in hot milk. And the struggle to eat the soaked, soggy biscuit quickly before it crumbles back into the milk is a very real one. Almost every child has had Parle G since they were little, and some still can't get enough of the biscuit. The company began its biscuit making operations in 1939 in a factory in Vile Parle, a suburb of Mumbai, and has not looked back since. Today, the company boasts of astounding sales figures of over a billion packets a month. That is around a hundred million packets of Parle G every month.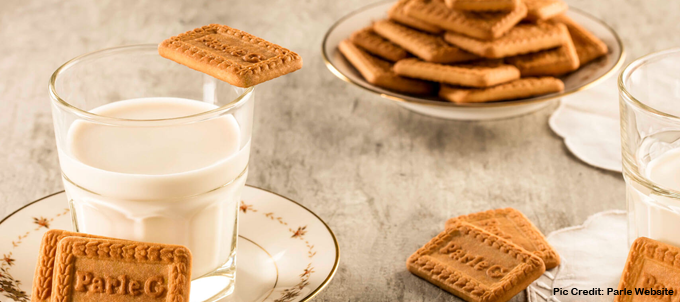 When the company started baking these biscuits, its main aim was to sell economical and hygienic energy biscuits, a motto it has stayed true to. A regular sized packet of Parle G still costs Rs. 5/-, a price that has stayed the same for over a decade.
The biscuit has become so popular that some restaurants decided to give this common product a twist and make high-end desserts to take patrons back to their childhood days.
Farzi Cafe, which has branches in Mumbai, Pune, New Delhi and Dubai, invented a Parle G cheesecake. The restaurant takes the Parle G and dunks it in hot milk, or rather, hot rabdi. A portion of the cheesecake is sandwiched between two Parle G biscuits, dunked in a pool of rabdi and topped with Cadbury gems. You can see a picture of the tempting treat here.
Parle G Eatshake or The 'Edible Milkshake' at 145, Mumbai, is a bottle made of dark chocolate that is melted together with the flavours of Parle G; a unique concept. The edible shake can actually be consumed along with the chocolate bottle it is filled into.
Homemade Parle G cakes are perfect for sudden cravings for both a delicious cake and the flavour of these childhood favourites. The recipe is pretty simple and can be followed by novice bakers and experienced chefs alike. The dessert is a mix of Parle G and Hide & Seek biscuits (another product of Parle), blended in with milk and sugar.
These are just a few variations that Parle G has to offer. People have gone wild with imagination, making everything from milkshake and rabdi to ice–cream, Swiss rolls and more with Parle G as the basic ingredient.
You can hear all the episodes of The Real Food Podcast with Vikram Doctor here.