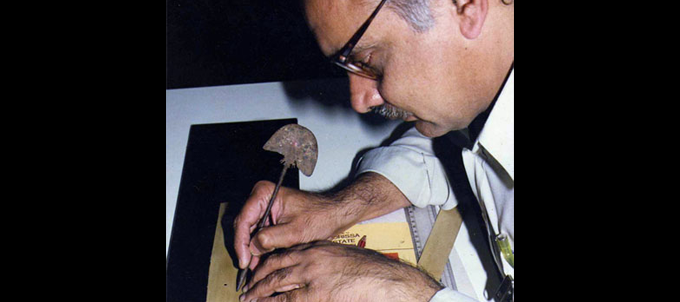 In India, libraries and archives don't focus too much on the preservation and restoration of old manuscripts. Within this callous environment, Anand Akolkar wages a somewhat lonely war from his humble home in Mumbai, against the harsh elements of nature and an uncaring bureaucracy, in a bid to preserve and restore dying manuscripts. Even though Anand is not a history graduate, he is very passionate about his work. He understands the importance of conservation and restoration of these old manuscripts and how significant they are in order to maintain a sense of continuity in our culture and history.
Anand is actually an honours graduate in chemistry, has a degree in law and has had 28 years of industrial experience in the quality assurance segment in conservation, preservation and restoration. According to Anand, paper conservation is more of a chemist's art than a historian's. His work in this field began with some training at the INTACH Archives in Goa. He then went on to train at the State Museum in Lucknow and INTACH Bhubhaneshwar, with a special focus on paper and paper materials.
Today, Anand has 15 years experience in the conservation, preservation and restoration of paper and paper materials. Seven of these 15 years have been spent at the Asiatic Society Library, and eight as a freelance conservator. While he was at the Asiatic Society, he ran the conservation laboratory there.
After leaving Asiatic, he established M/s. OM SAT NAAM Enterprises as a registered partnership venture for the conservation, preservation and restoration of the large cultural and technical heritage of which India is proud. Anand has also undertaken several other interesting projects. The oldest manuscript he has worked on is the Shahnameh, a long epic poem that was written by the Persian poet Ferdowsi between c. 977 and 1010 CE.
Anand is enthusiastic about his work and wants to transfer his knowledge to apprentices who can take up his mantle in the future.
To learn more about science and culture, please listen to more episodes of The Intersection here.