We're almost midway through the monsoon and by now, either enjoying the rain or cribbing about how the showers make travel difficult. In the race to reach places without getting stuck in the rains and complaining about the weather, most of us have ignored one important thing – the monsoon brings water, which leads to new life and in turn, new food for us.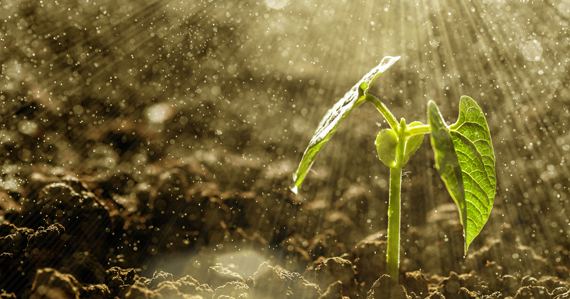 For most of us, monsoon specials include a plate of hot pakodas, accompanied by a steaming cup of chai. But, there's so much more than that to look forward to this season! We're just more aware of the pakodas than we are of the variety of greens we can get during the monsoon. Most of these greens are foraged foods that only a small community is aware of--unless you've been lucky enough to try them on a trip to a more rural area of the country.
Of the vegetables that sprout during the early months of the monsoon, a popular one is Moras Bhaji. Its apparent thickness makes it resemble long, discarded vegetable pods, but don't let looks deceive you. The best way to eat this bhaji is raw, as you would fennel leaves. You can also add it to salads to bring out its flavour and make the most of its crunchy texture. The bhaji is a little salty and can add flavour to freshly tossed salads, but once you cook it, it loses its unique taste and composition. The bhaji grows near the sea areas and the saline nature of the land there lends it its salty flavour.
Another interesting bhaji is Arbi or Colocasia leaves, which are not very popular among urban cities because the strong flavours mean they can't be eaten raw and a lot of preparation goes into getting rid of this acrid taste. The leaves are first cleaned and their mature stems are cut off. Then, these leaves are soaked in tamarind or kokum water. The best way to eat these leaves is in the form of patrode, a vegetarian dish stuffed with rice flour and spices. You can find the recipe for here.
One more seasonal vegetable is Ambade or Hog Plum, which is cooked in a variety of ways across different parts of the country. Ambade is a sour fruit and cannot be eaten raw, but it tastes amazing if it is prepared well. In Andhra Pradesh, it is turned into gongura chutney, which is a paste of cooked plums and spices tempered with garlic and chillies. In Goa and Maharashtra, it is cooked like a vegetable in a dish called ambadichi bhaji.
Now that you know more about what you can eat during the monsoon, go hunt for these rare treats and enjoy the delicious dishes you can make with them this season!
Listen to the other episodes of The Real Food Podcast here.