"No matter how many great and wonderful things there are in life, the best thing ever is bread and jaggery." — Sukumar Ray, writer and poet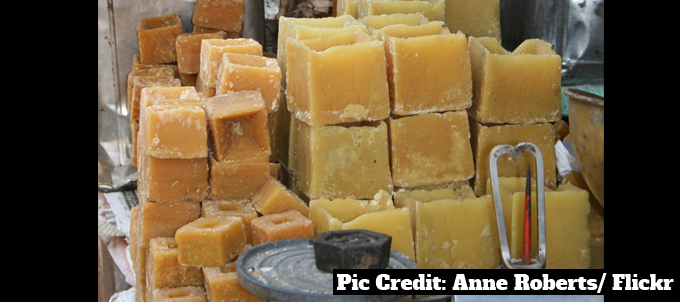 Do you think candy is American? Think again. The word candy has its etymological roots in the Sanskrit word "khand". Indeed, Indian palates have had a long history of sweetness. Sugarcane was the first thing that our favourite sage, Gautama Buddha, ate after he attained enlightenment. Legend says that two travellers offered him sugarcane after he had been starving for many days and he in turn, made them his first disciples.
Jaggery, or gur as it is known in Hindi, was invented in India and has been an important part of the Indian diet ever since. In the absence of refined sugar, jaggery was a delicacy that was cherished and valued very highly. India produces many types of jaggery, extracted from sugarcane and different kinds of palms, and made in various styles. Jaggery is even used in some ice creams. The Bengal government makes jaggery syrup that comes in tubes for people to squeeze onto bread and chapattis.
Today, though, jaggery faces many challenges. The urban population has adopted refined sugar as a sign of modernity. It sees jaggery as something that older generations used to eat. Jaggery is not "cool" anymore. But it used to be. Premchand, one of the greatest writers in the Hindi language, loved jaggery. Narendranath Mitra wrote a short story, "Ras", about a man who made and sold jaggery. One of Amitabh Bachchan's first films, Saudagar, was based on that short story. The quote at the beginning of this post is from the father of Satyajit Ray, Sukumar Ray, a renowned and much-loved poet in Bengal.
To hear more episodes of The Real Food Podcast click here.