Audiomatic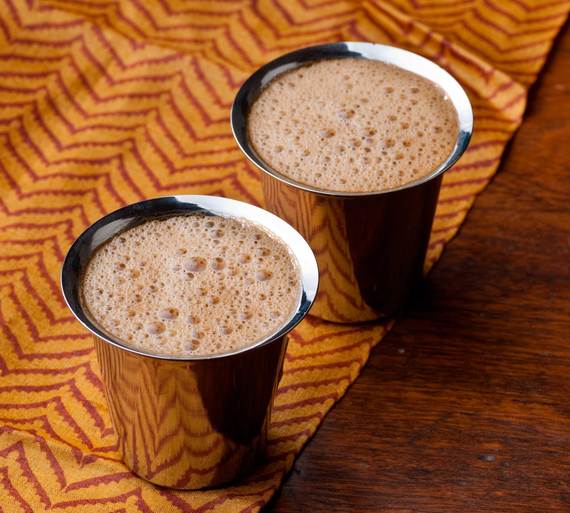 Modern cafe culture in India is booming. The explosion of coffee chains and the enthusiasm with which new outlets are greeted here are well-documented -- those in Mumbai will remember the long, long queues outside Starbucks when it opened its first few branches a few years ago.
A recent article in The Financial Express referred to a report that estimated that "the coffee shops and café market in India is expected to grow threefold and become a USD 1 billion market by 2017." Yet, from the frappes, cappuccinos, and, of course, flavoured cold coffees, the one variant that seems to be missing is the South Indian filter coffee.
Kaapi, as it is often called, is almost an institution in South India. But, and it may surprise a few to learn that during its initial years, it was considered to be a vice of the affluent -- it was the well-off middle class that drank coffee. The Hindu, in a 2013 article on the origins of filter kaapi, quotes Venu Srinivasan, a partner at Leo Coffee (a century-old coffee brand in Tamil Nadu), as saying, "In the 1970s, our coffee was priced at Rs 10 per kg which was considered expensive. It was always a niche product."
When it first arrived in South India, the filter coffee stood for exactly what coffee drinking means to India today -- it was a sign of modernity, it was hip and trendy, and it was something that many aspired towards. But, why can't it find a place in modern-day India's burgeoning coffee culture? The possible reasons vary -- for some, ironically, it's not "modern" enough. Others, like Harish Bijoor, a coffee expert, argue that the comparatively longer and slightly more complicated process of brewing filter coffee (see video below) is to blame.
The South Indian filter coffee still has a loyal fan base, and so, it definitely isn't going anywhere. But, it doesn't seem to be going places either.
Listen to other episodes of The Real Food Podcast here.
Picture: Shutterstock.com