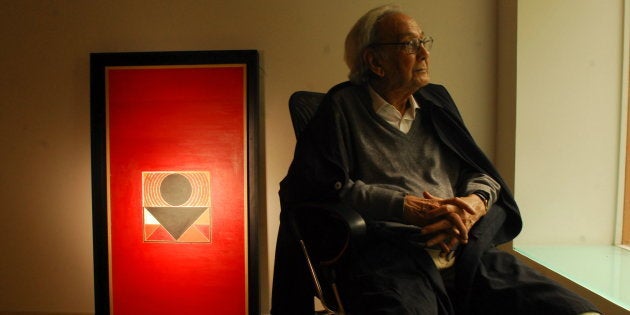 Sayed Haider Raza came to know of my work at a French government art project in which Raza Sahib, Akbar Padamsee and Ram Kumar picked five emerging Indian artists of their choice and then judged the 15 finalists in order to select the best artist to benefit from a visit and study tour to Paris at the École Nationale Supérieure des Beaux-Arts. I was chosen by Akbar Padamsee (who had seen my works in Mumbai) in the first round. Out of the 15 chosen artists, all the three commissariats agreed to award me the scholarship to visit France.
This was not the first time I had seen or met Raza Saheb. I remember meeting him for the first time at Chemould Gallery in 1979-80, at one of his solo exhibitions in Mumbai. The generous Kekoo Gandhy would invite some young artists for Raza Sahib's exhibition opening. I used to admire the patience with which Raza Sahib used to listen to young artists like us. He would especially spend time with us, talking to us about his experiences and discussing important artistic concerns like the meaning of "le sens plastique".
He would speak in detail about the technical challenges of a painter when in front of a canvas. We, as young artists, felt encouraged by this noble act of a senior artist at a time when it was very difficult to approach his contemporaries. Heartened by his interest in us, I took permission from my college, Sir JJ School of Arts, and requested Raza Sahib to come and talk to the 4th and 5th year students. He graciously agreed.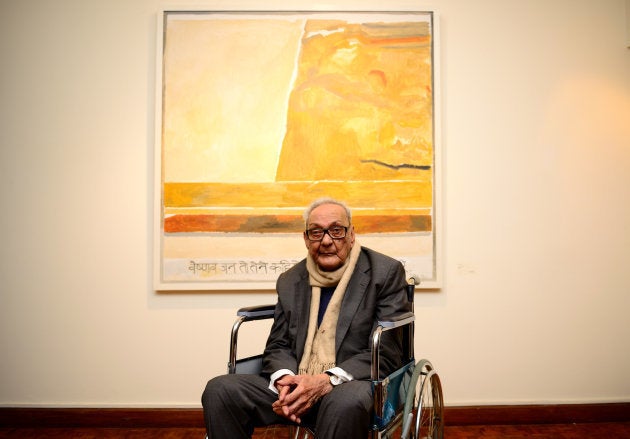 I distinctly remember his visit to the JJ School of Arts. Raza Sahib came early and spent time walking around the building (where he himself had once studied), touching the stones and feeling the air and the trees around the building. We realised he was a reserved man and chose not to disturb him.
Once he entered the classes, however, his reserved nature was gone. He talked at length about what creativity was and the challenges he faced as an Indian artist in France. He spoke about what he learnt from the French Masters. He would often say, "There is no substitute to hard work. Whatever I am able to achieve and am able to do is through hard work." He would elaborate: "An artist needs to work like a labourer in the field: to dedicate one's mind and body to this endeavour in order to master the technique. This comes only if one has passion."
He was generous and patient with young artists. It was not uncommon to hear that he had visited young artists' studios, to see their work and give them tips. Sometimes he would buy their work or help them out financially.
An artist needs to work like a labourer in the field
When Raza Sahib learnt that I was arriving in France, he wrote to me and said he was at the moment in Gorbio in the South of France. He advised me to meet Pierre Carron, the French figurative painter who was taking in students for an atelier semester at the École Nationale Supérieure des Beaux-Arts. Carrou had been mentored by the great figurative French painter, Balthus. Raza Sahib believed that Pierre would be able to guide me in the right manner for this reason. I joined the atelier under Carrou on his advice.
But Raza Saheb's big-heartedness did not end there. When he returned from Gorbio, he invited me and my wife, Anju, over for dinner. Over glasses of wine, he enquired after my well-being and was shocked to see that I was just wearing a thin jacket to protect myself from the cold. After admonishing me about the severity of the winters in Europe, he went into his room and came out with a brand new woollen coat and handed it to me saying that the one I was wearing would not suffice for the bitter winters of Paris.I was moved by his generosity. I spent that entire winter in France in that coat.
If I had to name one Indian artist who was sensitive and devoted to the arts, it would be Raza Sahib. While he was quite reserved, Raza Saheb and Janine (his wife) would often invite me and Anju to their home. He would just talk about Ramana Maharishi or the Hindu philosophy, recite or discuss the poetry of Mukhtibodh or Ashok Vajpeyi. I would just observe him: listen to his pauses, his explanations and his body language.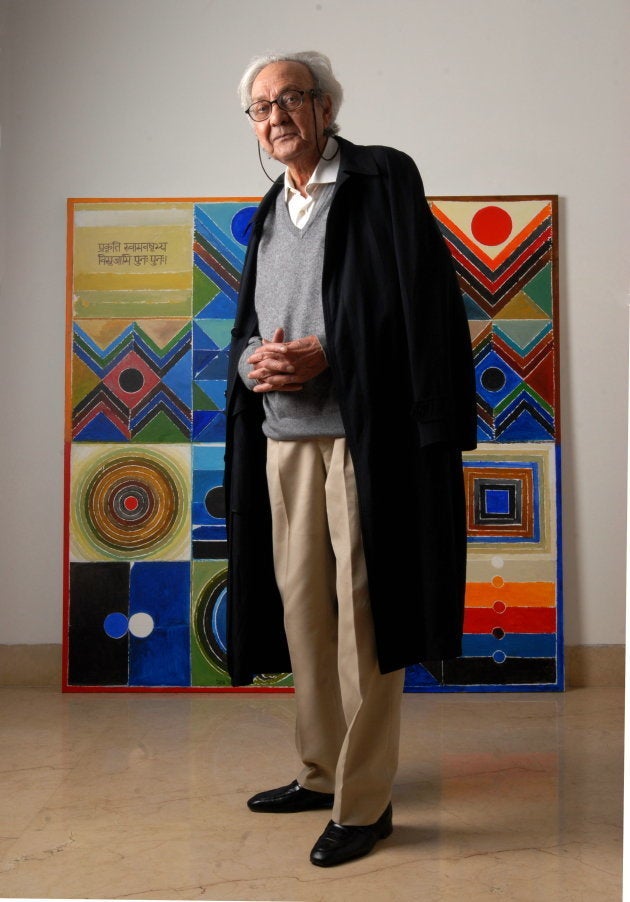 These numerous visits also acquainted me with his unusual method of painting. One day, he had a long vertical canvas on which he had drawn a very precise drawing in pencil. Unlike other artists who would start to paint randomly on the canvas, Raza Sahib would invariably begin to apply his colours from the top and gradually move to the bottom. Despite this unconventional technique, the entire painting would turn out remarkably balanced. He was very clear with his vision. The palette on the ground, he would mix paints and carefully apply the colours. The way in which he would apply colours onto a canvas would be no less than a mudra or a ritual.
During his visits to Mumbai, he would often invite us and we would find ourselves frequently in the company of Masters like MF Husain or Tyeb Mehta over lunch, where all three friends would talk about art, the state of art in India, the art market, and so on.
Raza Sahib had great respect for Gandhiji. He was particularly pleased with my series on the Mahatma in 1999: An Artist of Non-Violence. He saw my work and commended me for the choice of subject and my interpretation of such a difficult theme. He kept a tab on my development in Paris as well as on his return to India in 2010. He came to my exhibition at the Vadehra Art Gallery, Okhla, in 2010. In 2013, He again made it a point to come and see my show at the NGMA, even in his frail condition.
If I had to name one Indian artist who was sensitive and devoted to the arts, it would be Raza Sahib.
I admire his works and his mastery over colours. I love his works from 1960-1997: where one sees the emergence of the geometric forms from the abstract. I would visit Taj Continental, Mumbai, just to see his work: a large 1968 landscape that hung, in those days, by the swimming pool.
I think the Raza Foundation is one of the best independent institutions doing fantastic work not just for art but for literature, dance and music. Younger artists are being encouraged through the camps. For the past 3-4 years, the Foundation has been very active. I receive at least 2-3 invitations every month. Thanks to the vision of Managing Trustee Ashok Vajpeyi and his dynamic young team, the Foundation has come out with some fantastic publications on ideas and concepts like the new issue of the journal on Aroop. Raza Sahib's emotional and creative energy seen in his paintings now lives on, as his legacy, through the Raza Foundation.
(As told to Shruthi Issac.)