There are few food preparations that have the versatility or potential of a sandwich. Pack them with the right ingredients and a sandwich can work as a wholesome meal in itself, whether it's breakfast, a light lunch or even a quick weeknight dinner along with a salad on the side.
The great part about making a sandwich is that you can experiment with the fillings, the sauces and chutneys. You can use a variety of whole grain breads available in the market, which adds a flavour and taste.
Here are seven scrumptious vegetarian sandwiches (all eggless) that will definitely make your life easier in the summer months. I'd recommend serving them with a bowl of salad and a glass of fresh watermelon juice to make the perfect cooling meal for this weather.
1. Tea-time sandwiches with beets and arugula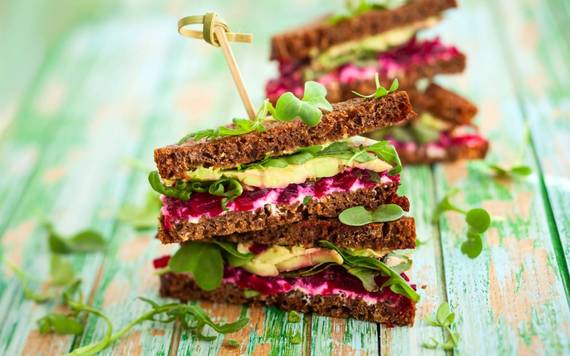 These bite-sized sandwiches with a healthy filling of beetroot, radish, avocado and arugula are perfect for teatime. They can satisfy those 5pm hunger pangs without ruining your appetite for dinner and are packed with nutrients unlike most other teatime snacks. Find out how to make them here.
2. Cucumber sandwiches with mayo and cream cheese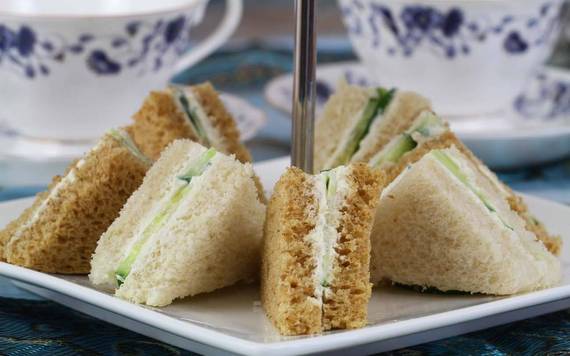 These yummy sandwiches are super-easy to make--all you need are sliced cucumbers, mayonnaise, cheese spread and fluffy bread. Have them with your evening tea or pack them for a summer picnic. Find out how to make them here.
3. Grilled spicy potato sandwich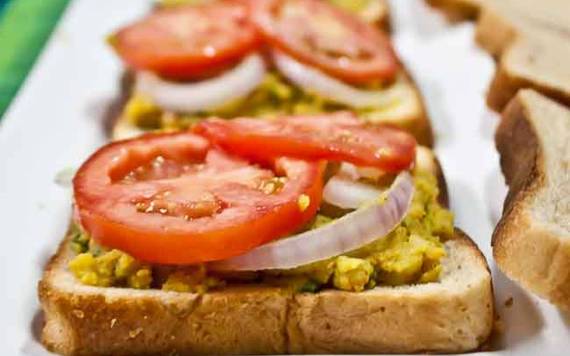 This is a wonderful lunch-time sandwich made with the potato filling that usually goes into a masala dosa. Grill it and have it hot. Cool your palate with a chilled fruit juice on the side. It also makes a great breakfast... lip-smacking with a cup of tea. Find out how to make it here.
4. Avocado and cottage cheese sandwich
This sandwich is an excellent go-to for a filling and nutritious meal. The unctuous texture of the avocado and the wholesome goodness of cottage cheese will give your dose of 'healthy fats', while a dash of mint chutney will offset the smooth flavours with an assertive tang. Find out how to make it here.
5. Grilled tofu and lettuce sandwich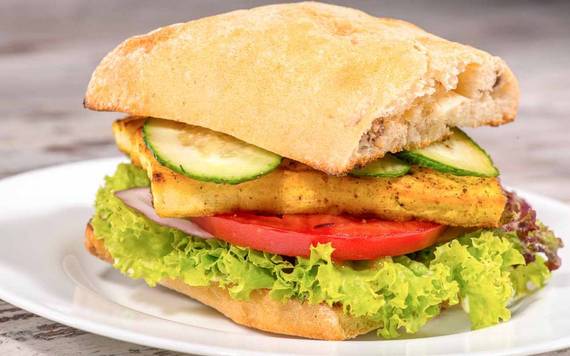 This grilled tofu and lettuce (or spinach if you prefer) sandwich is a fantastic option for vegans. I marinate the tofu in mustard before grilling it and then stick it between regular whole-wheat sandwich bread. Easy peasy. I like to add some extra mustard and Tabasco sauce for that spicy punch. Find out how to make it here.
6.Grilled mushroom sandwich with herbs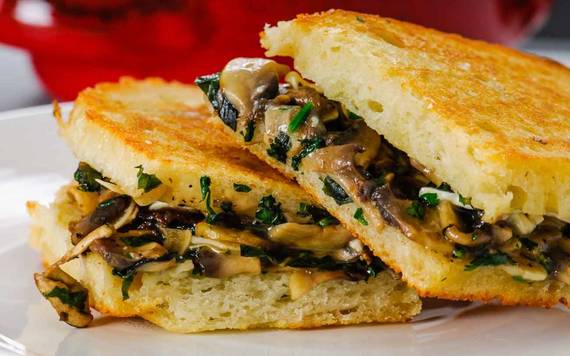 This hearty grilled sammie works great for breakfast, brunch, dinner and even a packed school lunch. The finely chopped mushrooms spiced up with green chillies and coriander leaves offer flavour in every bite. Find out how to make it here.
7.Grilled vegetable sandwich with goat cheese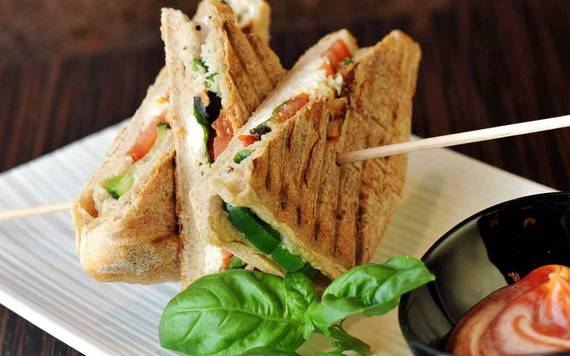 These sandwiches with roasted/grilled vegetables are delicious and easy to whip up for a lazy Sunday dinner or for a quick office lunch box. This sandwich is packed with the goodness of different colourful vegetables and spiced with za'atar spice mix. The goat cheese provides a lovely creamy texture to offset the crunchy veggies. Find out how to make it here.
*Some images from Shutterstock
Like Us On Facebook |

Follow Us On Twitter |

Contact HuffPost India

Also see on HuffPost:
Stunning Photos Of Hyderabad's Golconda Fort