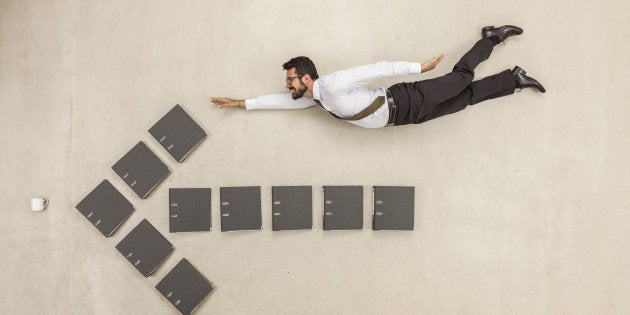 "If there is a regret in my life, it's not being able to play football. I was very good, Ma'am. I believe that it should have been my career....but my father insisted I join the government." This was what a junior colleague told me over coffee and gupshup on a slow day at the office. I heard the catch in his voice and, startled, looked up to see him lost and a little bewildered. Something I had not expected, perhaps, to encounter in a person who was in a secure, well-paying, respectable job.
It was that yearning in my young colleague's voice for a dream not pursued that flashed in my mind as I watched the movie.
Deep conversations with the right people make you either fulfilled or restless — I have come to this conclusion after many, many such interactions over the years. It has also been my experience that both feelings are absolutely compatible. And yes, indisputably, these conversations make you grow. As I read somewhere: "You are the books you read, the films you watch, the music you listen to, the people you meet, the dreams you have, the conversations you engage in ... you are what you take from these."
I am telling you all this to put into context my reaction to Rock On 2.
I went to watch the film last Friday, straight from work. The rather grim faces of moviegoers who had caught the previous show did not portend too well for the movie. I caught phrases such as "no imagination", "lacked direction", "pointless yaar, paisa barbaad", "so contrived" etc. etc.
The movie sadly turned out to be all of these. It was a very superficial if urbane rehash of popular themes, emotions and ideas, leading to a feeling of déjà vu as you watch. Here's the gist: Farhan Akhtar as Aditya is disturbed and feels personally responsible for the death of a young boy, Rahul Sharma, who had hopes of becoming a "modern" music star. He seeks redemption and retreats to picturesque Meghalaya for some heavy soul-searching. Arjun Rampal as Joe Mascarenhas is now a Mr Moneybags in Mumbai who owns a posh club and judges a reality show. In Purab Kohli as KD, hope springs eternal about a re-union with his former "Magik" bandmates. Nothing magical seems to be happening to "Magik'' though. It reminded me of Ghalib's, "Subeh hoti hai, shaam hoti hai, umr yun hi tamaam hoti hai (Morning comes, evening comes, and that's how life disappears)." And then there's the agonisingly clichéd arrival of Shraddha Kapoor as Jiah. Yes, she is none other than Rahul's younger sister and musically gifted too. She is troubled by her brother's suicide and blames her father, a renowned Hindustani classical musician ... naturally. Misunderstandings, heartbreaks, partings all happen but it all culminates in a happy ending. We are also sensitised to a haves versus have-nots crisis in the Northeast, but ultimately, the sequel to the cult musical drama that moved us almost eight years ago falls quite short of its predecessor.
Yet, I sat through the movie and pinged my sister to let her know that it is eminently watchable.
So, why did it work for me? For one, the individual performances were rather good. Shraddha Kapoor deserves a special mention. The cinematography was breathtaking. I rather fancied a red, knitted artsy jacket worn by Farhan Akhtar. (Note to self: need to visit the Northeast emporiums on Baba Kharak Singh Marg!) Oh yes, and how can I forget to mention the super hot jaan-leva Arjun Rampal?
The dark truth of Pink Floyd's "Another Brick in the Wall"... throbs through the movie.
But, it was that yearning in my young colleague's voice for a dream not pursued, a passion that was snuffed out and sorrowfully living a life that felt more like "existing" that flashed in my mind as I watched the movie. The dark truth of Pink Floyd's "Another Brick in the Wall" — as manifested in parental control/aspirations, societal definitions of the "ideal" and alienation of Kierkegaardian proportions — throbs through the movie. It brought back memories also of my father's wrath when I played the riffs of Led Zeppelin's "Kashmir" on my sitar. I was being trained in Hindustani classical music, in the Vishnupur gharana tradition ... yes, that music flowed in my veins, but so did Jimi Hendrix. Did Ravi Shankar's collaboration with George Harrison not produce great music? I did respect purity in music, but my gypsy soul also longed for the music of that piper at the gates of dawn. Like most of my generation, I listened to my parents too and moulded myself to their expectations, despite my "psychedelic sheep" orientation. They wanted the best for me and I love them for that. Today, I am middle-aged, secure and respectable — I pay my taxes and usually don't jump red lights. But within the not-too-rigid walls of my life, I do what I love — save animals, wear red lipstick, read Rumi and rock to Led Zeppelin. Just as Jiah does with her music and life.
Rock on, I tell my young colleague, it's never too late to live that life you yearn for.
Rock on, I tell my young colleague, it's never too late to live that life you yearn for. The age factor will not allow him to be a footballer now, I realise. But there are so many other ways he can be connected to the sport. Maybe he will set up a football academy? Own a club? And help, support, inspire that little boy whose father possibly says, "Son, you need to become an engineer/lawyer/doctor/IAS officer! Concentrate on studies not football!''
And yes, I hope Rock On 3 happens for all of us who seem to have got stuck, for whatever reason, in lives which don't allow us to do the mambo!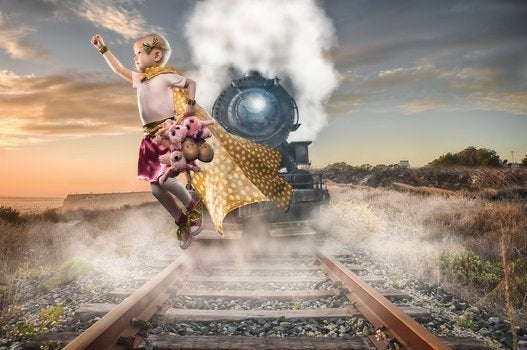 Kids With Cancer Follow Their Dreams In Whimsical Photo Series