subodhsathe via Getty Images
"Asato Ma Sad Gamaya, Tamaso Ma Jyotir Gamaya, Mrityor Ma Amritam Gamaya."

(Lead us from ignorance to truth, Lead us from darkness to light, Lead us from death to immortality.)
Early last Saturday, it dawned on me that Diwali is just around the corner. There was this rush of the incredible happiness which festivals tend to bring out in me. So much so that my Bengali cook also got infected with the happy virus. He, who is dismissive of all festivals, except the pujos and who is known to "fall sick" during Diwali. You know, ''thaanda legey gechhe" due to "season change" and out comes the "maankey cap/maafler".
Despite my being all gung-ho, a vague feeling of disquiet has been cropping up persistently. Perhaps, it is a tad overambitious, or even delusional, on my part to drag Milan Kundera into this. But in his latest novel, The Festival Of Insignificance, Kundera suggests that art, sexuality and love have all lost their power in the 21st century. The novel asserts that the insignificant is actually significant. At the conclusion of the novel, one of the four main characters, Ramon, gives a monologue in which he states, "Insignificance, my friend, is the essence of existence." Much like the Diwali of today, where we seem to celebrate the insignificant and lose ourselves in the trivial and the frivolous. I seemed to look deep down into Kundera's soul and grasp the reality of "festivity" that lies at the heart of insignificance and despair. It is a call to restore that unbearable lightness of our beings.
"[A]s I go about this Diwali, I'm trying to make it significant, make it count, make it regain its power and beauty."
So as I go about this Diwali, I'm trying to make it significant, make it count, make it regain its power and beauty. To resurrect nostalgia. Here are some things I'm doing to this end.
1. Bye-bye Chinese lights, hello diyas
I have ditched the laris of Chinese lights his time. My neighbour was a little condescending but scratched his head when I asked him how could one say "Happy Diwali" in Chinese? The joy of getting earthen lamps ready for the big night has been unbeatable. There was what Gulzar sahib calls "sondhi si hassi" on my face as I washed the diyas and inhaled the fragrance of wet earth.
2. No patakas... no, really, none!
The absolutely no pataka policy also includes my hitherto hypocritical love for anars, phool jhadis, snake tablets... you know , all those firecrackers which do not make a sound and resultantly we can afford to be sanctimonious about them. Maybe this will be the proverbial drop in the vast ocean of child labour in Sivakasi ? But hey, I am happy. And so, maybe I will look like a pataka in my new purple and silver salwar kameez? Happiness is essential in upping the pataka quotient.
3. Doing what my mother taught me
Goddess Lakshmi's feet will be etched out on the floor from a paste of rice flour. We call it "jhuti" in Odisha. I am out of practice now in this traditional art form. It is quite probable that the poor Goddess will have feet the size of Bata 8! But my Ma is smiling. She had taught me, many years back, the art and design of "jhuti". That smile of my Ma is incandescent. It lights up my world.
4. Gifts from the heart
Did I tell you that I actually thought about each person that I have bought a gift for? I did not send my rather crafty Man Friday with brusque instructions to procure 30 boxes of dry fruits, some chocolate hampers, "reasonably" priced clothes for the household staff etc. It took me three days to put together an assortment of bonsais in cute ceramic planters, fountain pens, book ends, silk scarves, handmade chocolates, vinyl records, Asterix comics, shell cutlery. Yes, my maid has a hair dryer and curler and a complete make-up set from Lakmé along with her sari. I wish all of you would have been able to hear her delighted, coquettish giggle!
5. Prayers with a difference
Tolerance vs. Intolerance debates, discussions, actions, attitude are the flavour of the season. Yet, nothing is resolved. When I pray to the Goddess, "tamaso ma jyotir gaymaya", I will essentially ask for that light which makes us realize the truth of Thích Nhất Hạnh 's words: ''There is no path to peace. The path is peace."
Say what, Diwali will also be fun and really significant, if my neighbour's palm tree looks this. You see the man laughed uproariously when Shaggy and Kalu (the stray dogs I take care of) yelped in fear when a sutli bomb went off yesterday!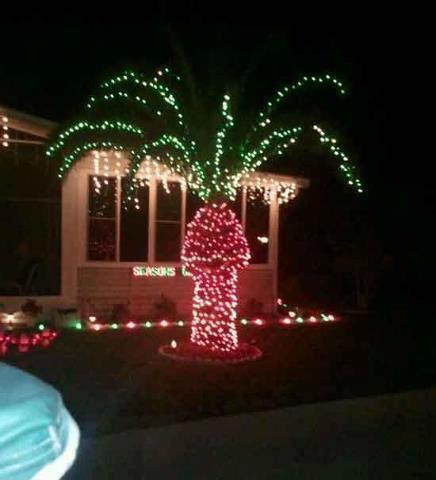 Photo from the internet for illustration only
Happy Diwali!
Like Us On Facebook |

Follow Us On Twitter |

Contact HuffPost India