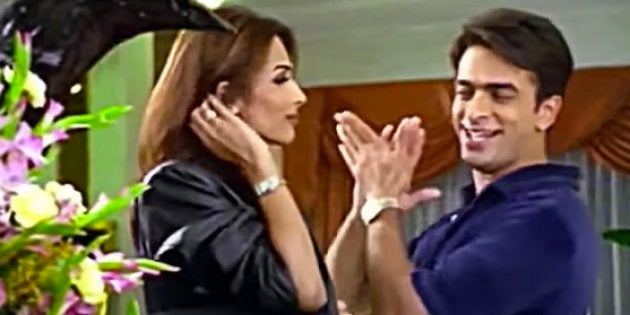 Between school and homework and tuitions, my sisters and I were allowed a couple of hours to watch television. The choice was a difficult one -- either we watch Cartoon Network or we watch some teenybopper music channel. Initially the choice was easy. Nothing beats The Flinststones and Scooby Doo, you see. But then gradually, the choice was not so apparent anymore.
We had been taken by the strange world of Indian pop music, much to our parents' chagrin. "Why are you even watching this?" my parents used to comment every time they caught us watching Shweta Shetty in her golden attire trying to fend off her persistent suitors. My parents who were conditioned to the tunes of Rafi and Kishore Kumar and the simplicity of Waheeda Rehman, Mala Sinha, and the ilk could not for the life of them understand what this entire fuss around pop music was.
Unlike them, we knew what the fuss was about. They gave us something that was cool.
In retrospect, the videos and the lyrics might have been more inappropriate than cool but try telling that to a couple of school-going adolescents who, inspired by the video of Falguni Pathak's 'Maine Payal Hain Chankayi', wanted to have their own puppet show. And Raageshwari's 'Duniya' and Shubha Mudgal's 'Mann Ke Manjeere', showed two girls crouched in front of the television that the world is meant to be conquered.
It was not only the case of two tiny girls in a remote city like Guwahati, these videos resonated with every adolescent and young adult alike. Because in the world of pop music videos, you could summon a Milind Soman, Asha Bhosle is a fairy godmother who is helping the 'good' girl to get the guy, the Indian girl cuts her hair so that she can fund her gift for her English boyfriend, Lucky Ali is an archeologist who is stationed in Egypt, a skinny Shahid Kapur is trying to impress Hrishita Bhatt, a Palash Sen is mourning the loss of his beloved.
Remember Sonu Nigam dancing with his gang because mele mein bhi his dil hain akela? Then there was a Jas Arora who is trying to get his traditional family to accept an Americanised Malaika Arora by making her dance, a Bally Sagoo who is trying to set up two young people by making them dance in a green meadow, and then there is a Nimrat Kaur who has no regards for a queue.
If there was a manual on how to be Indian, these videos would put the fun in fundamental. These videos gave all the hormonal adolescents a way to deal with life's crises -- to sing about it.
You have a boy stalking the living daylights out of you? Sing and dance about it. You think you are a pari? Fret not, let the world know by singing about it. You are sad about your yaaron leaving you? Sing about it. Yaad piya ki aane lagi bheegi bheegi raaton mein? You can dance while singing about it.
If there is something you cannot sing and dance about, then a pop song on it hasn't been made.
The spectrum was broad -- from videos trying to make a point to ones that reverted all that effort -- but there were hardly any video where everything was not larger than life. Growing up for most of the kids who grew up watching pop music videos meant dealing with a love life that more or less ended in a positive way. So, all was good.
But somewhere in between maturing taste and dancing for a decade that led to atrophied muscles, an entire generation grew up and the upbeat music and their iconic videos were long gone. Now you are either Netflix and chilling or well, you are Netflix and chilling.
So, an artist might come along and sing about how blue hain pani pani pani and dispense such important information, but the pop music culture will never go back to matching that of the 90s. Because no generation at the brink of a technological evolution is enraptured by the pop music scene of the 2010s and is not likely to.