Bite Club
Not so long ago, nearly every married woman in India knew how to cook. Where some were eager learners from childhood, others mastered the art on the job (read married life). But as more women pursue careers, juggling work with kitchen and family is leaving many stressed and frustrated. To their rescue is a new breed of home chefs who've loved kneading dough and stirring up spicy curries since they were children. For example, there is Naina Suri, who after decades of delighting her family and friends with her cooking started Naina's Kitchen. For only Rs 100, she offers lunch platters with curry, vegetables, rice, chapattis, salad and more. She was approached last year by Prateek Agarwal to join Bite Club, an increasingly popular service that allows people to order food from home chefs across Gurgaon. There's more extra business on the way--Naina has now been presented with opportunities by two other start-ups that are also planning to deliver home-cooked food in Gurgaon.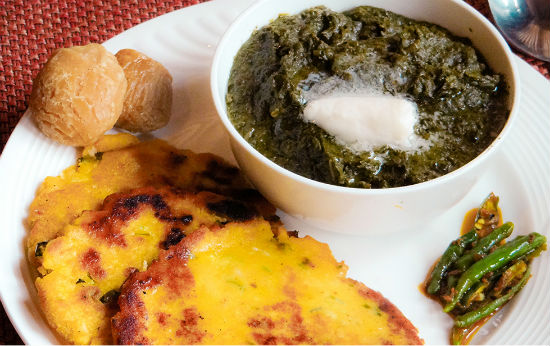 A sample meal from Bite Club. Image by: Bite Club
Gurgaon's Kitchens
Gurgaon is home to a cosmopolitan crowd which visits gourmet markets, drives fancy cars and parties in style. It is a demographic that is keen to experiment and is embracing the concept of ordering home food. "The response from Gurgaon has been amazing," says Prateek. "There are customers who have ordered with us more than 15 times in just one and a half months. We are processing more than 350 orders every week. Even professional chefs have expressed interest in using our platform to sell food and get visibility among the masses." Prateek, an IIT Kharagpur graduate, founded Bite Club with his two partners Aushim and Siddharth, graduates from IIT Kharagpur and NTU Singapore respectively.
The idea of Bite Club was born while Prateek was living in Mumbai. "We were three bachelors. We had hired a cook and every day he would come and ask us, "Aaj khaane mein kya banaoon (What should I cook today)?" Rarely would we have an answer to that question. We started ordering from restaurants but it proved to be expensive as well as unsustainable. We would reminisce about the delicious, fresh and healthy meals our mothers served us at home. That's when it struck us. There is vast culinary talent available in our homes, and no one has thought of utilising it." And so they went looking for the likes of Naina, who prepare food in their own kitchens with the same quality ingredients and care that they put into meals for their families.
Now, two new ventures--Potato Labs and Cyber Chef--are planning to launch in Gurgaon by the end of this month. Potato Labs' home chef group lead, Ritu Bagai, says that her venture aims to "provide a technology platform for home chefs to sell and promote their home-cooked specialities and food hyper-locally. With multiple chefs, we get to serve an almost unlimited menu of dishes, unlike restaurants that have a particular speciality and fixed menu." Their launch date in Gurgaon is set for 28 January, 2015. "We shall be expanding to Bangalore, Mumbai, Delhi, Pune, Chennai, in that order, in the next six-eight months," says Ritu.
Cyber Chef will begin piloting in late February in Gurgaon. Says Akriti Mehta, co-founder of Cyber Chef, "We believe that there is a Gordon Ramsay or Sanjeev Kapoor hidden inside an otherwise inconspicuous household! We want to enable home chefs to fulfil their entrepreneurial dreams. With Cyber Chef they can cook what they want, when they want, and how much they want, which distinguishes us from others. We are poised to scale up and evolve into a full-fledged online food marketplace, which includes not only ready-to-eat meals but also stockable items like jams, pickles, cakes, sauces, cookies and so on."
So while Bite Club plans a daily menu with its home chefs, Cyber Chef as well as Potato Labs will allow chefs to log into their system and update the dishes and quantity they will be preparing on that day. It could be one dish or 10, a Gujarati thali or a jar of mango pickle. "Cyber Chef meals are likely to be significantly healthier and less oily alternatives to traditional restaurant fast food. We are planning to expand into cities like Mumbai and Pune by mid-2015," says Akriti. Expansion is also on the cards for Bite Club, with its founders aiming to introduce their brand to Delhi NCR soon, followed by other cities.
The Mumbai Pot
Mumbai's home chefs also have an avenue to showcase their talents. Launched in September 2014, Holachef was founded by a team of highly qualified individuals. "Holachef has a mix of amateur cooks and professionals (restaurateurs, high-end caterers, celebrity chefs, executive/sous chefs). We are building a community of chefs who can provide customers with their best dishes. Holachef acts as a platform to market them and provide them with an order-fulfilment infrastructure," says Saurabh Saxena, CEO and co-founder of Holachef. "We've had a very positive response. We are currently delivering close to 250 -300 meals a day and our target is to serve 10,000 meals daily before the end of 2015," says Saurabh.
Just like Bite Club in Gurgaon, they too are proving to be a boon for home chefs. Married couple Munish and Sonica Khanna are popular in their area (Nahar Amrit Shakti, Powai) for Punjabi home-cooked dabbas. This month they joined the Holachef roster and business is now better than ever. "We're earning four-five times more than we did previously," says a delighted Sonica. The couple have been approached by another start-up, Tiny Owl, which also plans to begin delivering home-cooked food in Mumbai this month.
It's a good time to be a home chef. And it's an even better time for customers who can tuck into steaming hot, healthy and delicious home food without needing to enter the kitchen.
Disclaimer: The author knows Naina Suri personally, and vouches for her passion and craft. In Mumbai the author has mostly been sustaining her husband and herself on Holachef and Sonica and Munish Khanna's food.