EITAN ABRAMOVICH via Getty Images
The recently concluded UN climate change conference in the Peruvian capital Lima eventually ended up mimicking its previous versions in style and content with little to achieve on the ground.
The Lima conference had a simple target that countries had to declare their voluntary commitments and actions to tackle climate change called Intended Nationally Determined Contributions (INDCs). These were then to be negotiated and signed into an agreement in the Paris climate conference in 2015. The deal in Paris is to come into force after 2020 but the Peruvian capital saw familiar frustrating scenes.
The Nobel Prize winning UN body Intergovernmental Panel on Climate Change (IPCC) has declared in its successive reports and the same was officially agreed in Copenhagen that the average temperature of the planet has to be restricted to a two degree Celsius rise from pre industrial levels by end of 21st century in order to avoid dangerous runaway climate change.
Since 1992, when UN climate change negotiations under United Nations Framework Convention on Climate Change (UNFCCC) began, one sentence in the original principles of the convention has defined the talks: "The parties should protect the climate system for the benefit of present and future generations of humankind, on the basis of equity and in accordance with their common but differentiated responsibilities (CBDR) and respective capabilities".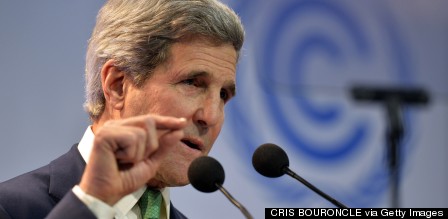 US Secretary of State John Kerry speaking at Lima in a last ditch effort to stave off talks breakdown
In 1997, the Kyoto Protocol came into effect mandating signing countries to reduce their emissions by five per cent below 1990 levels till 2012. But the US has never ratified it on grounds that developing countries must also commit to reducing emissions.
In the 2012 climate talks at Doha, Kyoto Protocol was extended till 2020 for a second round where ratifying countries had to reduce emissions by 18 per cent below 1990 levels. However, three of the original signatories, Canada, Russia and Japan did not ratify this time and with US already out, countries contributing 85 per cent of emissions do not come under any obligation in the period 2013-2020.
There are four dimensions to the UNFCCC talks in tackling climate change--mitigation, adaptation, finance and technology. India and other developing countries have maintained for years that since industrialised nations contributed to the vast majority of carbon emissions since the beginning of industrial age; it is up to the latter to rein in emissions first.
This is the fundamental premise of 'equity' that India has espoused. Let developing countries reach levels of life standards close to what developed countries have achieved and then the latter will consider reducing total emissions.
This is the interpretation that India, China and all developing countries have made of the 'common but differentiated responsibilities and respective capabilities' as defined in UNFCCC. They cite lack of economic and technological capabilities to mitigate their contribution to climate change from GHG emissions at this stage of development.
But how do you measure equity? Developing countries like India espouse Green House Gas (GHG) emissions per unit of GDP as the best parameter to measure a country's contribution to global emissions due to economic activity. This is because GHG emissions from energy consumed to produce one unit of GDP has been a yardstick promoted by many independent organisations, economists and climate scientists to measure economic standards.
India stands by this metric while developed nations led by US advocate total emissions as the yardstick.
Till 2009, India never made any commitment to cut or restrict emissions in any manner. But in 2009 during the Copenhagen conference, India declared a voluntary target of reducing its GHG emissions per unit of GDP by 20-25 per cent till 2020 below 2005 emissions levels.
Then comes the November 2014 China-US climate change deal that put pressure on India to move towards setting deadlines for emissions peaking and reductions. But here's a reality check.
As per the US-China deal, US will reduce its carbon emissions by 26 to 28 per cent till 2025 from 2005 levels. But if US had signed the Kyoto Protocol, it would have had to reduce its emissions seven per cent below 1990 levels till 2012.
Now, since US has chosen 2005 as base year to measure how much it reduces, its 26-28 per cent reduction target by 2025 will achieve same reductions which it would have had to achieve by 2012 under Kyoto.
Similarly the deal says China will ensure its GHG emissions per unit of GDP to reduce 40-45 per cent below 2005 levels by 2025. But in Copenhagen, China had stated to voluntarily reduce its GHG emissions per unit of GDP by 40-45 percentage till 2020.
Then in the deal, China also commits to let its emissions peak by 2030 by which time many economists and experts believe that China would become an industrialised economy with life standards almost close to developed countries.
Developing countries' demand developed nations to provide for the last two elements--finance and technology to meet targets for first two elements of mitigation and adaptation measures to tackle climate change. In Copenhagen, developed countries agreed to create a $100 billion fund for assisting in transferring technology and developing climate friendly projects in developing countries by 2020.
Only $10 billion were pledged in Lima with no concrete mechanism about how will the funding be arranged and disbursed. A UN Environment Program report released at Lima warned that even if global temperatures are restricted to a two degree Celsius rise, the costs of adaptation to climate change for developing nations could touch $300 billion by 2050. Currently not even ten per cent of that funding is available for developing nations.
India was steadfast at Lima that it will not commit to a peaking date or reducing absolute emissions in the foreseeable future. The eventual result was a hot air agreement whereby everybody got a say but the real target drifted further away.
While developing countries could not get the word 'equity' specifically mentioned in the Lima Declaration, the text of 'common but differentiated responsibilities' was embedded in the declaration.
Developing nations also wanted developed ones to include all four elements of mitigation, adaptation, finance and technology in their INDCs (voluntary targets) to be declared next year. But developed countries were hell bent on only mitigation measures being part of binding INDCs next year.
Eventually the compromise reached was that declaring mitigation measures was made binding on all countries while countries can declare measures for adaptation if they wish so in their INDCs. Finance and technology still found no mention in the Lima Declaration.
However, all this miasma does little to hit at the root of the problem especially for countries like India--how to tackle foreseeable dangerous effects of climate change?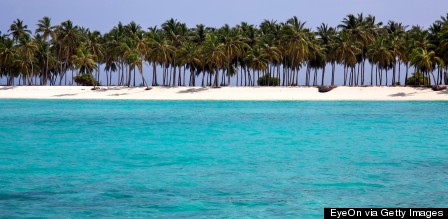 Low lying Lakshadweep Islands are at risk of permanent flooding due to sea level rise associated with climate change
The biggest challenge is sea level rise. IPCC's latest report includes India among 20 countries at highest risk to climate change with sea level rise as the biggest threat. For the first time, the Indian government officially accepted in November 2014 that Mumbai and Kolkata are at high risk from storm surges and high tides due to sea level rise.
Other visible and measurable impacts are already plaguing India. Heat waves in Orissa in 1998 and 1999 caused an estimated 2,000 and 91 deaths respectively and heat waves in 2003 in Andhra Pradesh took more than 3000 lives.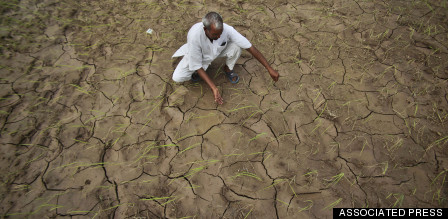 Indian farmer shows a dry, cracked paddy field
The longer term risk is impact on agriculture and global food security. India's crop yields are projected to decline for all essential food crops in the longer term. IPCC reports state that for the period 2030-2049, over 70 per cent projections show a decline in global crop production while almost 60 per cent projections forecast a decline in crop yields between 0 and 25 per cent.
India has eight missions under its national mission on climate change but most of the missions are either in limbo and some have not even started. Its clean energy industry remains at the mercy of changing governments and policies or bickering between center and the states.
Post Lima, numerous environmentalists and civil society groups prophesied a doomed future for most vulnerable sections of humanity citing a lack of political will and seemingly incomprehensible differences. Paris is set for soaring mercury at the peak of winter next year.