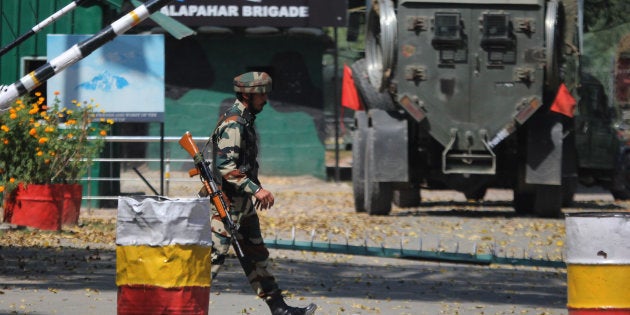 It amazes me to see how nonchalantly people discuss war. A lot is being covered in the media about a possible war in the near future with either China or Pakistan. The question being repeatedly raised is whether India as a country is ready for such an eventuality. But to me the more important question is this: are the soldiers and their families ready for the war? After all, they will be the ones who will be hit the most intensely, who will face the brunt of devastation.
I have a friend who is a new army wife. If we go to war her husband being an infantry man will be among the first soldiers to be deployed—along with thousands of others. Left behind will be their spouses and other family members. While we are all gung-ho about the war, is anyone thinking of these loved ones of our soldiers? There is a saying that God handpicks special girls to be army wives, but where does a war leave her?
While we are all gung-ho about the war, is anyone thinking of the loved ones of our soldiers?
An army spouse must endure periods of extreme loneliness, depression and anxiety. Par for the course are long spells of no communication with their spouse and emotional upheavals on a regular basis. For an army wife the presence of the military is so strong in all spheres that at times it is almost like a third partner in the marriage—a partner who comes first and foremost all the time. Every single soldier who dons the olive green believes in this famous quote by the colonial-era British army officer Philip Chetwode:
"First, the safety, honour and welfare of your country come first, always and every time. Second, the honour, welfare and comfort of the men you command come next. Third, your own ease, comfort and safety come last, always and every time."
Once, the then Minister of Defence Mr O Rajagopal said that the military wives are a national responsibility. I really appreciate his comments. But such remarks take us nowhere without corresponding actions. Standing firmly behind our nation's heroes, these families need a firmer support system.
With so much of media hype around war, I know a lot of military families feel a bit lost right now. They quite honestly don't know what the future holds for them. There are hundreds of issues that are critical to all army personnel and their dependents which need to be addressed right now, war or no war! The issues are not new, but have been gathering dust in old files. We all can certainly use the powerful tool of social media to raise awareness, start online campaigns and give our soldiers and their families the care and concern they deserve.
And lastly, whether or not there is a war, what is actually is needed is a rock solid plan A and plan B for the families to fall back on. Is anybody listening? Mr Prime Minister? Mr Defence Minister? Oh sorry I forgot we don't have a full time Defence Minister... no wonder no one takes our soldiers seriously! Wake up India.