I had the pleasure of walking around Shahjahanabad or Old Delhi with heritage specialist Dr Navina Jafa a few weeks ago. We walked with a specific purpose—to revisit the heritage and history of tawa'ifs, or courtesans of a former era. Dr Jafa is a master storyteller and with her research of more than 15 years on the courtesans of India, this was much more than a heritage walk. Dr Jafa is also a Kathak dancer and that explains her passion to bring out long lost tales of India's original dancers.
"Heritage walks in a city can emerge as a platform for creating debates on issues. My walk on tawa'ifs presents the idea of women as public entertainers specific to North India, and who were part of a larger category of women artists called natuch girls, a term which is dismissive and derogatory. While some made a living by selling their bodies and were mere prostitutes, some others were repositories of knowledge of arts, refined mannerisms and languages.

Beyond the colonial narrative were these artist women located in various spaces which offered patronage. It must be recalled that in the category of 64 arts was also sexual expertise. And this frame of thinking is a view which is out of the frame of colonial Christianity which perceives senses and sexuality as a sin. The colonizers flattened women as public entertainers conveniently as nautch girls, the impure ones; the Western-educated social and religious reformers promoted this view through the anti-prostitution movement and all traditional women entertainers in public domain were seen to be prostitutes..."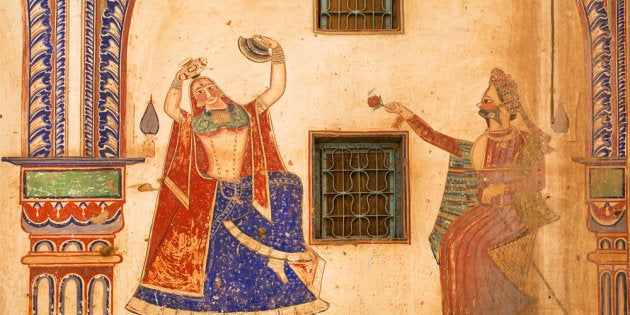 Dr Jafa explains that these women called the tawa'ifs were organised in intricate social categories. They excelled in and contributed to music, dance, theatre, the Urdu literary tradition, and were considered an authority on etiquette. This Heritage Walk specifically brought out fascinating stories to recreate the world of tawa'ifs in the historical space of city of Shahjahanabad, where they dwelled until the first half of the 20th century.
While these courtesans played their unacknowledged part in the freedom movement, they were paid back in cruelty after independence.
Walking through the narrow alleys of what was once Shahjahanabad, we realised that there cannot be a greater irony tucked away in the streets of Delhi than that of courtesans who lived in the lanes of Chawri Bazar, and afterwards were relocated to GB Road. Maybe their thumris of love and longing were so beautiful because they were aware of the fact that love wasn't for them. Like caged birds, they sang melodious songs, only to be denied everything, including hope. If you look closely, a lifetime of legends associated with these enigmatic women still lingers in the narrow lanes of Chawri.
With Dr Jafa, a bunch of untold stories of these supposedly badnam-galiyan (disgraced streets) came alive, as we pondered over the bygone era of mujras and mehfils.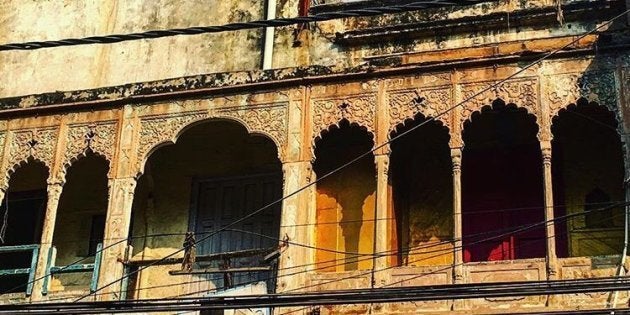 As we navigated the narrow alleys, we came across many old, withering structures, which still bore traces of a time gone by. Dr Jafa pointed out how these buildings are a piece of the past, with jharokhas (enclosed balconies) that are characteristic of those times. These jharokhas were used by the ladies to attract men hovering in the lanes below. Typically, the areas where these kothas or brothels were located became a hub of activity. These were located in market areas and business centres of those times, where men spent their days. Dr Jafa points out that as the courtesans indulged in dance, music and poetry, shops sprang up beside their homes, selling itr or perfume, flowers and ornaments which could be used by men to please these influential ladies. It would be correct to say that these areas indulged in the business of pleasure to all the five senses!
While men of good standing came to appreciate these women's arts—music, poetry, dance, love-making—they baulked at sharing a meal with these ladies.
Today, Old Delhi and great food are synonymous with one another. Dr Jafa's research on urban spaces and tawa'if culture brings out the story of courts and bazaars in Rampur (UP), Delhi (Chawri Bazaar), Varanasi (Dal Mandi), Lucknow (Chowk), and even Agra and Hira Mandi in Lahore. All these areas are where the courtesans dwelled. The tawa'ifs in these bazaars were visited by men of all social classes, and as mentioned earlier, they were also places where people conducted business all day. So, it was but natural that food stalls mushroomed here. Interestingly, while men of good standing came to appreciate these women's arts—music, poetry, dance, love-making—they baulked at sharing a meal with these ladies. The proliferation of food stalls took care of that problem. There's a filmi saying, "Niche chai ki dukan, Upar gori ka makaan (a tea stall below, a beauty's abode above)"—perhaps its roots lie in these lanes.
Another very interesting fact that Dr. Jafa shared was:
"The tawa'ifs in North India also played her social and political role; for example in Lucknow I got records in houses of landed aristocrats on tawai'fs sheltering the rebels of the war of 1857 and providing them with money and food. Then when I visited in Varanasi, the home of Agha Hashar, an eminent poet and playwright who later went to Bombay and contributed hugely to the growth of the Parsi theatre—his son told me of the tawa'if who sheltered Chandra Shekhar Azad as he dodged the police. Who would have thought to go and check for a revolutionary nationalist in the house of a tawa'if?"
While these courtesans played their unacknowledged part in the freedom movement, they were paid back in cruelty after independence. Music was in their veins, but Sardar Patel refused to allow them into the studios of All India Radio. They were forced to vacate their traditional homes in Chawri Bazar and many had to resort to prostitution to subsist in GB Road. A lot of these women who were trained professionals found their way to Bollywood, which embraced their beauty and talent unlike the All India Radio.
Walking the lanes of Chawri Bazar, reliving an era that has been wiped off in the name of respectability and society, we remembered many famous courtesans that day. Dr Navina's extensive research on these ladies is a well of knowledge that has been acquired by countless visits to the areas across North India where courtesans used to dwell and coaxing people to talk about things they would rather keep to themselves.
We concluded the walk at the Haveli of Mirza Ghalib with an enchanting Kathak performance by Dr Jafa. Sans any music but with Ghalib's words in the background and Dr Jafa's graceful moves, most of us were transported back to the world of enigmatic dancers whose lifetimes are buried in the lanes of Old Delhi.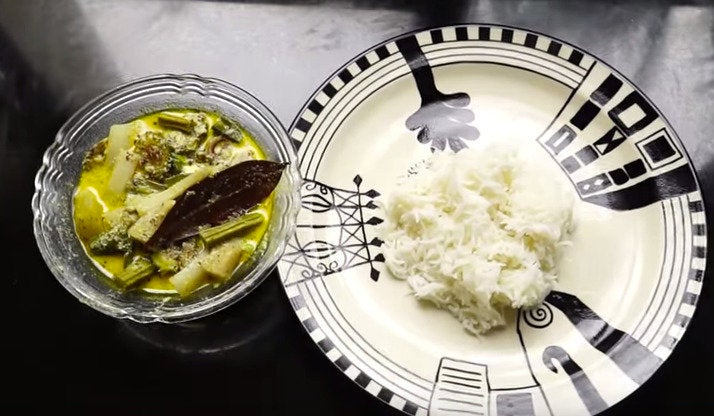 20 Bengali Vegetarian Dishes That Can Give Meat, Fish A Run For Their Money