Flashback to a theatre in Pune, year 2009. The movie Up played on screen and with my eyes wide open, I nurtured a dream of flying in a hot air balloon just like the protagonist of this evergreen movie. Turns out, dreams do come true! Last month, I found myself immersed in a surreal experience with my first "hot air balloon safari" at the Taj Balloon Festival, an initiative of UP Tourism in collaboration with Sky Waltz, in Agra.
It was a sight so beautiful that I am sure even Shah Jahan would have loved it...
The five-day-long festival (25-30 November) was held at the PAC grounds in Agra and attracted not only adventure tourists but pilots from 15 countries. We reached the venue on the evening of 26 November. While mornings are reserved for serious business, evenings are laid back and musical. Local and other bands play melodies while the colourful balloons glow in the dark. You have to pinch yourself to remember that you're in good old Agra and not some magical foreign location! The soiree was very enjoyable, but by 8:30pm the balloons were all wrapped up for a good night's sleep—the real deal was to begin early the next morning.
As early as 6am, the balloons and pilots were back to the grounds, even though it was still dark. Surrounded by crew members, balloons were now being inflated. The sun took its time to rise, as if waiting for the last of the balloons to get in shape before the day began. The air buzzed with anticipation and I itched to hop onboard one of these colourful balloons.
The whole process of unwrapping and inflating takes time and I utilised that in clicking colourful pictures. Anywhere I looked, there was a dream unfolding, and a little something glowing with the power of flight.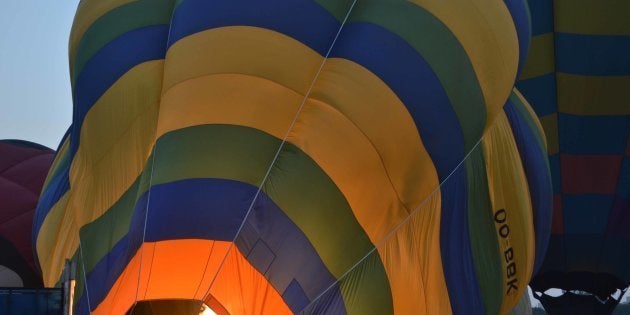 Soon, the sky was dotted with myriad colours and I could not tear my eyes away. Fifteen balloons, ready to take off and capture the skies of Agra—a sight so beautiful that I am sure even Shah Jahan would have loved it...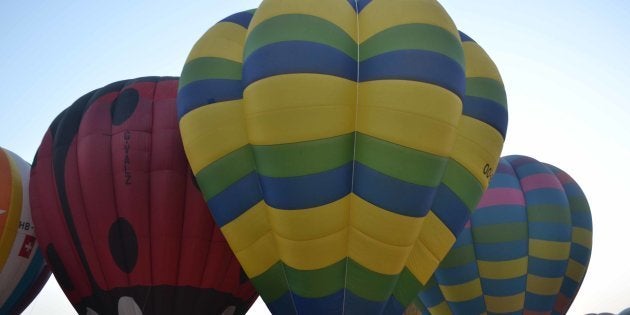 Among the 15 balloons participating this year, there were three ones balloons in the form of characters—Happy Egg, Bob the Lobster and a Smurf. Luckily, I was scheduled to fly on the cutest of them all, the Happy Egg from Denmark. Our pilot was a passionate man and had flown over the skies of many countries. He explained to us the dos and the don'ts of flying in a hot air balloon and asked us to brace ourselves for the skies. The four of us were now ready to experience a dream.
Just when the balloons started taking off, the sun decided to show up too. As if it didn't want to miss sharing the sky with these colourful balloons.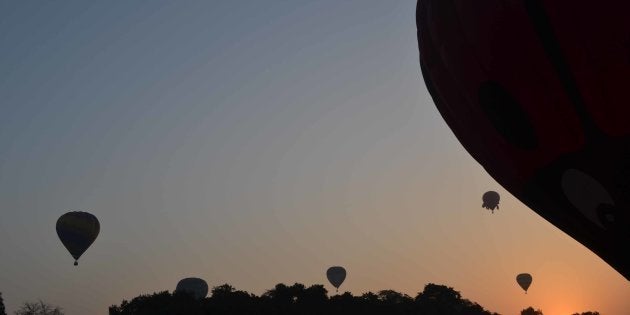 Within a matter of minutes, we were up in the sky and ready to leave the city behind. I cannot begin to tell you how surreal and beautiful it all was.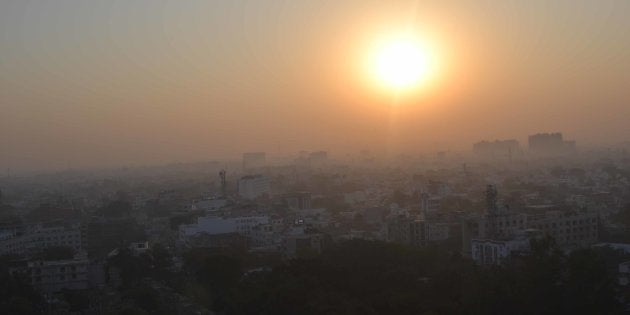 And then appeared the Taj, in all its morning glory. I actually got goosebumps!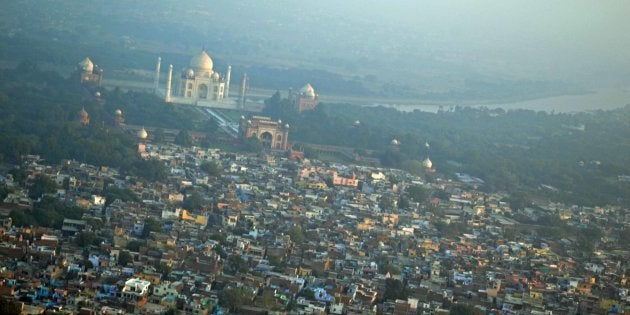 We stared at the Taj as long as it was visible and then the city landscape took over. Agra's narrow lanes being a predominant feature, this was such a huge contrast from the beauty our eyes had just seen. Concrete towers also found a place in my picture below, standing tall. I couldn't help but wonder if the Taj was visible from top of those towers.
We left the city behind and in a couple of minutes; another drastic change in landscape below told us that we were already flying over small towns and villages. Instead of concrete jungles but instead farm lands and small huts now were a dominant. I was engulfed in a strange calm, with silence all around, the wind messing with my hair and singing a melody I will never forget. I think this was close to a state of trance.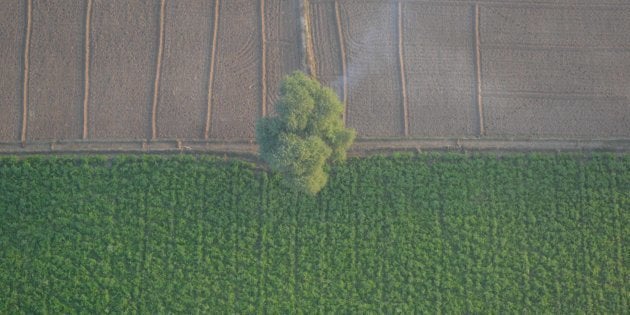 Soon, my reverie was broken by excited village kids, who waved at us. We waved back and they started running, trying to follow us. Soon, an entire village was behind us, trying to gauge the direction we'd take and the place we'd land. For the past two days, Agra and neighbouring villages had been waking up to colourful balloons in the morning sky, and by now, they were quite aware of the routes these balloons took.
This was one flight I wished could continue forever. But a good 40 minutes from when we began, we were getting ready to hit the ground and the pilot instructed us to duck in for a smooth landing. We followed the instructions and soon touched the ground. Sans the shockers of an airplane, I was expecting it to be a bumpier landing than it actually was. A huge thudding sound and a jerk later, we were back to the earth. To our amazement, the kids had beaten us to the spot and were already waiting where we landed.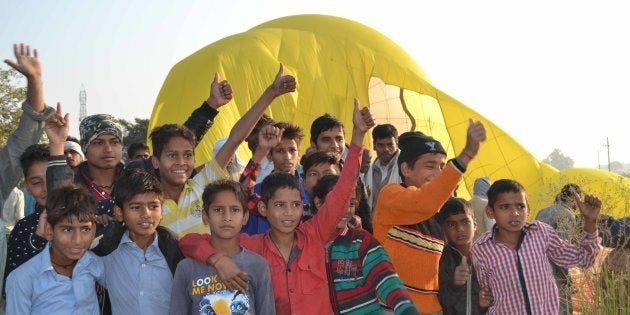 I can barely wait for the Taj Balloon Festival to come back next year! Even Winnie The Pooh agrees that it's hard to be brought down when you have a balloon.