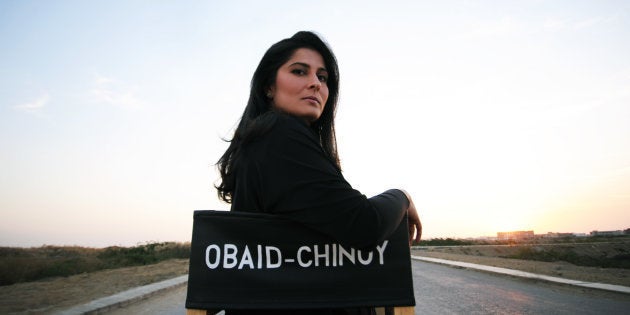 Pakistani cinema is going through a growth phase, and although one cannot always vouch for their quality, the quantity of films being produced each year has generally shown an upward trend.
Fading female presence
If we go by the stats, eight films got wide release throughout Pakistan in 2013. This year proved to be a landmark year for Pakistani cinema.
Subsequently, the expectations of people from local cinema escalated. They wanted to see more of local films. However, the next year was a disappointment for the growing industry as there were only six mainstream releases, out of which only Nabeel Qureshi's Na Maloom Afraad stood out.
Then 2015 saw a revival. The number of films almost doubled in 2015 as 14 films made it to the local cinema houses—a mix of highbrow, middlebrow and lowbrow.
Two out of eight films were directed by women in 2013. However, there were only four films, out of 26, directed by women in 2016.
Unspooling at a languorous pace, films like Moor and Manto found their own niche. On the other hand, films like Bin Roye, Jawani Phir Nahi Ani and Wrong No. had audiences flocking to cinemas, making the film business more lucrative than ever. This was definitely a good year for the Pakistani cinema with Moor being sent as Pakistan's official entry for an Oscar consideration.
In 2016, almost 26 films got mainstream release in cinemas throughout Pakistan. Ho Mann Jahaan, Janaan, Actor in Law and 3 Bahadur: The Revenge of Baba Balaam had a good run at the cinema. However, the other releases couldn't make a strong mark at the box-office.
This year was quite good if we talk about content. Filmmaker Ahmed Jamal adapted Shakespeare's Measure for Measure, director Nabeel Qureshi Actor in Law brought the satire genre to Pakistan, and Mah-e-Mir used poetry as a motif to reminisce loss of culture and heritage.
Yet, it was quite evident that the percentage of releases by women filmmakers had dropped by 7% over the course of four years. Two out of eight films were directed by women in 2013. However, there were only four films, out of 26, directed by women in 2016.
This is a shocking trend that we all must take notice of in order to address gender parity in film business before it gets too late.
Here is a brief look at the stats, graphically: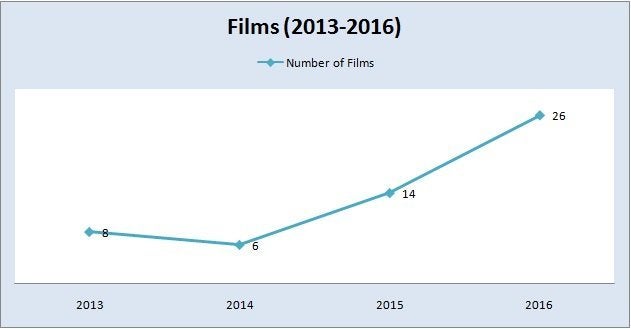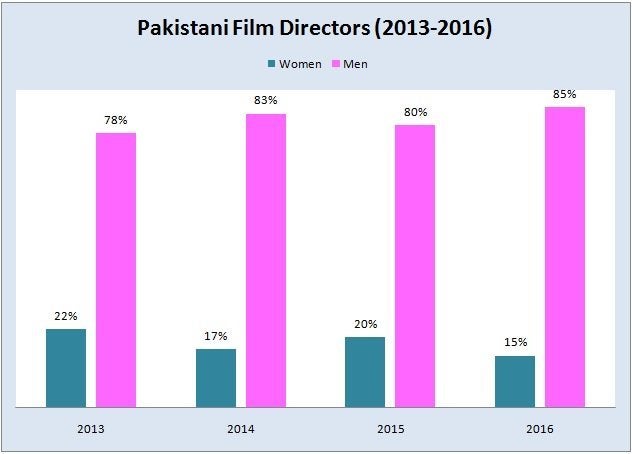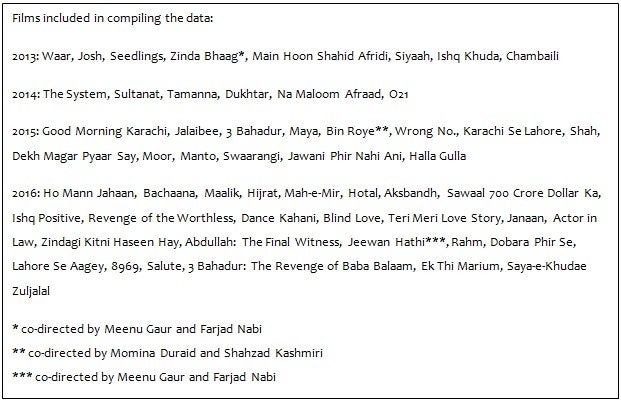 Global trends
"Women accounted for 25 percent of directors working on narrative features screening at the festivals considered in 2016-17, an increase of 6 percentage points from 19 percent in 2015-16, and an increase of 10 percentage points from 15 percent in 2008-09. This is a recent historical high."
The report further highlighted:
"Women comprised just 7 percent of all directors working on the top 250 domestic grossing films in 2016. That figure represents a decline of two percentage points from 2015's 9 percent."
Dr Martha M. Lauzen, the author of this report, commented:
"The findings indicate that women who direct films actually lost ground in 2016. The current small-scale remedies for women's underemployment, while they may be well-intentioned and benefit a handful of individuals, are ineffective in addressing this issue. The efforts, such as the mentoring and shadowing programs, are simply too meagre to create the kind of shift that is needed."
In this age of inclusion and diversity, the struggle for pay parity and equal opportunities has become more crucial. However, the percentage of women filmmakers has also significantly declined in Pakistan in 2016. In fact, it got worse in 2017. Out of the seven films released so far in 2017, all films have been directed by men. This is a worrying trend.
How to address this problem?
Pakistan's Minister of State for Information, Broadcasting and National Heritage Marriyum Aurangzeb, in the past, has encouraged the revival of Pakistani cinema. The recent announcement by Prime Minister of Pakistan Nawaz Sharif to facilitate filmmaking has also been a positive step in this process of resuscitation.
The government and relevant ministry have to be more mindful of the stark decline in the percentage of women making films.
The government and relevant ministry, however, have to be more mindful of the stark decline in the percentage of women making films. It should be the relevant ministry's top priority to address this issue in order to avoid widening gender gap further.
It would help, perhaps, to pay heed to the findings of research conducted the Female Filmmakers' Initiative (jointly launched by the Sundance Institute and Women in Film to encourage gender parity for women working behind the camera): First, it is essential to conduct a detailed study of film school enrollment and experiences in order to understand the interests of women filmmakers. This research must take into account the ambition of women to direct feature films and the circumstances under which they want to direct films. Second, it is important to analyse the relationship between market factors and gender. This will help the industry to determine how directors—male or female –influence the profitability of films.
Let's start with these steps to transform the local cinematic landscape for women. Here's hoping for a brighter future.