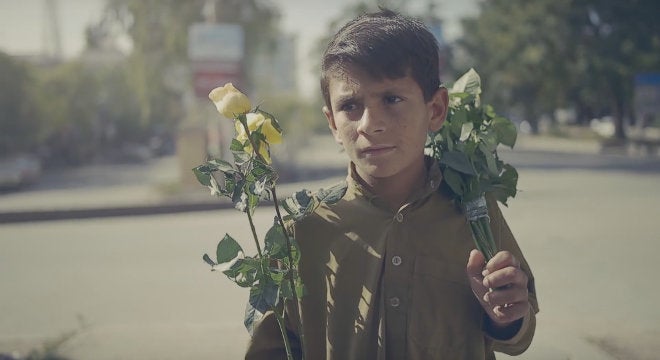 American rock band Walk The Moon's video presentation of We Are The Kids by Pakistani filmmaker Shahana Khan Khalil is a heart-rending portrait of children who are forced to struggle hard to make ends meet.
With this video, Khalil asserts her stature as a filmmaker to look forward to in the burgeoning Pakistani film industry. To Walk The Moon's tune, she unfolds an unsentimental kind of fairytale that studies layers of its characters, who discover themselves in the bleakest moments.
The children in this video are not actors but real street children from Islamabad. This is why they don't have to act to show longing, despair... hope.
The backdrop of this fable, a small locality in Islamabad, is as idyllic as it can be. It is set in one of those fantastic worlds where everyone knows everyone else. It is a place that is always at peace. To cut it short, all is just too well in this world.
It opens with a headshot of the protagonist, a child of 10 or less, lying on the ground with his head on a pair of crocs. His eyes fixed on the bicycle of his dream, while people pass by him.
To be honest, it's just not his fault. This bicycle is itself a masterful creation.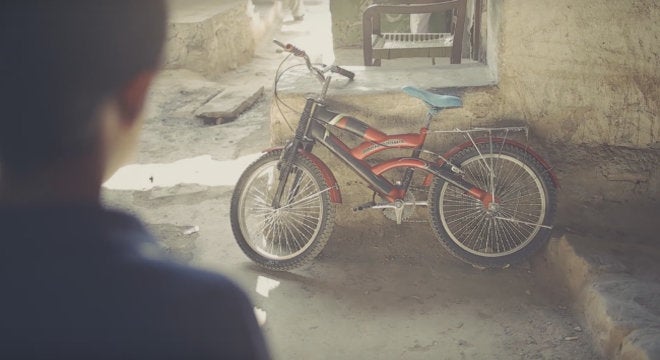 With this, the story advances. We get to see that the kid, who dreams of a bicycle, works for a local street lord who makes poverty-stricken children do his bidding.
There is a sequence where the exploiter collects money from the children. This is the money that these children have earned by working on the streets. In the next moment, we see the unnamed protagonist taking some money out of his crocs. These are his savings, which he had accumulated to buy the bicycle of his dreams.
Luckily, he gets that bicycle. As he bounces happily around the locality, his friends look yearningly at the bicycle, and then conspire to inform street lord.
What happens next is a delicious and beautifully presented mixture of fantasy and reality, leading to a fairytale-like conclusion. You can't help but feel the camaraderie between the filmmaker and the children as the video plays out.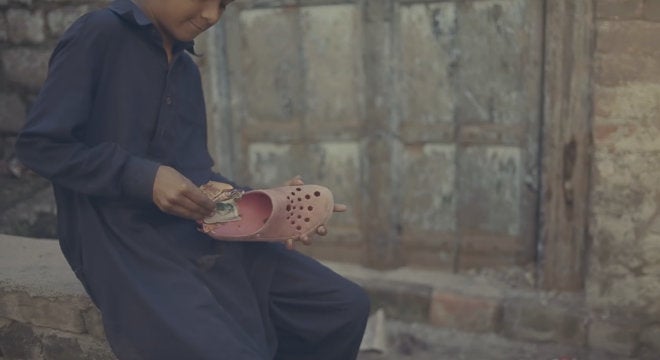 These are the children who are deprived of basic childhood necessities and are forced to work under high pressure and demands. This practice also interferes with their ability to attend school regularly.
It is important to note here that the children in this video—Raza Abbas, Mehran Khan, Behram Khan, Hammad, Mohammad Ali and Afzer Khan—are not actors but real street children from Islamabad. This is why they don't have to act to show longing, despair... hope. They have a robust screen presence. Even the A-listers of the Pakistani entertainment scene might envy the emotive abilities of these spirited children. In a conversation, director-writer Khalil informed me: "These kids attend a charity named Mashal Model School in Islamabad and they all work in the evenings."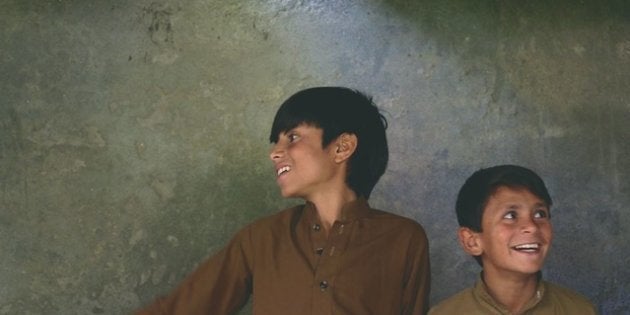 Khalil's attempt to highlight the issue of child labour is the best and purest to come out of Pakistan in a while. Her effort mirrors the issues of loneliness, longing and loss of innocence, without becoming too heavy.
The outcome is Pakistan's own mini-fairytale where the bicycle acts as a metaphor for childhood desires. Khalil captures the urgent desperation and unfairness of life, infused with glimpses of optimism.
I am signing out with a hope to see more of Khalil's work in future.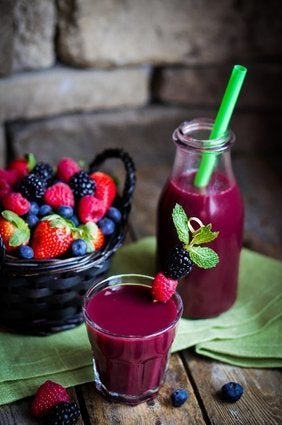 Refreshing Green Tea Drink Recipes