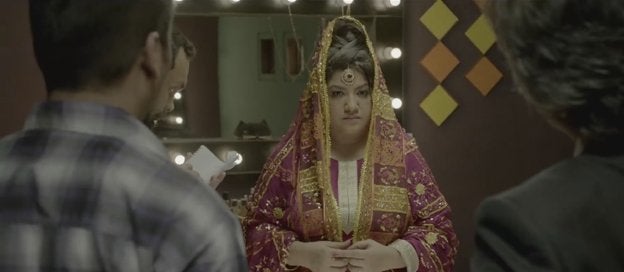 There is something inhumane about morning shows in Pakistan. These are the shows where people are asked to do horrible things. What's more, they comply. Why? What do the people get in return for hurting their self-respect? At most they they'll win a household appliance or if they're really lucky, a four-wheeler.
Jeewan Hathi is a black comedy that tries to solve this "TRP conundrum." While reading about the film at various forums, one may get a false impression that it is about Hina Dilpazeer and her dwindling popularity as a TV show host. However, it is clearly not about her. This is a much deeper social commentary that can shake your conscience through its surreal humour and brief flashes of longing.
Thespian Fawad Khan is the backbone of this film. He speaks through his eyes in some of the most thought-provoking sequences even when he doesn't get any dialogue.
It's not a film about morning shows and their ratings: it's a film about poverty, it's a film about people who don't have enough resources to live a decent life; it's a film about people who can do anything to get their due share in society; and it's also a film about some segments of the privileged section revel in making the unprivileged do things that kill their morals and self-respect.
To be frank, there's a strange exhilaration in seeing Pakistani cinema thrive by venturing into such avenues of filmmaking. It's also exciting to see artists at the very top of their game in a film that touts itself as a short, but is almost a full-length feature film according to various international standards.
Director-duo Meenu Gaur and Farjad Nabi's Jeewan Hathi is a film that manages to make you think. It starts with a uniquely bizarre sequence that sets the tone of this film, which may be ridiculous, vulgar or cheap for many who aren't aware of black comedies or in this case Meenu-Farjad style.
The film revolves around a Bihari couple living in Karachi. The lady of the house, played by Kiran Tabeer, wishes to get a big television. However, the husband, played by Fawad Khan, is unable to fulfil her desire until they land into a TV game show.
Since the film has a crisp runtime of 56 minutes, divulging a lot of details might give too much away, but here are some impressions.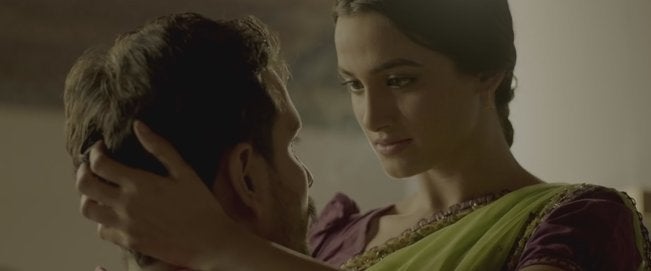 Thespian Fawad Khan (not the film actor) is the backbone of this film. He speaks through his eyes in some of the most thought-provoking sequences even when he doesn't get any dialogue. Hina Dilpazeer has splendid comic timing. Here, she is perfectly cast as an ageing morning show host who is desperate to earn ratings for her new TV show. In a flamboyant performance, she meticulously essays her character.
However, it takes a while for Kiran Tabeer to absorb into her role. In the first few scenes, she looks very uncomfortable, but, as the plot unfolds she gets better and her body language improves. Fawad and Kiran share a fine moment where Fawad holds her in a tight grip, and her eyes sparkle with emotions even as she tells him to back off. There are also small but notable appearances by great actors such as Adnan Jaffar, Naseeruddin Shah, Nazarul Hassan, Saife Hassan and Samiya Mumtaz.
Gaur and Nabi provide ample elbow room to all the characters of the film to perform and they hold the film even when jokes falter.
The director duo have finely fleshed out the spirit of Karachi by choosing fascinating backdrops wherever possible. There is a moment when Fawad enters a barber shop to deliver water and one can almost discern the political slogans of a Karachi-based party splashed on the walls. They look damn real.
What Jeewan Hathi has, unlike many of its slick contemporaries, is a strong plot. Faseeh Bari Khan's screenplay is highly unusual, but also unusually fine.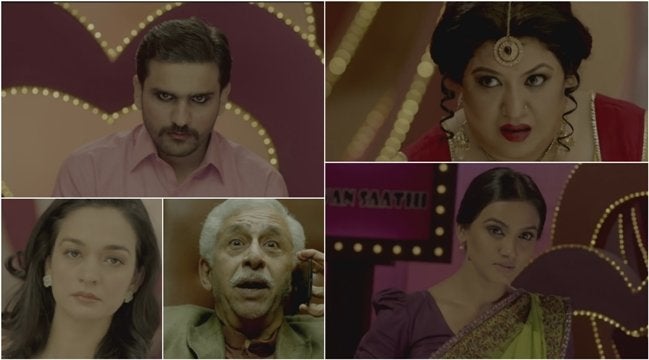 Cynicism is always easier than sincerity, and few writers can nail the latter quite as consummately as Fasih, who evokes some introspection through his work. We can all stand around and point fingers at the indulgently laboured way he makes a point, but the fact remains that Jeewan Hathi is an absurdly effective film, a triumph you are likely to walk away from deep in thought.
With chunks of humour sprinkled across the film, Jeewan Hathi pokes fun at the societal arrangement we have grown apathetic to. Those laugh-out-loud jokes are nothing but the film's sarcasm. By the time it ends, you will be reminded of your long-forgotten fundamental right to question as a citizen.