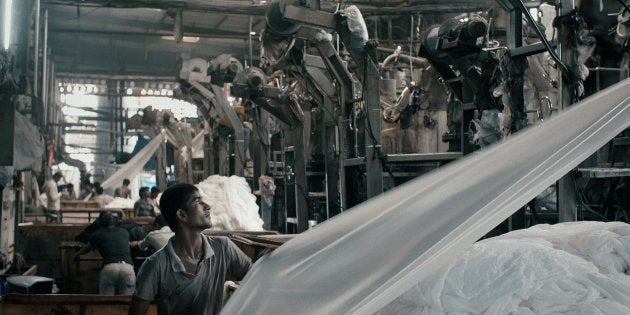 Lacerating in its piercing intensity, Rahul Jain's Machines is a gut-wrenchingly raw portrait of working conditions in a textile factory based in India's Gujarat state. Jain takes us through a Dickensian factory without voiceovers and text inserts, making his work more realistic. He introduces few workers who give us a firsthand account of the working conditions in the factory. Even though the workers hold different viewpoints, they are all part of an amoral system that has no regard for their long-term welfare.
From the onset, it is obvious that the filmmaker wants to show us the real situation of labours through imagery. He opens the film with a continuous tracking shot that takes us through the textile factory. Jain, with the help of ace cinematographer Rodrigo Trejo Villanueva, constructs an aura around the workers that is constantly brimming with sepulchral tones.
In one of the most devastating moments of Jain's debut feature, we see a teenage boy working on an assembly line. He looks physically drained and it becomes more evident as we see him falling asleep every few seconds. His body undulates as he closes his eyes, tiptoeing amid life and death. Even in those frail moments, he seems incredibly aware of his body movements. Each time he gets close to the conveyor belt, he balances himself by holding onto a piece of machinery.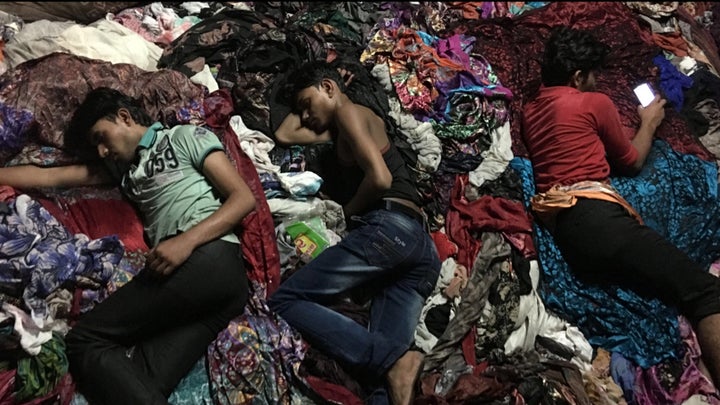 Later, as the boy fixes his eyes at the camera, the constructed facade of this capitalist system looks a lot more superficial. The yearning in his eyes poses hundreds of questions from the people who are running the state machinery, but they all remain unanswered.
The film's notes tell us that India's textile and garment industry is largely informal and poorly regulated. This US$40 billion industry employs around 45 million workers, among which 12 million are children. It further adds:
Overtime practice reaches about 70 to 80 working hours a week and is mostly not paid – or underpaid. With an average daily wage from US$2 to US$5, the workers take home between US$90 and US$150 per month.
These figures are startlingly abysmal. As the documentary unspools, it gets heartbreakingly difficult to accept that the labours who go on to work for added shifts even struggle to survive or afford a five-rupee cigarette. This gives a social advocacy angle to Jain's documentary, which is part exploration of working conditions in a textile factory and part political commentary on the vicious circle of labour exploitation.
The film informs us that one shift runs for approximately 12 hours and a worker gets US$3 per shift. An official of the factory reasons, "If I pay these illiterate folk too much and their stomach is no longer empty, then they won't care about the company." His viewpoint about the workers is not only parochial, but also nauseatingly hideous to a great extent. As he continues to speak with a heightened degree of insensitivity, it gets easier to understand the horrors of working under such conditions and it also becomes clear that the official holds no regard for his workers or their wellbeing. On a side note, he also monitors the activities of workers through a CCTV installed in his office.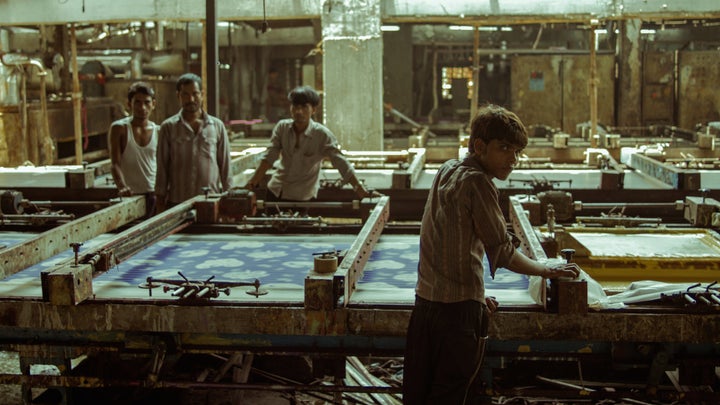 Jain's approach cuts deep and evokes a sense of sympathy for people being exploited by such factory officials. Jain mostly uses images to show utter desperation and constantly brewing emotions that the factory workers face day in day out.
He makes the workers speak for themselves for most of the time. One of the workers says, "God gave us hands, so we have to work." He believes that they are not being exploited, while the other interviewees hold starkly different viewpoints. A middle-aged man adds, "Poverty is harassment, sir." On the other hand, a teenage boy reveals that each morning when he reaches the factory gate, he wants to return to his home. However, he has to work in order to feed himself.
Jain artistically mounts these harrowing interviews to depict the crippling effects of globalisation. His feature film's title also refers to the clangouring textile contraptions used by labours to produce cotton sheets. In a constant struggle to wrestle with these machines on a daily basis, it almost gets difficult to discern the difference between labours and machines.
In his debut feature, Jain honestly portrays a wide disconnect amid makers and buyers of these textile products. His artistry is all the more glaring in one of the film's scenes, where he shows factory workers leaving for their homes in a rainstorm. Most of them were covered with thin plastic bags to shield themselves from the rainwater. Like this sequence, Machines is filled with moments that punch you in the gut and question your ethical concerns. Jain shows us the truth in a hall full of shattered people, with every gaze enough to draw blood.
The opinions expressed in this post are the personal views of the author. They do not necessarily reflect the views of HuffPost India. Any omissions or errors are the author's and HuffPost India does not assume any liability or responsibility for them.