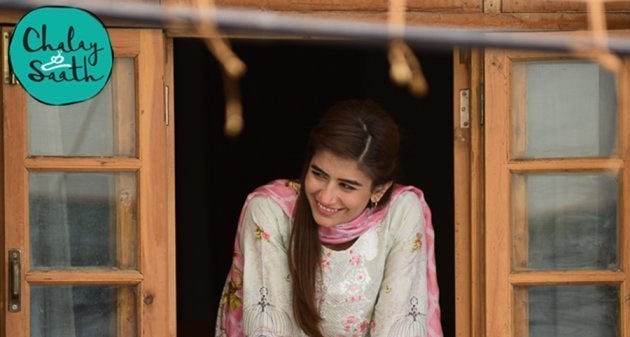 In a serene hotel room, Tanya (Mansha Pasha) reading Elif Shafak's The Forty Rules of Love is interrupted by her husband Zain (Osama Tahir) who makes an advance to show his willingness to mend their relationship. As Zain swiftly tries to hold Tanya's hand, she slyly resists his advance by turning the page over, which infuriates Zain and he leaves the room.
It's a beautifully mounted sequence, which simultaneously depicts the vulnerability of a woman and the frailty of a man's ego. There are no parallels drawn between these characters and the novel's characters. However, the presence of this novel in Tanya's hand manifests the idea of soul-searching. Visibly, we can see Tanya struggling to come to terms with her husband; there is something deep brimming underneath.
'Chalay Thay Saath' is a sumptuously shot film that deals with different types of relationships—whether it's cross-cultural love or a crumbling marriage.
Life is all about moving on, or at least making an attempt to do so.
Later in the film, Tanya confronts Zain in the movie's most devastating scene, with an understated rush of feeling so raw that it chills you to the bone. We see Zain and Tanya begin to bicker and then escalate the exchange to a heated argument. This is the moment when things become clearer.
These are two of the best scenes in this film. There is so much nuance and courageous writing in them. I only wish that the movie had spent more time in beefing up the characters of Tanya and Zain.
Mansha's portrayal of an emotionally drained woman coming to terms with a hard-hitting reality is admirable. She pushes the envelope a little further and reaches something close to perfection. Watching her so utterly devastated with a restrained calm on her face made me realise what a fine actor she is. Osama too holds his own opposite her.
The big picture
Chalay Thay Saath's storyline is fairly straightforward. Resham (Syra Shahroz) returns to her hometown and is accompanied by Tanya and Zain, who we are already aware of now. They both are Resham's best friends. We also have Faraz (Faris Khalid) on this trip, along with an elderly woman (Shamim Hilali) who has left her home and embarked on a self-liberating journey to relieve herself from common household politics. Finally, there is a Chinese tourist named Adam, played by Kent S. Leung, on board too.
On the way, Adam falls for Resham and vice-versa. Meanwhile, Tanya and Zain's story also runs side by side. However, the hokum romantic track of Zhalay Sarhadi (who is later introduced in the film) and Faris Khalid is absolutely unnecessary. But there is enough style and substance to overcome that shortcoming.
The film unspools with a series of wide shots and long shots showing the actors' full bodies in relation to their surroundings. This technique, I believe, was intentionally used to contextualise the characters within their surroundings.
While the writing could have been crisper, I left the theatre with a big smile on my face.
Director Umer Adil's debut effort is a finely made film based on Atiya Zaidi's honest, if sometimes too eager, writing. Adil complements her writing by neatly connecting the dots—satisfactorily making some plot holes less bothersome. His direction is quite tasteful here, because of his genteel tone and reserved approach. He has done a commendable job by mellifluously translating Zaidi's middling story on the screen, making way for the actors to breathe life into their characters, and elaborating on marginal characters till the end. For instance, Shamim Hilali's brief role was skilfully directed. Faris Khalid's comic timing as Faraz also serves the film quite well by rescuing the film from falling into the melodrama trap.
Suffused with warmth, Syra's performance captures the life of a girl coming to terms with her life. Behroze Sabzwari, who plays Syra's father, is a joy to watch. His scene towards the climax, with Syra in their wrecked home, is an emotional treat. Both actors are in their top forms here.
On the other hand, Mansha's Tanya remains the most expressive element of Chalay Thay Saath. One must possess a heightened degree of sensitivity to understand the nuances of her character. Kent is also good. He keeps his body language under control and gives a polished debut performance. I must add that it's not an easy job to stand among a dozen Pakistani actors and make your presence felt even with limited screen time. Great work!
Chalay Thay Saath is also uplifted by its extremely atmospheric soundtrack. Khalis Makhan was my favourite of the lot. Cinematographer Shahzad Khan's work is sublime. His work is effortlessly attractive, whether he's capturing the breath-taking mountains, majestic heritage sites or the traditional Hunzai breakfast table.
It's a film that could have been made as a confused comedy or an overblown melodrama. However, Chalay Thay Saath becomes a parable of renewal and liberation under Adil's deft command. It also emphasises how nature can dramatically change our lives and take it completely out of our own control.
Overall, Chalay Thay Saath is a sumptuously shot film that deals with different types of relationships—whether it's cross-cultural love or a crumbling marriage. While the writing could have been crisper, I left the theatre with a big smile on my face.