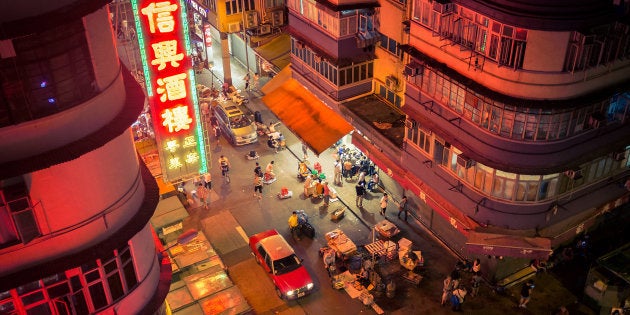 Everyone was always telling me that there were cities in the world that would make me fall in love with them, that would make returning home tough. Cities that I'd always yearn to visit again. Now, I love travelling and I visited many cities in India and abroad. I enjoyed every new city I set foot in. But after a few days, or weeks or even months of staying and exploring, I would always want to come back home.
Then, Hong Kong happened.
Everyone was right. My city of love was Hong Kong, and at the end of my trip I literally looked up at the sky and took a deep breath—taking in the air, the vibe of the city I had come to love so much. Now, I know I said this for Singapore. And for my recent trip to Israel. And for Phuket as well. But there is all kinds of love for destinations, right? I think we have different kind of emotions attached to and different relationships with the places we visit. Anyway, not to label my travels or anything but Hong Kong is definitely the one—my city-soulmate. Here are 9 reasons why I fell head over heels for it.
1. The vibe of the city. The energy
Hong Kong is crowded. I'm an Indian who spent half her life in New Delhi, so when I say some place is crowded, trust me, it really is. There are people walking everywhere, on every street and corner. But the energy of this city is resplendent and exciting at the same time. The vibe is fun and festive, all day long, everyday.
2. The walking
I'm no fitness fanatic, but I love walking and Hong Kong is all about walking. The walking is the essence of Hong Kong, if you ask me. And it comes in handy after you've gone overboard with the food because you will, which brings me to my next point.
3. The food.
The food in Hong Kong, oh the food! While Cantonese/Chinese food is dominant here, you get international cuisine extremely easily. And there is no dearth of lip-smacking street food either. From quick pack-and-carry joints or Michelin Star fine dine restaurants, there is everything for every need. And I've tried both options. Yum.
4. The skyline + Symphony of Lights
The Hong Kong skyline is very pretty, everyone knows it. But I had to see it to believe how staggeringly wicked it is! Tall buildings, beautiful lighting that reflects on the sea and the Hong Kong eye—they make a beautiful scene. And then there's the Symphony of Lights that is conducted every day (I think) with light effects and music all over the skyline, and it adds to the effect and makes it outstanding.
5. Efficient systems, easy life
This one is a very important point, I think. The metro is the most used mode of transportation in Hong Kong. Despite the huge population, the number of personal cars on the streets is very low—which I love. There is a local bus system and taxis are available aplenty. Their escalator system is very cool, and it changes the direction (goes down) during the office hours which, I think, is clever. So, the system is very efficient. And because the public transport is sorted, productivity automatically goes up. I love this about Hong Kong.
6. Wine & Dine Festival
This might be a little biased because I went to this with the most fun people ever, my sister and brother-in-law, and we had a great time. This was my first visit to Hong Kong and the Wine & Dine Festival was the main reason I was there. We enjoyed ourselves a lot, the venue was breathtaking and there was wine—what's not to love?
7. It's socially acceptable to bar-hop all day
Now, I don't know for sure if it really is socially acceptable, I don't live in Hong Kong, but it sure looks that way. While going up and down the above mentioned escalators, I've seen well-dressed people flood the bars and pubs lining the streets in SoHo at 5pm, with beer mugs in front of them. And they have a street dedicated to bars and music. Totally up my alley, I say.
8. Shopping
Hong Kong is one of the world's most expensive cities, but some amount of shopping is something one likes indulge in everywhere regardless of the currency status, right? Street shopping is so much fun here, especially in Ladies' Market. The malls here are glitzy and glossy beyond belief. Every high end brand is present in Hong Kong. From creative sex toys to every gadget ever invented—just go crazy and shop.
9. The daily fashion parade
Everywhere you look, you'll be stunned, really. I have been repeatedly told that Manhattan is the Mecca of well dressed people out on the streets, but I haven't been there (yet) and Hong Kong is amazing in that sense. The people are all well dressed and the fashion game is on point. Girl walk from metro stations to offices in stilettos that I wouldn't even brave inside my house. The men have tasteful tattoos and great skin. Overall, being in Hong Kong makes you feel under-dressed. By you I mean me, obviously. I've got nothing to wear but that's a topic or another time.
Now, go see Hong Kong and let me know if you agree with me here!