Travelling with kids is often seen as a herculean task. A friend of mine recently told me that she gets exhausted just by thinking of travelling with her toddler. She's certainly not alone in feeling this way. A lot of parents have asked me how I manage to travel so frequently with my daughter (now four years old)—so, here's the answer in one convenient place.
Underpinning these practical strategies is a basic philosophy. Travelling with kids is a lot of fun when you plan the trip according to their needs, their individual personalities and find the perfect balance between activity time and rest during the trip.
1. Travel with time to spare
I have been known for cutting it close for flights and even missing trains, but after I had my daughter, I travel with lots of time on my hands. This is simply because running to catch a flight or a train with a crying child in tow is almost impossible. Relax and enjoy the time. Explore the airport or play a family game if you have to wait, but never rush the kids.
2. Bring some surprise gifts
Be innovative. During my recent trip to Pune, I packed an age-appropriate activity box called the Flinto Box in the hand-luggage and my daughter was squealing with joy the whole time. Last year, just before a trip, I happened to be a 99p store (one dollar store) and grabbed a bunch of little toys and fun stationery items (sticker book, Frozen princess erasers, a pen with light on top) for my daughter who was then three years old. I packed them up in different paper bags and gave them to her one by one during the journey, as and when she seemed to be bored or fidgety. The result was a happy and busy kid.
3. Let them lend a hand
Get the kid to help you in packing her/his backpack or a small bag for the journey. They can pick their favourite toys to carry with them. This not only makes the kids feel responsible and grown up (and every parent knows how much the kids want to grow up, sigh), but also keeps them occupied with their favourite things during the trip. However, do check and edit what they've packed because you know how kids are. Mine once packed eight or nine books in her little trolley and then complained that it was too heavy to carry!
4. Avoid Sweets
Keep your kids away from sweets, candy and chocolates while you're travelling because seriously, who wants to arrive at the destination after travelling for hours with kids on a sugar rush? No one I know. Instead pack interesting snacks, which is the next point.
5. Pack some fun snacks
My go-to fun snack is a tiny zip-bag of trail mix with mixed nuts and a lot of raisins because that's my daughter's favourite. I mix walnuts, almonds, sunflower seeds and dates, and I also throw in a handful of candied berries and choco-chips. Packing carrots, grapes or your child's favourite snack is a good idea. Cheese cubes and bread sticks are also a good bet. And remember, try not to give these snacks to the kid at least a week before you travel. That way, they'll be all excited to see the new snacks because of the novelty factor.
6. Don't let the bugs bite
Carry mosquito repellent creams, gels, patches or bands. Or all of them, like I do. I travel to a lot of offbeat places and bugs and mosquitoes are a constant issue for me. I even carry my own mosquito net to such places. And remember to pack the cream in your hand baggage, or somewhere you can quickly reach.
7. Apps To The Rescue
There are a few apps I swear by when travelling with kids. The Skyscanner Car Hire app works wonders when you need a taxi quickly in a foreign country, with a wailing child in tow. Also useful for international trips are the language translator apps for basic phrases that you might need when travelling with kids. I am not a big fan of kids using cell phones or tablets, but it can help if the child is intrigued by a game on your phone (and which child isn't, right?). Download a few age-appropriate games on the phone and hand it over to the kid when you think nothing else is going to work.
8. Brand the kid
I know, I know, it sounds wrong but listen to what I have to say. This especially becomes a necessity when you're travelling internationally (particularly where language may be a barrier) with kids aged from three to seven, who love to run around. Keep a card with all your information in the kid's pocket at all times. Keep the same in the kid's backpack if she or he is always carrying it around (mine does!). I've seen a few parents of very active kids write their phone numbers on the kid's arm (in waterproof marker, I assume) at Hong Kong airport. I think this might be a good option because it never hurts to be too careful, right? Also, there are "kid locators" available in the market that are very convenient. These come in the form of watches for bigger kids to a small device that can be attached to the kid's belt/shoe and the transmitter is with the parents. In my opinion, it is always, always good to be over-prepared as far as the kid's safety is concerned.
9. Be climate-ready
Carry appropriate clothes and gear for the climate of the place you're travelling to. A comfortable kid is a good travel partner, I assure you.
10. The little things count
Medicines are obviously a must, and don't forget to carry the prescription as well. Anything can happen with kids, so don't forget baby wipes and hand sanitizer. It's always a good idea to pack a change of clothing for the kid in your hand luggage.
I hope these tips help you to go on new journeys with your kids. I love, love, LOVE travelling with my daughter and am always looking forward to the next trip. I will keep on writing about travelling with kids right here, so stay tuned in and ask me anything about it.
A version of this article first appeared on the author's travel blog Aditi's Monologue.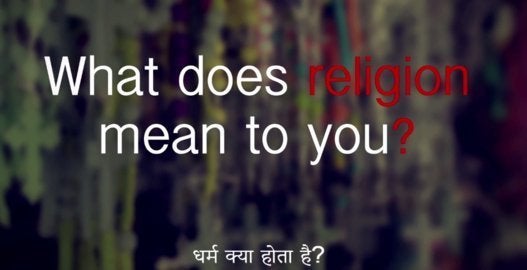 Kids Are Asked What They Know About Religion, Their Answers Are A Lesson For Every Indian