ASSOCIATED PRESS
Morphine is a key narcotic drug that serves the fundamental purpose of treating moderate to severe pain. It minimises the suffering of millions of patients worldwide. Yet, in other parts of the world - including India -- many patients end up in needless pain because they are denied adequate relief.
The following infographics from Work the World show how many developing countries are still denied access to vital pain relief medication.
Morphine was discovered as far back as 1804 and was named after Morpheus, the Greek god of dreams. The World Health Organisation recognises morphine as an essential medicine, especially when treating patients with HIV/Aids.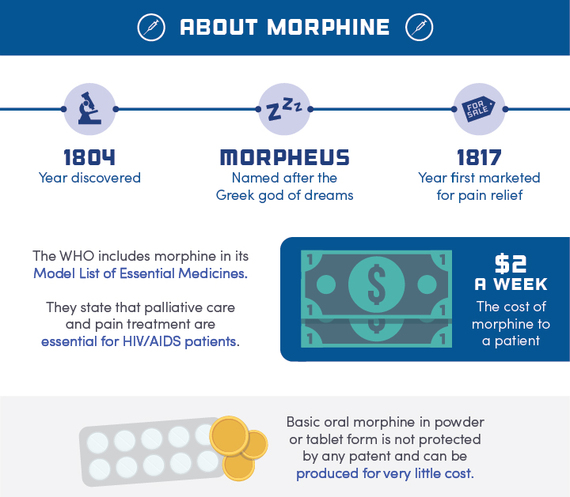 Morphine is a form of palliative care that helps to reduce suffering and helps to promote a better quality of life. It's reported that 20 million people around the world would need some kind of palliative care at least at one point in their lives, yet still only one out of three people have access to it.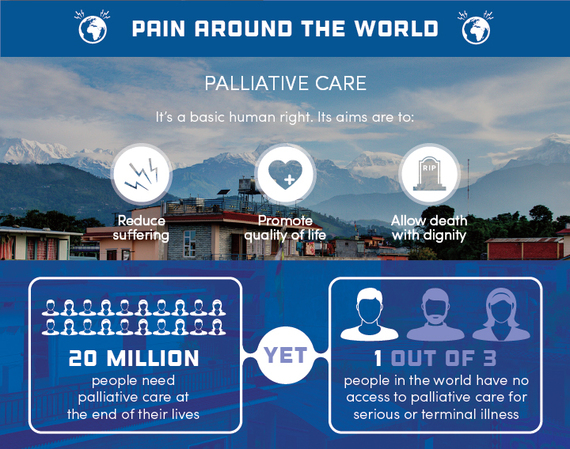 According to a 2009 report by the Human Rights Watch organisation, is it reported that around seven million people in India are suffering with pain that could otherwise be treated with morphine; less than 4% of people suffering with chronic pain from cancer have access to morphine.
Looking at a map which looks at the availability of morphine all around the world, it's easy to see a pattern.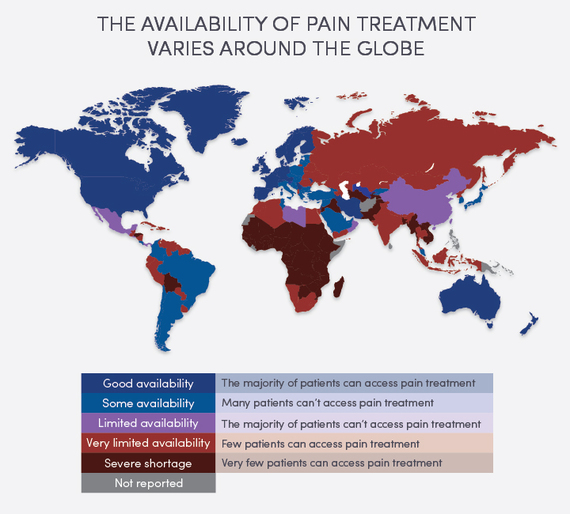 It is reported that 89% of all consumption of morphine around the world occurs within North America and Europe, whilst only 6% is consumed by low- and middle-income countries. This means, shockingly, that almost 50% of the world's cancer patients live within these low- and middle-income countries without access to morphine.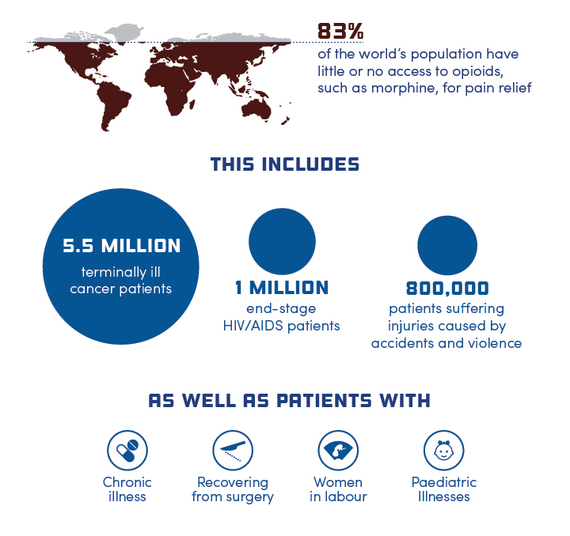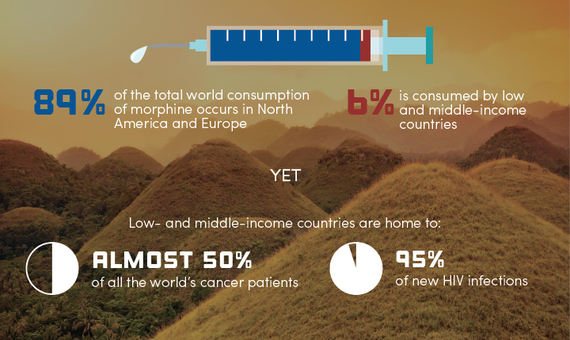 The fear of addiction is reported one of the main reasons for India's regulation and limited supply of morphine, with the Narcotic Drugs and Psychotropic Substances Act having been in force since 1985. There are other similar acts that are legal obstacles around the world -- including the International Narcotics Control Board.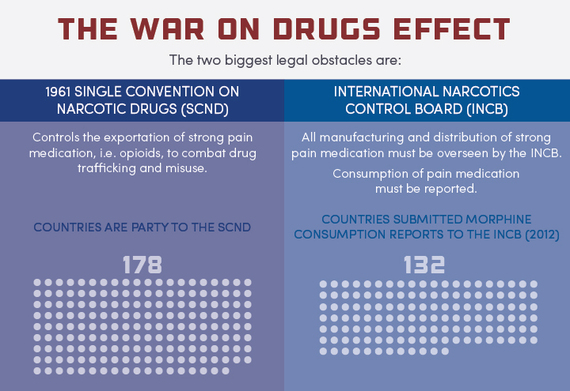 Other barriers affecting access to pain treatment around the world include an ineffective supply and distribution system for morphine and a lack of proper guidelines and regulations for healthcare practitioners.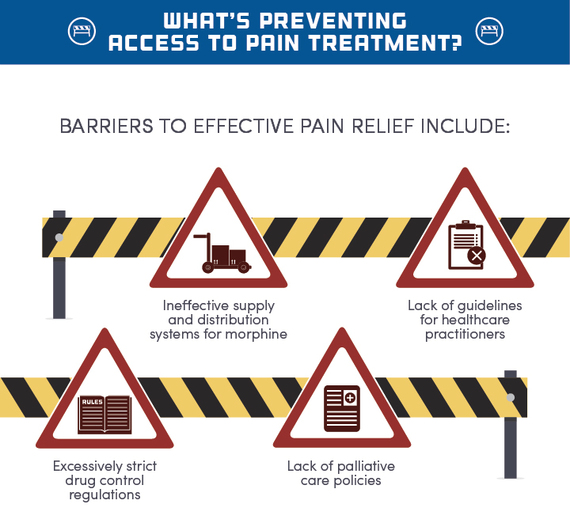 It's important to recognise that according to the International Narcotics Control Board, India is responsible for over 90% of global production of licit opium -- a component that makes up for over 48% of the chemicals used in morphine -- which was then exported around the world.
Pain relief is an important human right and the drugs such as morphine should be regarded as necessary medical interventions around the world.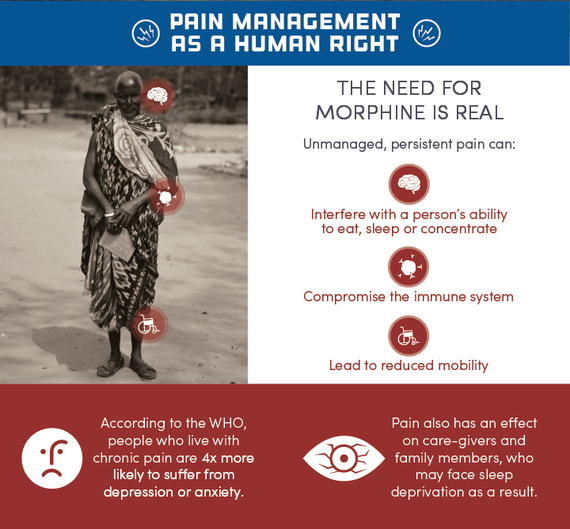 So what's happening around the world to stop this crisis? The International Pain Policy Fellowship program aims to provide the skills needed to improve pain medication policies and systems in countries that lack them. The program has so far had a positive effect. For example, Jamaica reported a 7x increase in morphine consumption over the 10 first years of working with the program.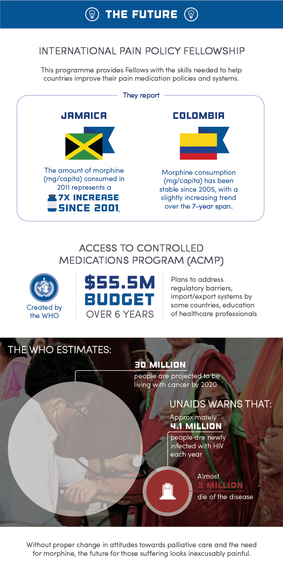 The WHO have also set up an Access to Controlled Medication program that aims to spend $55 million over the course of six years to address the regulations, education and systems around the world that are affecting the distribution of pain relief.
Without proper change in attitudes towards palliative care and the need for morphine, the future for those suffering looks inexcusably painful.
For more information on this important topic Work the World have accompanied their infographics with an article for further reading.
Like Us On Facebook |

Follow Us On Twitter |

Contact HuffPost India