Aashmita Nayar
Not exactly the typical Indian housewife, my grandmother (naani) still felt a little alienated and left out in England, when her husband (my naana) would leave for the neighborhood pub to enjoy a drink and a smoke, come 5pm. So one day, she put her children (my mother and her sister (my massie)) to bed, and marched off behind her husband. She sat with him, drank what he drank (a stiff scotch) and picked up one of his smokes. Much to his dismay that held for several years even when they shifted back to India, she outdrank him till the day he died.
Till this day (my naani recently turned 85), she cannot sleep peacefully without downing her one peg a night.
This little story is a family gem that I'll treasure forever. Not just because my naani comes off as a total badass, but she sported a liberalist attitude (hard to come by in those days) that has been unconsciously passed on to me through her children - my mom and massie. Yesterday, in lieu of it being Mother's Day, I unearthed many qualities, characteristics and traits that have been passed down through these incredible women in my life. In many ways, this was the perfect present for the three mother figures in my life: Primarily, as material presents expire, fade or are digested (yes, am referring to cakes). Also these life lessons are part of the family legacy that I can attribute to my own children one day.
And lastly because this helped the four of us strengthen our bond with each other while realising what we needed to work on in our relationship - this last includes our junkie addiction to diet coke. These lessons, facts, morals - call them what you may - are already known to us in theory, but it's incredible how we fail to employ them practically every day.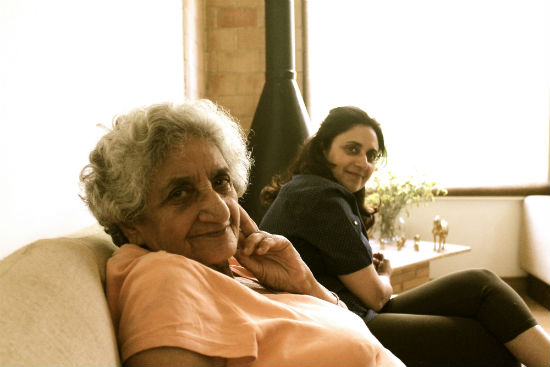 When making friends, look for nothing but warmth: It's a long standing joke in our family that my naani has the ability to be-friend anyone - be it the cleaning lady at the airport loo, a popular celebrity singer at a party, or a grumpy bus driver on-route Chandigarh to Shimla. She has a million friends all over the world that she'll probably never see again after that first meeting. Unlike many people today who consider their professional or social status, she will never look for anything more than a fun conversation, peppered with gossip, says my mom. And it's always the best kind of friendship.
A little education goes a long way: Growing up, it was not easy to get access to expensive books. So my mother during her Delhi visits would simply barter off massie's Archie comics to buy me second-hand Enid Blyton and James Herriott editions from book markets in Vasant Vihar. And this comes from something my naani did for them: when we were growing up, which school you were in didn't matter, remembers massie. But our mother (naani) ensured we got admission into the best possible schools, home-schooled us in Afghanistan, and always spread our education over music, books, and many other things.
It's so easy to get sucked into negativity, and so hard to stay positive: You could never go whining to my mother (my great-grandmother) about anyone, remembers my naani. She'd always say that there was something good in everyone, and that was effective enough to eradicate all your cribs. We'd simply see people in another light, and it helped bring our family closer. This has been passed on to me: Massie and I worked at the same organisation for a few years. Before I started out, she said this: don't bother coming to me about how annoying your boss/ colleagues are. Instead look for what's right with them.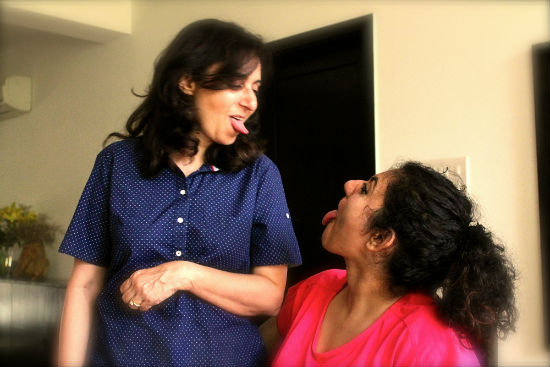 Family comes before friendship: Your naani always sent us to the summer home for our holidays, say my mom and massie in unison. It wasn't an option; we simply had to spend time with our indefinite number of cousins and more importantly our grandparents. At the end of the day, it's family who rallies around when you're stuck, says my massie, adding that the system of joint families is coming back (or should) because irrespective of the fights, there's an unbreakable bond more often than not of family.
But make friends within your family: Today people speak about good friends, but think it is an effort to visit family... but for us, our family was our friend circle, says my mom, remembering a favourite aunt who would hide coke from her own sons for her (my mother) and massie (notice the cola addiction rearing its head again?). We would want to visit our grandmother, and sit with her and talk to her because she was a friend, not just a maternal figure, adds massie. The women in their lives taught them the value of sticking together without being too parental, yet incredibly practical. It's not an easy balance to maintain, smiles my mom.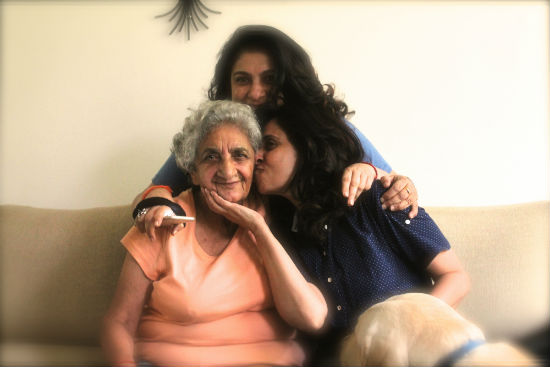 Show your affection: The one thing we probably lack is initiated physical affection admits my massie. Hugging, kissing is not our style - sarcastic jokes on the other hand come easily. And it's something we all need to work on, because it's true: a hug can be so much more adequate than a few words.
Balance your life: Today, health is all the rage, says my mother who (bless her) at her age, is often mistaken for my sister (something that is not always pleasantly received by massie and I). But this 'healthy' attitude came from naani (diet cokes aside) whose liberal habits did not prevent her from balancing her daughters meals and exercise routines - massie was a cheerleader in Korea, and my mother's ability to adapt quinoa into her biryanis or perfect paneer butter masala sans the masala comes from naani's age-old health experiments in the kitchen.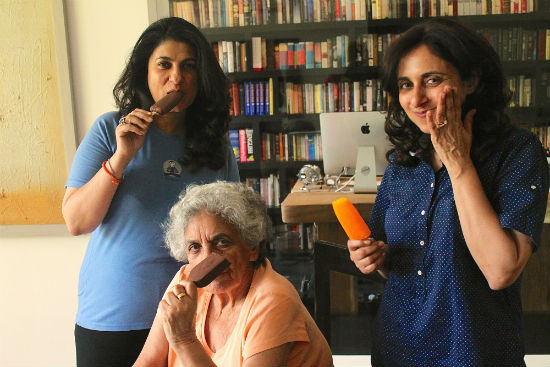 Be gentle: Your great-grandmother probably inspired Disney's Cinderella, jokes naani. A gentle creature, she loved birds, and would sing to them as they sat on her shoulders. The day she died, the sparrows stopped coming to our house she remembers. Her gentleness went a long way in making her a lovable person, not just by animals but by everyone she met. My mother always followed her example, saying it goes a long way in solving problems instead of loud words and an abrasive attitude. To this day, I have never heard my mother raise her voice, and believe me - it gets whatever she wants done (she's the best at weaselling out of paying for dinners and movie tickets).
Always dress well: When travelling abroad with naana (who was in the foreign service), naani always dressed to the nines in European-inspired clothes and makeup. But at our summer home in Shimla, she discarded these clothes for simple salwars, and today is more comfortable in jeans and her Gin-n-Tonic T-shirts than anything else. However she does it, she stands out. Massie's statement jewellery pieces have attracted Shah Rukh Khan's eyes (on stage at an event), and my mother's new-age saris of Chantilly lace and unusual hues are always admired at weddings. Understand what works for you, instead of blindly following the herd, says massie. And never, ever, dress sloppily adds my mother. It's never an excuse.