Aashmita Nayar
Bursting at the seams with commercialized products that are hardly local, Goan flea markets are always worth a visit. Jarring psychedelic beats clash and boom against each other, each demanding to be heard. The acrid tang of sweat, dung and spices is everywhere as is the sand coming in from hundreds of pairs of sun-soaked flip flops. Tiny shops jostle for space, each more colourful (and more expensive than the next). Yet, there's hardly a tourist that leaves without triumphantly (and sweatily) clutching a bag of purchases, and a phone full of photographs. This experience might not exist at posh(er) markets such as Le Souk - an open-air luxury marketplace on Ashwem Beach. But try hitting Arpora's Saturday night markets or the famous Wednesday flea markets at Anjuna beach for a rich mix of feathery jewellery, diaphanous garments engaged in a competition to out-neon each other, eclectic brassware and other ibs and obs. Foreigners, tourists, locals, music bands and food stalls are squashed in with each other, and everyone's having a gala time. If you're planning to stick around for a month or more, Mapusa's authentic village market of farm produce, seafood, and other edible items is worth a visit.
Having recently discovered Instagram's delights, I pressed on to click pictures of my trips at a couple of these markets by day and night, much to the dismay of my quick-shopper male friends. And yet, these photos have outlasted scores of dubious harem pants, and nefarious bikinis to serve as a permanent, sweet memory of the excitement in that very moment.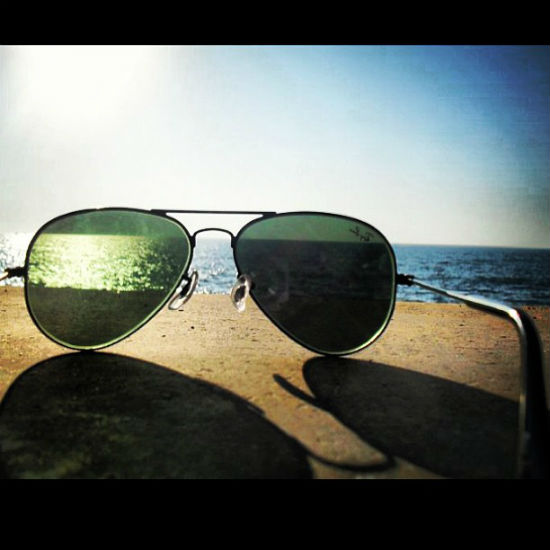 Trusty Ray-Bans make the determined armour for an energetic shopping day...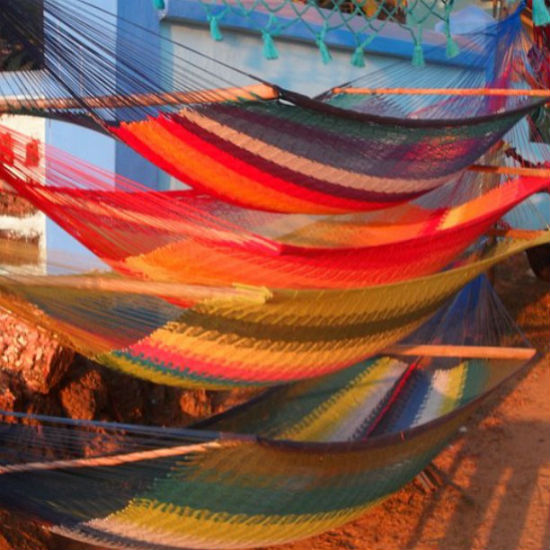 ...But fail hopelessly in front of sleepy, inviting hammocks at the start of the market. Must revive self with ice cream.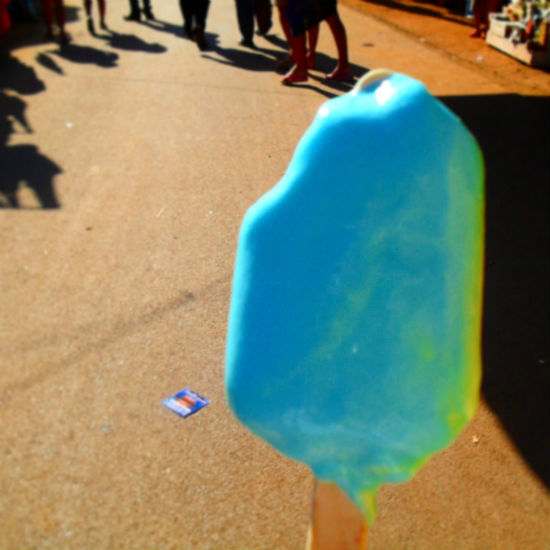 In retrospect, this ice cream looks like toxic waste. Back then it fit right into the Goan psychedelic scheme of things.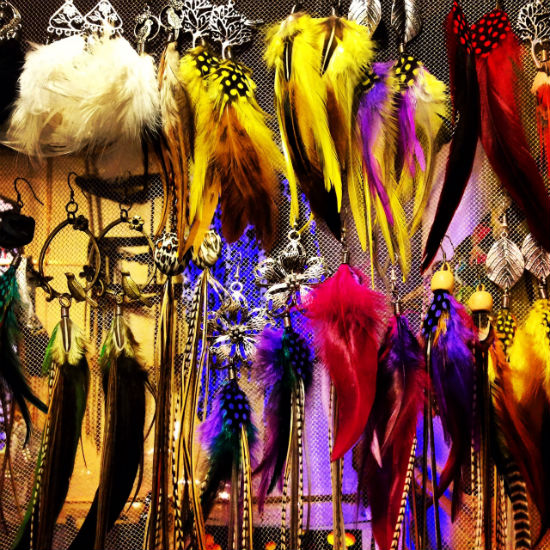 Throngs of colour! Brazilian-origin feather earrings that are OUTRAGEOUSLY priced - enough to offend thrifty Indian sensibilities (y'know the kinds that kick into action when you have to dole out an extra Rs 10 to the parking lot chappie). But they're sooo pretty....*fumbles for change.
Little colour bombs of wool to be threaded into your hair. Though God knows how you get them out later.
Dangling at home alone, these stars take on a forlorn, cheesy persona. But here, clustered together in the bright Goan markets, they add some lustre to the term 'star-struck'.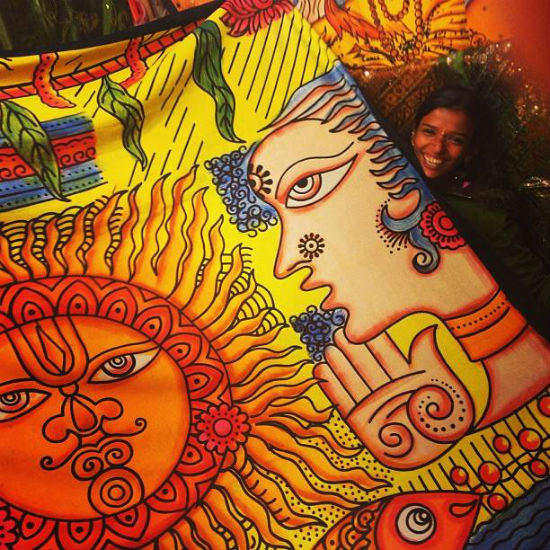 #localbeauty I came across this little woman, sweaty, quiet, and glum in a corner completely overshadowed by loud Russian sellers and more the more glamorous, minuscule-y-dressed Brazilian shopkeepers. But as soon as she saw the camera, her tiny head peeped out from behind with a smile as bright as the hues of the sheets she sold.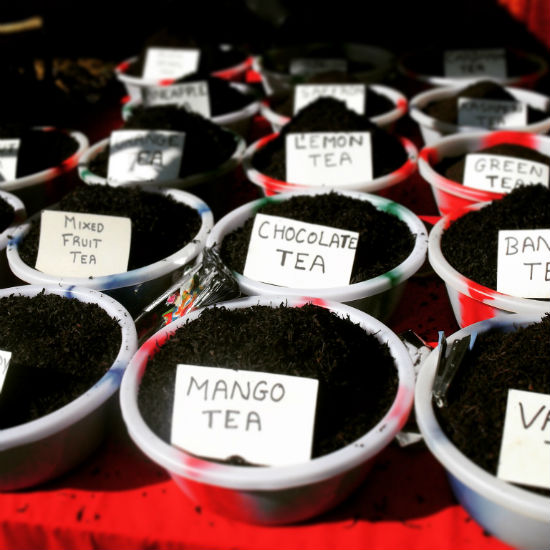 These 'exotic' teas dot different corners of the bustling market like inky punctuation marks - a welcome break from the expanse of screaming colours blurring your vision. (Must ask: who has a palate for banana tea, anyway?)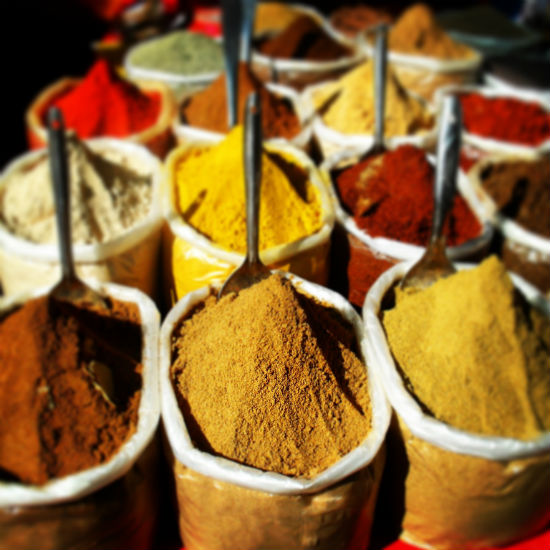 Cannot resist quoting spice is the variety of life, followed by a quick whack by friends for terrible pun. These spices bring back memories of accompanying mom on shopping trips inside musty stores with fat sellers in mustard-stained pyjamas. Even now as I dip my fingers into their powdery interiors (on the pretext of examining quality), I can almost hear my mom admonishing me not to. Something about their crumbly structure boxed up neatly makes me want to rip open the bags and watch them colour the air. Eventually after enough rummaging.... atchoo!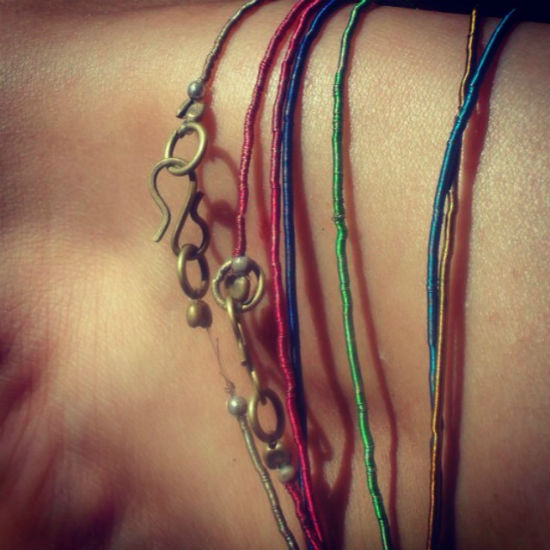 Turns out you can buy a rainbow...from a grumpy lady (see below). I pay her the VERY fair price of Rs 10 (not in her opinion) per cheap, rainbow-y ankle thread. They last for precisely three hours on my ankle before being washed away in the sea. But till then I am happy, as fascinated by them as a to-be-Indian bride in a fancy jewellery store.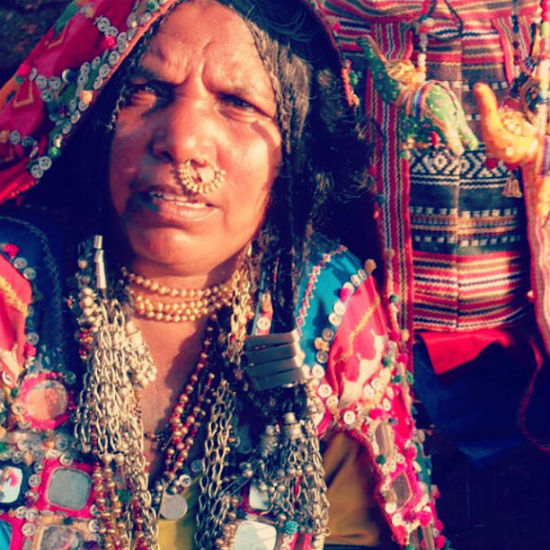 Afore-mentioned grumpy rainbow-thread selling lady.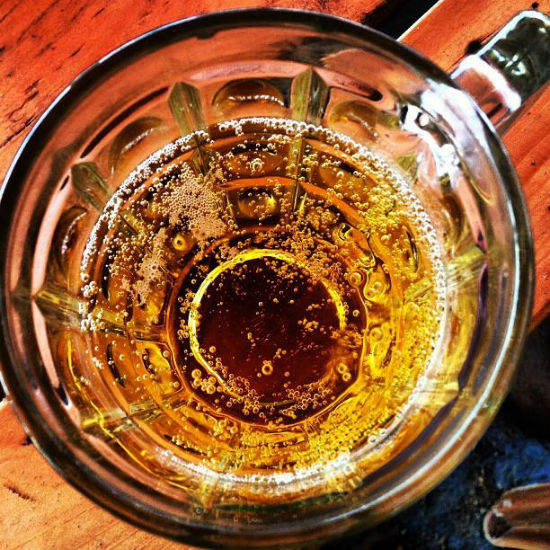 It's not a proper flea market visit without a mug of foamy, golden beer. The food's more of a sustenance affair - carbs to keep your legs walking through the market. The beer's a welcome respite - be in in the hot sunshine or breezy evenings. And the fuzziness that sets in later to hamper your bargaining skills is never minded.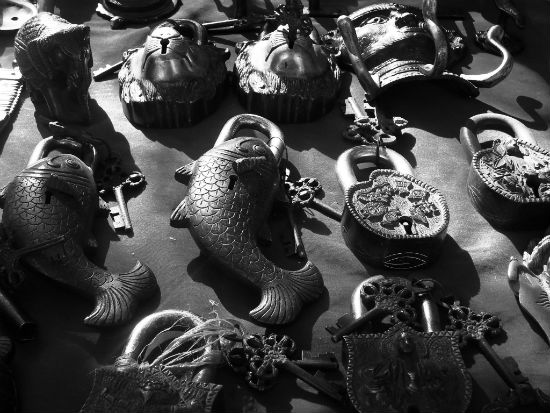 Exquisite fish locks that sit as serene as the sea at dawn (it's only at afternoon that all noisy-touristy hell breaks loose on the beach).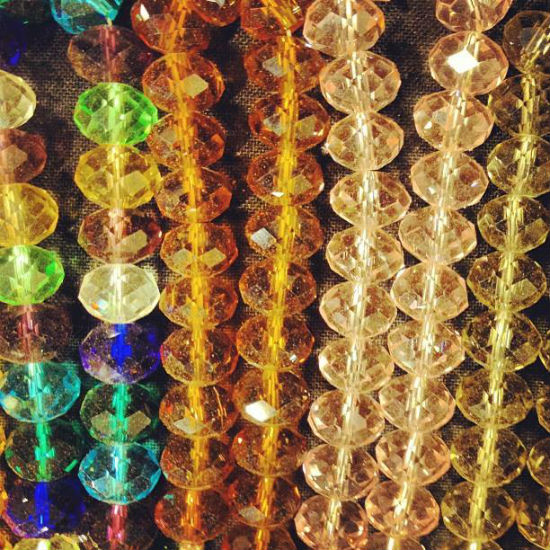 Jewellery-selling locals are bound to treat you with disdain unless you sport blond hair or speak to them in Goan... a friendly smile, NOT calling them 'Bhaiya' or 'Boss' goes a long way.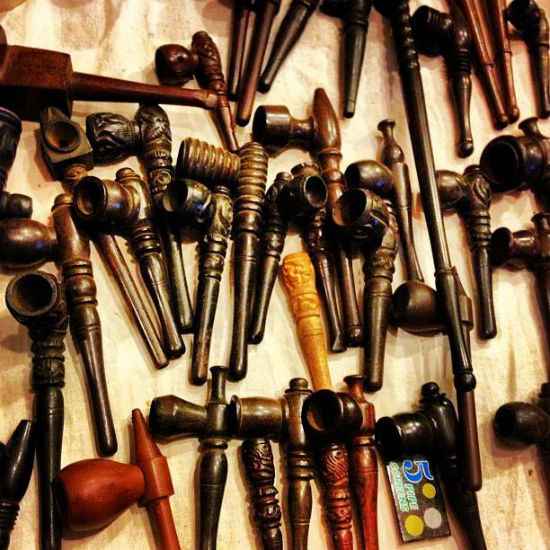 Spread out across crackly old sheets, these slim pipes flaunt a variety of heads - from fat, bulbous ones to thimble-shaped domes. They do look a little sorry for themselves, being ignored as they are amidst the cacophony of colour.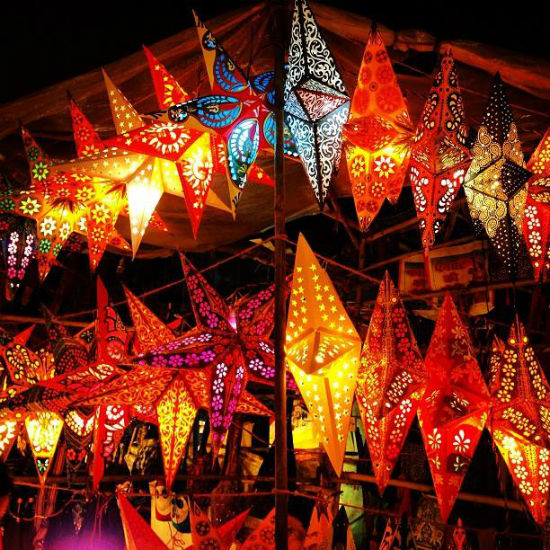 More stars!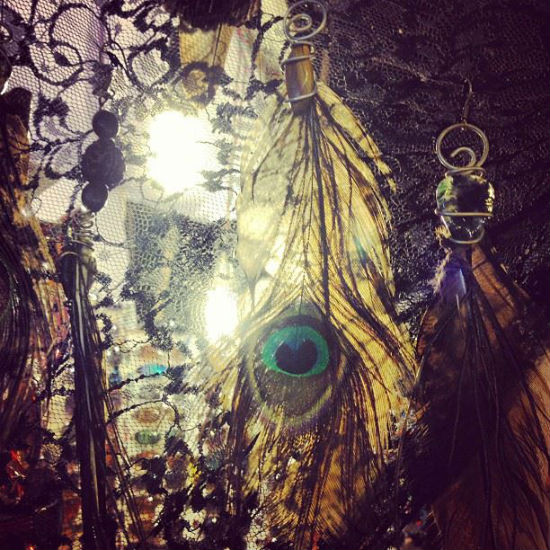 Before giving in to giant feathery earrings, consider that even a drop of sweat can spoil their giant, fluffy appearances.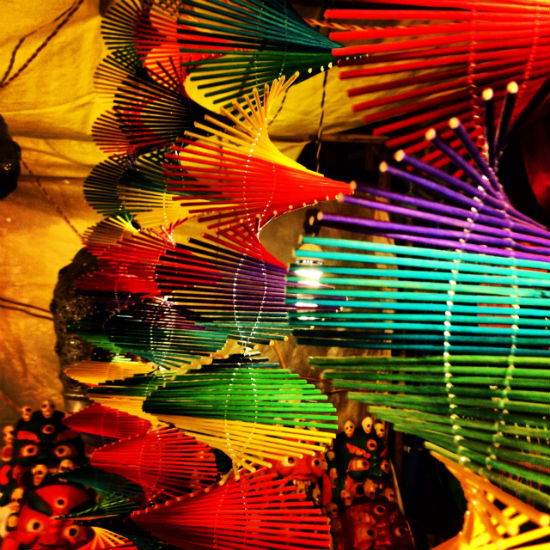 Mezmersing swirls of brightly-tinted cane work... the ideal prop for any children's room, these don't spoil easy.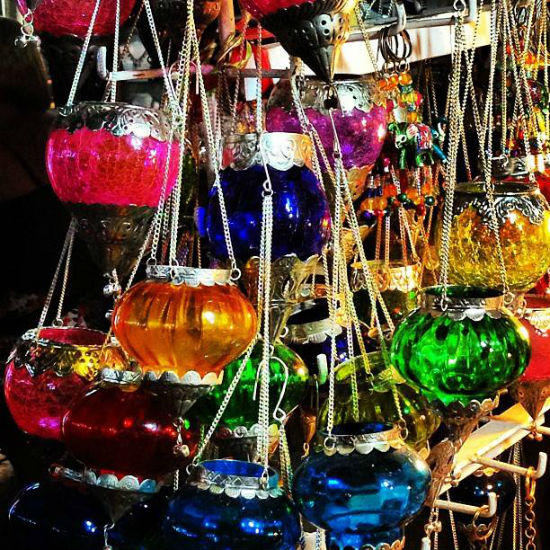 There's a certain 'je ne sais quoi' about these tawdry plastic candle hangers, bad as an investment they are. Kind of like the playboy dance trainer your mother warned you to stay away from.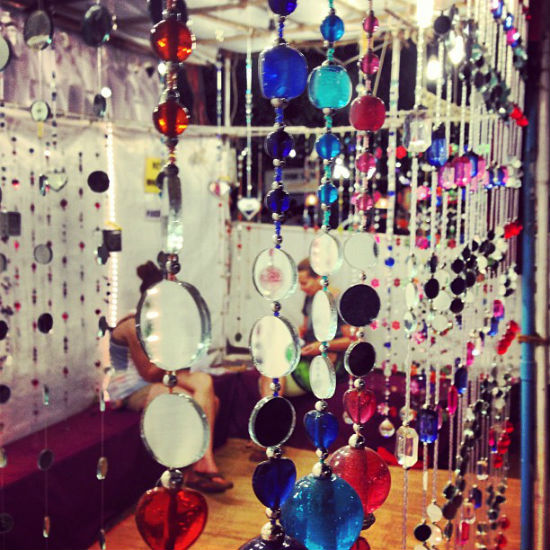 A quiet moment behind iridescent curtains in a cacophonous market.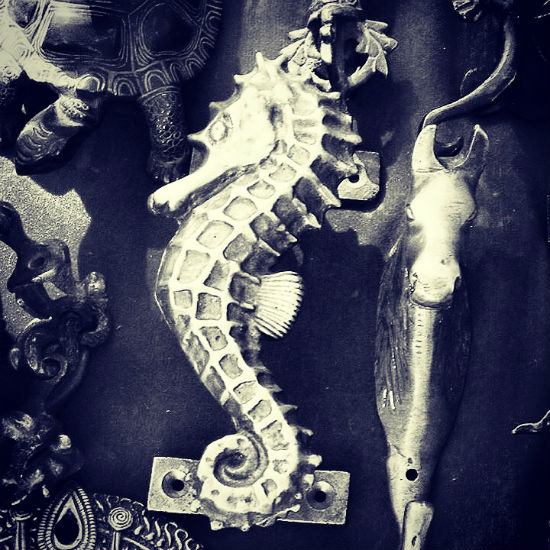 A perfect opportunity to buy something I'm never going to use!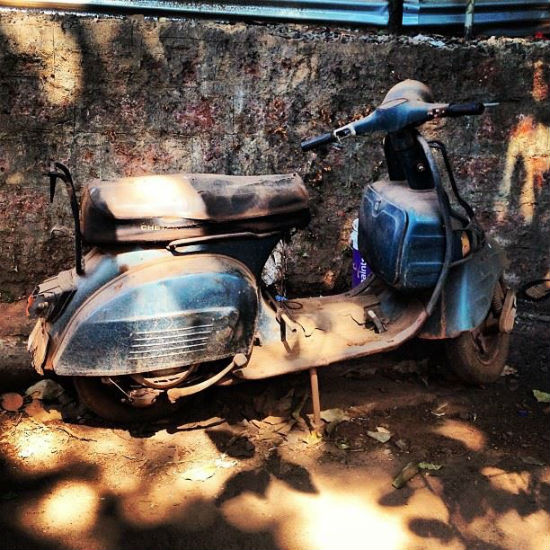 It sits through the sands of time.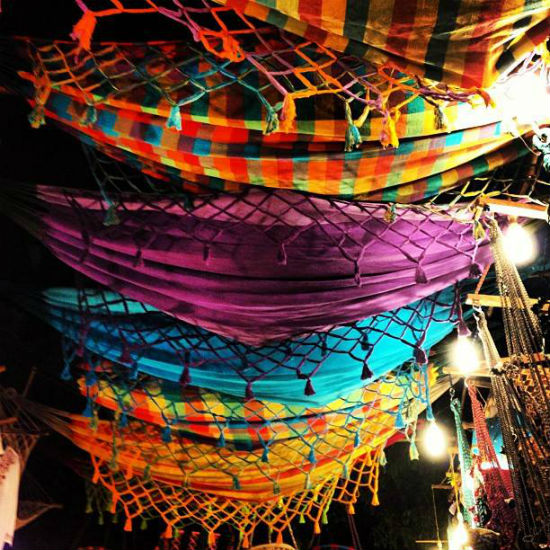 The final curtain: gently waving hammocks bid adieu to a golden day of flea-marketing.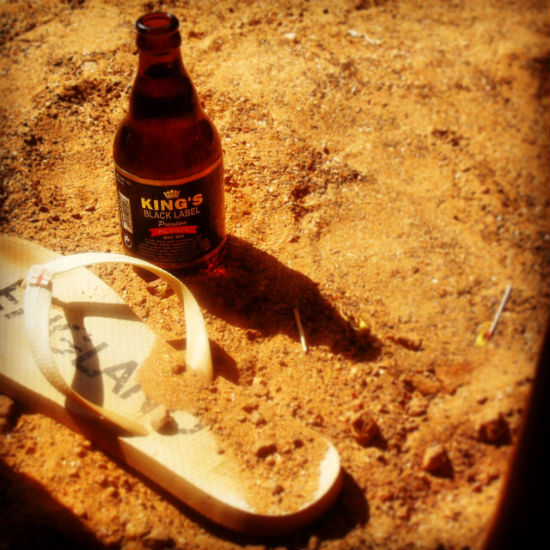 Sinking your toes into sun-warmed sand is therapeutic only at the beach - not at the flea market!
Like Us On Facebook |

Follow Us On Twitter |

Contact HuffPost India