After four three-hour-plus layovers, a 24-hour flight and two days of fighting jetlag, I finally gathered the courage to unpack and do my laundry. I recently returned to India after a 20-day volunteering stint at the Paralympics in one of the most amazing cities of the World, Rio de Janeiro. Nostalgia struck when I pulled out my uniform, the shoes still carrying beach sand and slowly one by one the Rio 2016 branded merchandise that we were given as a surprise each day when we checked in at work, to stand for the volunteer spirit of Diversity, Collaboration, Experience, Inspiration, and Initiative. This post is a tribute to my fellow volunteers who made the experience worth it and are probably going through the same withdrawal symptoms.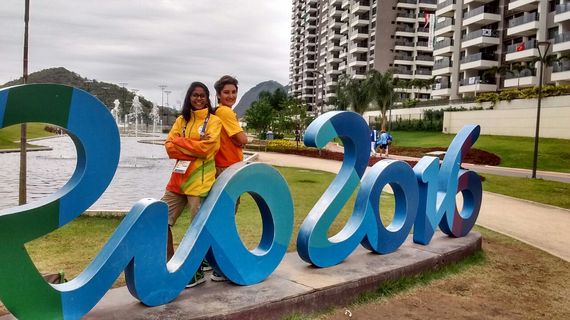 The Rio 2016 games brought together not just athletes and players but also volunteers from all corners of the world. As I am ruminating on the event, I am having a tough time describing in words to friends and family how incredible the experience was. Here are 5 things you will understand only if you were a volunteer at the Olympics or Paralympics Rio 2016.
1. Do you have a pin?
You know you are a volunteer at the Paralympics when the third question after a greeting is to know whether you have a pin to exchange. "Hi. What's your name? Where are you from? Do you have a pin?"
Each delegation arrives with a pin of their country and the sport they represent to exchange with the opponent and there a few in circulation with the general workforce. The Village runs on a "pin economy" and everything from a favour to a playing team's jersey (and in some desperate cases a kidney) can be bartered for pins. The number of pins you have is usually proportional to how amiable, popular, annoyingly persistent or multilingual you are but even if you are an introvert or couldn't care less about something as frivolous as pins, you will still inevitably leave the games with at least one pin!
2. Bom dia! Buenas trades. Good night!
With 4350+ athletes from 165+ countries and 50000+ volunteers from 151+ countries the Olympic/Paralympic Village is truly a global village. It takes you 11 minutes to walk from one end of the main street to another and in that duration you can hear at least five languages at any given point and cross paths with people from at least seven different countries in one go. You often switch between three languages in one conversation. The apartments, like nations, are territories marked with their country's colours but the athletes are united by the spirit of the sports.
Your personal Portuguese vocabulary has probably grown ten-fold (definitely more than the official basic Portuguese course that you finished before arriving at the games). You probably even said "obrigado" to the air hostess when you landed in your home country.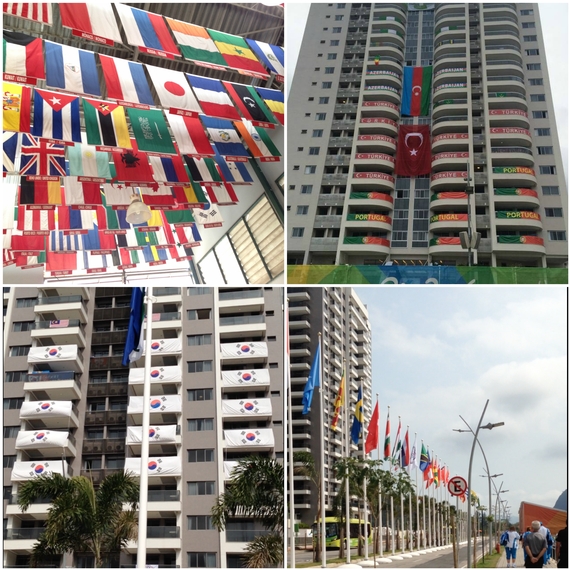 3. McDonald's or lunch?
Every morning during check-in you face the dilemma of having to choose between lunch and McDonald's. Your day depends on that one decision, which needs to be carefully worked out with your shift. It's a choice between the fast and the healthy, the devil and the deep sea. While lunch is the healthier option and tasty as well, if you happen to be there anytime between 12-2pm you can be sure you to take more time than the allotted lunch hour. Sometimes the queue goes way beyond the main entrance. But one thing that the organizing committee gets extremely right is that the way to a person's heart is through their stomach. The volunteers are well fed and taken care of with unlimited snacks, water and beverages and were given packed meals in case of odd shift hours.
4. It takes time to become a "volun-tourist"
You know you are a Paralympic volunteer when one week in you still haven't been to the world-famous beaches in Rio. You step out each day thinking you will go to the beach after work and pack for it too. The long work hours are intense and fun-filled but after bonding with your team, you finally cross off the Copacabana, Ipanema, Alvorada, Recreio checklist in week two! The three odd days you get a foda (an off) you make it a point to go to the Cristo Redentor, the sugar loaf mountain, and the Olympic Boulevard, thus upping you to "volun-tourist" status.
5. It's all about the people
It's always usually on the last day that you realize that you haven't been taking any pictures, but that's ok because you've been too busy creating memories! There's a general oft-expressed belief among the volunteers that people are a lot more courteous during the Paralympics than during the Olympics especially towards the workforce and the volunteers. I second that.
One of the biggest take backs for me (along with getting to grow professionally by working with a top-notch team and being a tiny part of the operations of one of the world's biggest sporting events) has been: It's the people who make an experience count!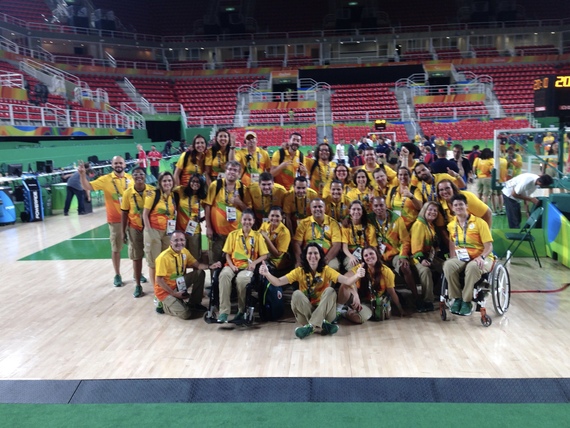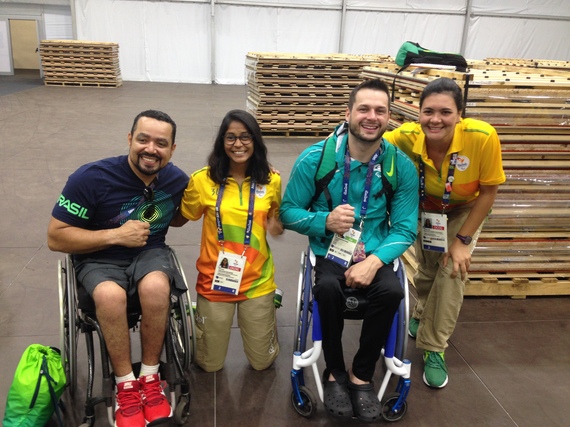 Wheelchair basketball, home team Brazil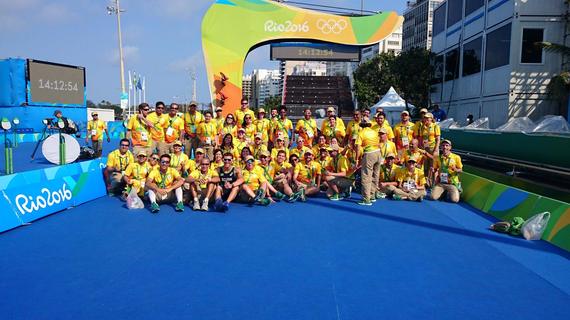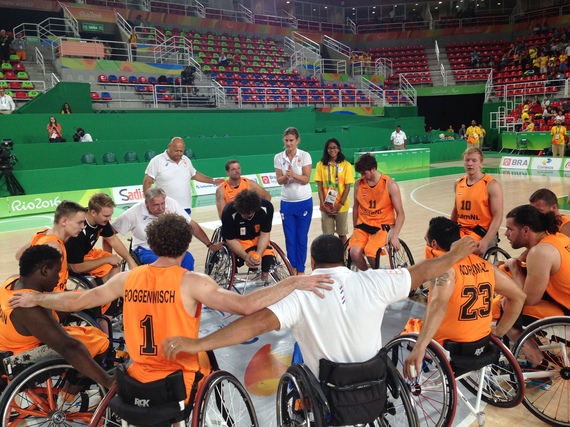 Dutch men's wheelchair basketball team
I raise a Caipirinha toast to all my fellow volunteers from Brazil and around the world—you guys are some of the most empathetic people I've ever met! Thank you Rio 2016 for memories that will last a lifetime.
Now, who is up for Tokyo2020?