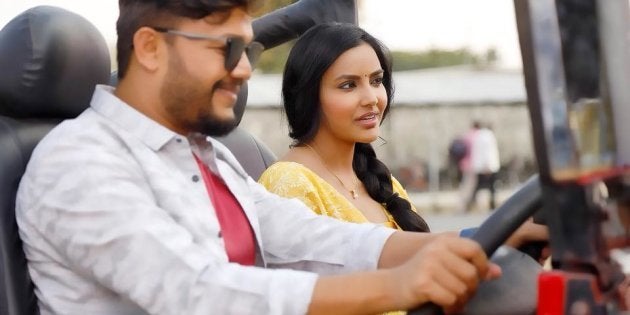 Even after watching Orange for nearly two-and-a-half-hours I couldn't understand why the director, Prashant Raj, chose to name his film after a citrus fruit. This Ganesh-Priya Anand starrer really has nothing to do with the humble fruit that everybody loves. Even if the film had been titled Strawberry or Apple, it wouldn't have made a difference. Can a mere change of title have the power to alter the bitterness in the script? I don't think so!
Fifteen minutes into the film, we're introduced to Radha (Priya Anand), a gullible young woman who pours her heart out to Santhosh (Ganesh) on a train. You have to remember that they're strangers. She's just met him, and like Geet (Kareena Kapoor) in Jab We Met, she loads his head with her family history. Santhosh is a small-time thief who shows little interest in the gold bracelet that Radha asks him to look after while she visits the restroom.
Maybe this premise looked fantastic on paper. On the screen, however, it just seems silly, with Santhosh deciding to hunt down the thief who pockets it. The thief, too, looks stupid. Was his character inspired by the stereotype of filmy thieves, for he wears a scarf around his neck and a worried expression on his face? Not just Santhosh, anybody on that railway platform would have yelled, "Thief, thief, thief" after one look at him. This is the point where you realise that Orange is happy to pick low-hanging fruit to make jokes, or to transition into songs.
Now that the director has set up the story, he moves on to his next task: making this film a comedy of errors as Huli Veeraiah (Avinash), Radha's father, insists that Santhosh stay with his family until his daughter returns (she has run away). Rampura, where this portion of the story takes place, is filled with grasslands and a river. But this side of the town is only explored during a drinking sequence in which Santhosh sits alongside a group of middle-aged men to gulp down toddy. This scene will definitely remind you of the iconic lead-up to the song, "Araluthiru Jeevada Geleya," in Mungaru Male. It's not as funny, or poignant, as the one with Ganesh and Pooja Gandhi, though.
Orange is a farrago of at least half-a-dozen Telugu and Tamil movies. I could distinguish the flavours of MaryadaRamanna, Gudumba Shankar, Ullathai Allitha and Oru Kal Oru Kannadi. And the 'inspiration' doesn't not stop there. Plotlines and dialogues from Ganesh's own films also make cameo appearances. Although I do not have a problem with filmmakers taking some threads from blockbusters to stitch their films together, such blatant rip-offs do tick one off.
While Veeraiah and his wife (played by Padmaja Rao) seem like ordinary people, Sadhu Kokila plays a character named Undertaker who has long hair and sleeps upside down in a coffin. He's an eccentric fellow who gets beaten up by everybody in the house. Though most of his gags are unfunny, his drinking sessions with Santhosh are somewhat chuckle-worthy. The best moments of the film, however, begin with the arrival of Giddappa (Rangayana Raghu), a sweetmeat shop owner. Raghu pours so much joy into his character that every scene he's in automatically turns into a laugh riot. His live commentary during the engagement ceremony is especially enjoyable. Also, listen carefully to the his scenes where he asks Santhosh about the poor treatment that his son (Harish Raj as Prashanth) receives at the dining table.
I recently saw a tweet that spoke about how comedians get slapped around by heroes in movies. I should go back and add my comments on how Orange goes a step further in that direction—for it brings in a baddie (Dev Gill as Narasimha Nayaka) whose sole purpose of getting thrashed. Nayaka tries to humiliate Veeraiah twice—once before the interval and once in the climax. But, without sweating much, Santhosh puts him in his place, and, walks away with Radha.
The puppy face that Radha makes in the reaction shots while Santhosh is fighting off the goons says more about her character than all the dialogues she utters in the movie. Prashanth Raj's Orange is a half-rotten film that's consumable only in parts.