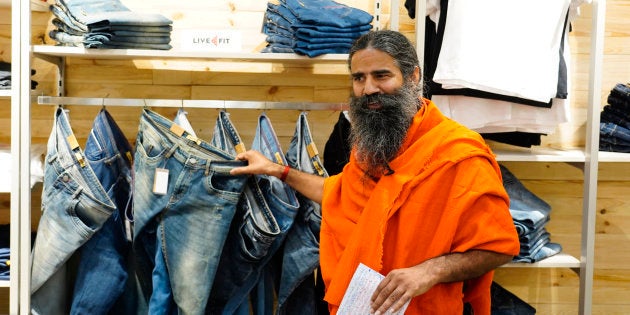 NEW DELHI — A flip through the visitor's book at Ramdev's new Patanjali Paridhan store shows a certain Xyzpreet Kaur from Punjab has claimed that she had come down especially to shop from the store and she loved everything. Sadly, her testimony was surrounded by dozens of less flattering ones.
Looking up from this lugubrious log, my eyes met blow-ups of the Baba and his billionaire investor, Acharya Balkrishna. Admittedly, this is a novel marketing spin for his brands LiveFit, Astha and Sanskar. Professional models are so, like, impersonal. So let's give shoppers something real to aspire to.
The Price is Not Right
For all his many promises of 'flooding' the markets of India with 'desi' jeans—one imagined fabulous innovations in khadi denim a la Rajesh Pratap Singh, but affordable because Patanjali—the price range of clothing from Patanjali Paridhan, I found, was comparable to Shopper's Stop and Westside, long established players in the market for mass fashion (not to mention that they have better designs).
Let's begin with the jeans at the Pitampura store, since these were such a talking point, being the epitome of Capitalist Western Couture (Yves Saint Laurent himself wished he had invented them). Depending on the washes, styles, and material, they cost between 1100 to 2000 approximately. After trying them, I can tell you that Sarojini Nagar and Janpath have much better merch to peddle. Besides, you could shop at Wrangler or Flying Machine for the same money and get far better quality, a wider range of designs, and the cool factor to match.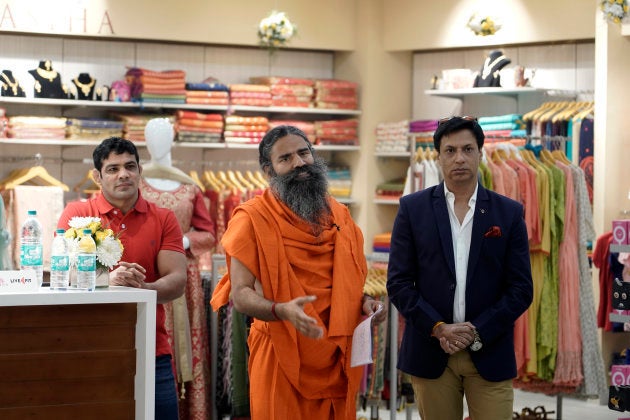 What really should have made headlines when the store opened on Dhanteras day in November is the line of fine mercerized cotton and cotton+bamboo fibre underwear for both sexes. Priced between 300 to 500 approximately, this is probably Patanjali Paridhan's challenge to Jockey, currently the coolest mass innerwear brand in that price range. But no, the styles are old-fashioned, meant for adults who still allow their mothers to shop for their delicate unmentionables. The only Patanjali innovation in this section is the langot, but in cotton jersey. Not particularly new, either, TBH. I mean, even the gay-favourite Australian brand Aussiebum has done them, and I assure you, Ramdev's are definitely not as appealing as those.
I could go on about the jogging tracks with drawstrings priced at a cool grand, and sneakers with blinding white, molded rubber soles for 1600 and above, but I won't. The pricing, and this is borne out by the comments in the visitor's book should anyone care to check, is not a PP (Patanjali Paridhan) USP.
Material World
That was that for LiveFit, the casual/athletic brand placed closer to the entrance to supposedly entice the young Pitampura crowd. Towards the back of the store are the two more expensive brands by PP, Astha (for women) and Sanskar (for men). I first went to the Sanskar counter, where the helpful sales staff showed me kurtas infused with the fragrances of chandan and kasturi (individually, of course; even bad agarbattis don't mix the two, which Ramdev surely knows). The label on the clothes promised that the scent would last for 20 washes, and priced at Rs 800 or Rs 900, these didn't seem like a bad buy. However, you have to take into account that these are not made from natural fabrics.
There's no way to weave scented textiles without adding a significant amount of synthetic fibre to the yarn. Natural fibres like cotton, linen, and silk will simply leach out any added fragrance-mimicking chemicals in a single wash, much like your Axe deo leaves no trace after it has been nuked by Surf Excel in your machine. Yes chemicals; you think Ramdev will scent your kurtas with real sandalwood and musk? Hai Ram(dev)!)
As for fragrant-for-20-washes, that don't happen IRL either.
And synthetic fabrics were plentiful in the store. For a brand, a man, and a philosophy that congratulates on prides itself on being 'swadeshi', the liberal presence of poly-georgette, nylon, and synthetic silk in the store was jarring. When you make claims that you are doing something to bring back our pride in Indian clothing and design, using locally-available materials is not too great an ask. Otherwise, how different are you from any factory or group of manufacturers using underpaid Indian labour to stitch clothes out of cheap, foreign-made, machine-produced textiles? Turns out, not so different after all.
The Great Game
To Ramdev's PP, what I've just suggested is indeed a very great ask. You see, the God(man) is in the details. A simple glance at any price tag in the store will tell you more than just the price. Each one boldly states, without fail, 'Marketed by: Patanjali Paridhan Pvt. Ltd., Dadu Bagh, Kripalu Bagh Ashram, Kankhal, Haridwar – 249408, Uttarakhand'. Below this address, in ever so slightly smaller font size, are the details of the factory or company that actually made this particular garment. And here, full marks for honesty, the descriptor begins with 'Manufactured by: xyz and their address'. And I don't need to tell you this: there's a huge difference in marketing and manufacturing.
However, that is a well-established business practice. Many successful clothing labels use multiple manufacturers to produce their various SKUs (stock keeping units, a fancy term for individual styles). For example, if I'm an entrepreneur who wants to launch a fashion line, but have no clue how to produce shirts, skirts, kurtas, jackets, belts, shoes, jeans, socks, bras, underwear, dupattas, saris, sherwanis, salwars, and a hundred other things, I'll simply go to the people who can.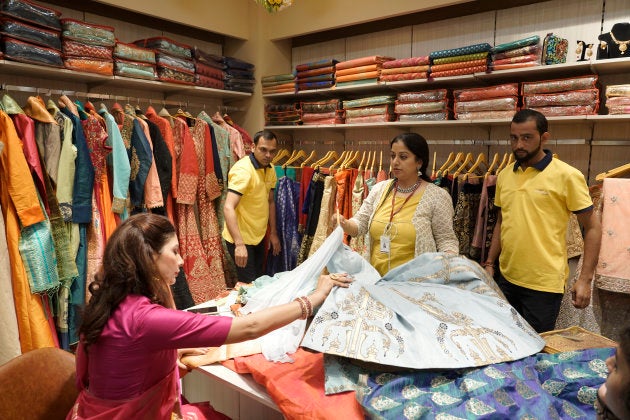 So where these garments are coming from? There's Varangi Fashions Pvt. Ltd., which is listed as a manufacturer of a multitude of men's and women's garments in Noida. Then there's Vasant Kunj-based Aum Irya Marketing Services Pvt Ltd, a wholesaler with a proper GST number. The jeans at PP come from Upper Class Fashions Pvt Ltd, which has a retail network in 20 countries according to their website. Next is Kudu Knit Process Pvt Ltd of Ludhiana, Punjab, makers of LiveFit undergarments, and they produce about 200,000 pieces of clothing every month using processes and materials from Taiwan, Hong Kong, Korea, Germany, Italy, Spain, the UK, and Japan, just to name a few countries that are definitely not India.
There's Naraina-based Indo Accord Apparels Pvt Ltd, a straight up manufacturer, supplier, and exporter whose merchandise are lining the shelves at Patanjali Paridhan right now. I also spotted some truly hideous sports bras that no budding teenager should go near, made by the women tailors of Provocatro Apparels Pvt Ltd.
For accessories like faux leather bags, belts, and shoes, Ramdev has roped in Kashyap Footwear Industries (and similar others), which is listed as an Agra-based distributor (meaning they don't make anything, but source from local producers and then sell onwards) of all types of footwear.
Money Ki Baat
Full disclosure: I did buy two pairs of cotton hand towels, a bath towel, and a pair of bamboo-cotton sweats to wear at home because I didn't want to disappoint the staff. They were, I'm sorry if I sound like a sop, really sweet and smiley. Besides, the cotton towels were really cheap.
There's nothing in the men's sherwanis or women's lehengas that you can't find better versions of in Lajpat Nagar and Chandni Chowk, and for cheaper. In fact, Ramdev has even roped in Chhabra Triple Five Fashions Pvt Ltd, openly called the copycats of India's biggest fashion designers, to produce kurta-salwar sets for women, now displayed proudly in the ethnicwear aisle.
When it comes to dressing up, the multitudes of India have a history of being choosy, not to mention extremely well-informed. A saffron gamcha handed out from the local strongman is easy to put on; but when it comes to spending real money on clothes, I feel the customer is far more picky.
To sum it all up with an example, the only person who was actually surprised by his summary rejection in the Indian market in the 1980s was French designer Pierre Cardin. He unleashed close to 40 licensed goods—from ballpoint pens to handkerchiefs and ties—bearing his signature (only) on the Indian market, thinking that his French-ness would carry him through. He was proved wrong and had to withdraw. Will Ramdev and Balkrishna—both billionaires who have done nothing but repeat the 'swadeshi' press release since the store opened just over a month ago—have to learn the same lesson? I fear, yes.