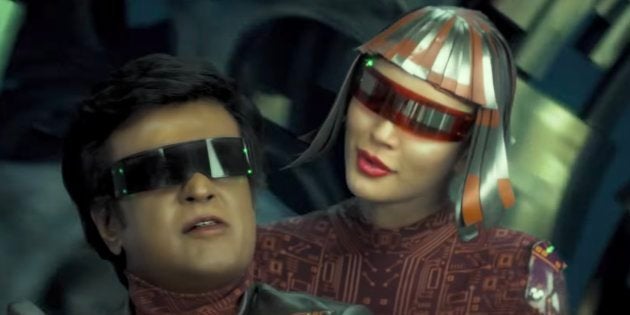 Spoilers ahead for people who haven't watched 2.0
2.0 has three versions of Rajinikanth — as valiant scientist, as smug human-sized robot, and as cocky GI Joe sized robot. The film has three versions of Akshay Kumar as well — as righteous old crusader, as screeching, giant bird-monster and as angry bird-man. The same film has one version of Amy Jackson, as robot Nila whose primary job is to be awed by the man-ish creatures around her. Nila's life is just a little less thankless than those of women in Indian masala ads — the ones who do all the cooking and but we're told that chhole masala is the real hero.
Nila, her creator Dr Vaseegaran (played by Rajinikanth) says, is no warrior robot. She is meant to be a 'friend', helper, and 'caretaker'. Expecting Indians to be okay with a robot that resembles a man to also fit that description, is like expecting a papad to lift the weight of a brick. So the 'caretaker' robot is a woman with the most perfectly highlighted cheekbones. She is also the personal assistant of the 'genius' scientist, which in 2.0 means, she does everything from forensic analysis and driving to jumping walls and disabling electronic alarms. In between, she helps the scientist steal the 'male' robot from a museum and also saves his life. Now since Nila has the body of a woman and we don't live in the commercial of extra large sanitary napkins, life offers limited freedoms. So despite all her Ninja talents, Nila's job becomes limited once Chitti, the prized robot is brought back to life.
Then on, poor Nila's life starts turns into every offsite ever. Here's a simplified version of a conversation that takes between man and man-robot when a plan to defeat the villain is underway in 2.0.
Man robot: Can you explain why you are doing this very important work?
Man: Oh come on, you know what this very important work. You go ahead and explain?
Nila's job is to sit and ask questions so that the menfolk can enlighten her. Thankfully, since she isn't burdened with ovaries, she doesn't do anything violent while the 'men' go around slapping each other's backs, while living up to the high expectations from manhood set by every gutka ad ever.
In course of the film, when the 'men' and Nila are chasing the big bird villain, Chitti takes the lead. He speaks to the villain and listens to his story, he saves a vehicle carrying from toppling over, he fights with the villain and takes videos which can be analysed. He is basically Sunny Deol with the soft skills of a credit card salesperson.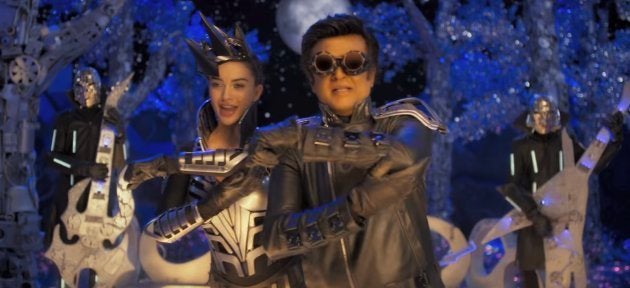 While Nila is mostly reduced to being a driver, when Chitti is knocked out, she exchanges her CPU thing with his, so that he can be revived to fight the villain. She may seem like a super smart robot, but there's a little bit of Basanti in all of us ladies that wants to go all 'jab tak hai jaan, main nachoongi' for men, right? Or who knows, maybe she just didn't want to mess up her super sleek ponytail fighting a giant pigeon.
In one scene which is symptomatic of how little agency the film gives the 'female' robot, Vaseegaran and Chitti simultaneously give Nila contradictory directions. Nila, through the entire 4-5 minutes of the scene, switches from listening to man to robot to man and then the narrative takes a different turn, so she doesn't really have to take a decision.
Also, since she is a woman, her CPU stuff must also be filled with information about Comedy Nights with Kapil, Kum Kum Bhagya and 'karela kofta'. (Now the plot doesn't reveal if her processor had been sourced from the Uttar Pradesh government, but there is no plausible explanation for 'karela kofta' apart from that.)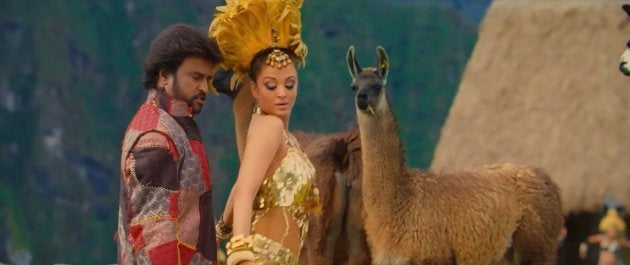 In many ways, Nila is simply an extension of every woman character in Rajinikanth's latest hits. Sonakshi Sinha played a cartoonish Bharati in Lingaa (2014) where she has just a dozen lines to speak and like Nila, plays the passive personal assistant-cum-wife to Raja Lingeswaran played by Rajinikanth. In fact, if her character was completely omitted from the film, it would've made no difference to the narrative at all. The same films stars Anushka Shetty as a spirited young journalist. However, after the first five minutes of her appearance her special journalistic talents seems to be investigating the various ways she can swoon over a man.
Towards the climax of the movie, a sting operation conducted by Shetty nails the villain. Lingaa proudly declares that he was the one who sent Shetty to conduct it. In Enthiran (2010), Vaseegaran responds to his girlfriend Sana the way we react to mosquitoes buzzing around our nose. He comes back to her, only when he is done making his robot and has time to spare.
When you thought Nila's life as a second class robot can't get worse, she is then entrusted with reviving a version of Chitti who's an insufferable lech. This 2.0 version of Chitti immediately grabs Nila, feels her up and unzips her costume. Nila's CPU, pretty much like our own lives, has internalised and normalised harassment, so she gladly plays along the creepy Robot, who of course, goes on to save the world.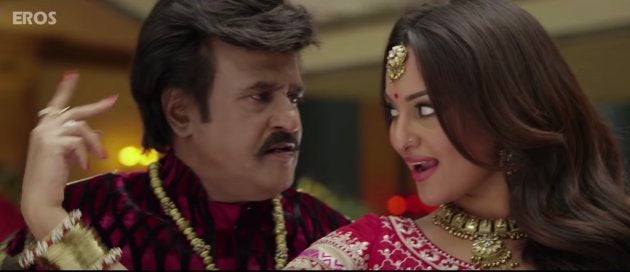 The treatment of Nila in 2.0 is completely in tune with the sexist universe of the franchise of films. While Vaseegaran's girlfriend doesn't appear in this film, she comes up in two phone calls where she is nothing more than a whining, screechy, complaining woman accusing her partner of not giving her enough attention and flirting with a robot. Vaseegaran, played by Rajinikanth, also talks to her in the infantalising tone in which parents speak to kids in order to feed them vegetables. A random man in a crowd scene describes his relationship with his mobile phone like the one with his wife — something he needs but is also doomed to be stuck with. A young girl is shown moping, "How will I live without taking selfies and WhatsApp?" The casual belittling of women that you see in 2.0 dates back to Enthiran.
The casual belittling of women that you see in 2.0 dates back to 'Enthiran'.
Aishwarya Rai, who played Vaseegaran's girlfriend Sana, was made to play every unfortunate stereotype of women that ever existed in Indian films. She is saved and patronised repeatedly by man-bot and man and her character's only talent is presumably to pucker her lips and call for help from men. Enthiran took the male saviour complex to entirely new levels. Sana, played by Rai, is saved from goons at least thrice, from flunking in exams once, from mucking up a gynaecological surgery along with another woman doctor and then from the savior himself — a robot gone astray — in course of the film. I mean it was a mystery how Sana, played by Rai, could even breathe, unassisted by a man.
She is saved and patronised repeatedly by man-bot and man and her character's only talent is presumably to pucker her lips and call for help from men.
The curious thing is, Rajinikanth's cult is least likely to be dented if a woman is shown to be his equal in a film. True, his films are mounted to emphasize the demi-god myth that is so dear to his fans. But this almost unquestioned adulation actually gives him more power to tweak the narrative of the films he appears in for a more equal representation of genders. Interestingly, in most of his recent films, the relationships of the characters played by him with the women serve as important plot points, maybe it's time to give space to the women themselves?
In Kabali (2016) and Kaala (2018), both directed by PA Ranjith, Rajinikanth's characters come close to what can be called vulnerability. In Kabali, Dhansika plays Yogi, his daughter who is herself a trained assassin. There's a rare instance where Kabali, the invincible hero that Rajinikanth has now played film after film, is actually saved by a woman, his daughter. However, except for that fleeting instance, the rest of the film, again, falls back on track into being a starry eyed applause for 'superstar Rajni' with him saving the day. Kaala, in comparison, has women characters who show more conviction than most other films with Huma Qureshi's character almost at par with Rajinikanth's in a sizable section of the film.
Rajinikanth-saves-the-world has been a fun ride for his fans. It wouldn't hurt to save his future films from sexism, would it now?
Every week, the writer will examine how women are treated in a work of popular culture.