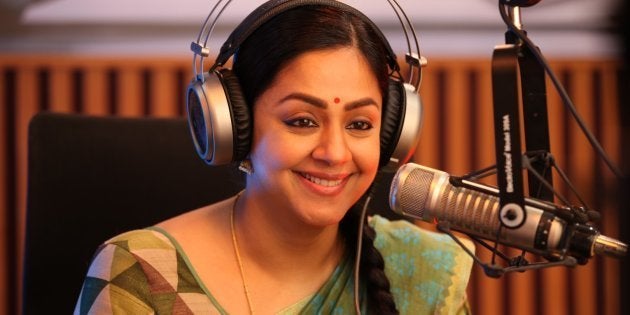 In 2015, Tamil actor Jyothika returned to face the arc lights after a break of eight years with 36 Vayadhinile, and since then, there has been no looking back for the star who ruled the box office in the late '90s and the early 2000s. Since her comeback, which she describes as her "second innings", she's made smart career choices in the form of films that have showcased independent and powerful women on screen. Ahead of Friday's release of Kaatrin Mozhi, the Tamil remake of Tumhari Sulu, Jyothika spoke to reporters about why she is more interested in women-centric scripts now and how she balances her personal and professional life.
"I'm not proud of some choices I have made in the past. I don't want to repeat those mistakes... I am a mother and a wife and I have a family to manage. Therefore, it's important I do films that are really satisfying, films that showcase powerful and independent female characters," said the actor, who thinks that the Tamil movie industry still doesn't give women enough meaty roles.
Jyothika, who has acted in a few movies produced by her husband Suriya's production company in her second stint, says more women have to write stories and characters for things to change.
"I'm not sure if my choice of roles would change much because the change has to happen in the way characters are written for women... Not many people come forward to produce or star in films written by women. Madhavan had faith in Sudha Kongara and if not for him, we wouldn't have had Irudhi Suttru (Saala Khadoos in Hindi). I hope the situation changes in the future. As an industry, we need to support more female writers and directors."
I have seen a considerable increase in the number of heroine-led films which have emerged successful at the box-office in the last 2-3 years
Among actors, Jyothika thinks that her counterparts like Nayanthara and Keerthy Suresh are doing a good job, as their recent choices have widened the market for women-centric films.
"I have seen a considerable increase in the number of heroine-led films which have emerged successful at the box-office in the last 2-3 years. I absolutely love Nayanthara's choice of scripts and characters. She was fabulous in Kolamavu Kokila. I can't imagine the effort Keerthy must have invested in playing the character of Savitri in Mahanati. It's rare to see such a performance from someone so young."
As the conversation veered towards Kaatrin Mozhi, Jyothika says that it's a film she can be proud of. "It's a very special film and it's close to my heart. Most of our women-centric films are heavy, but Kaatrin Mozhi really stands out as it's a story powered by a good blend of humour and emotions. By the end of the film, women will feel empowered as it talks about how women can easily balance work and life," she said, adding that the film also beautifully explores the bond between a husband and wife. "I liked how the husband in the story is very supportive to his wife. I'm positive that the film will also appeal to men, and show them why it's important to support their wives."
Asked about the kind of support she gets from her actor-husband Suriya, she said, "Suriya gives me the freedom to explore and has always stood by me. We always discuss the scripts that come my way but he never interferes in my decision. In fact, he encourages me to take up more projects. We have a good understanding of each other as we made our careers together."