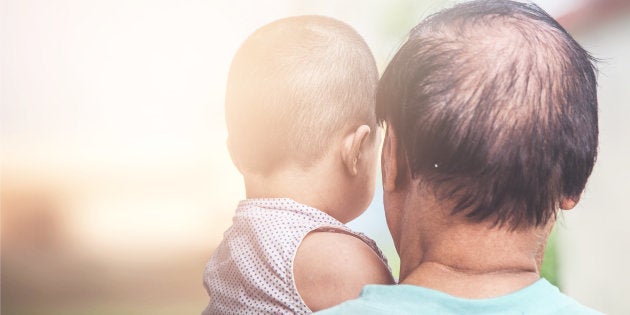 This November, it will be eight years since my maternal grandfather, Papaji, passed away. A tall and imposing man, he was never one to show affection physically but my younger son and niece, who were toddlers then, could get him to smile in a way that no one else could. Growing up, I was always closer to my nani than him but after she passed away in 1999, Papaji, as everyone called him, moved to Bangalore and stayed with my mother and we got to know him better.
Papaji was not your run-of-the-mill grandfather. He was aloof but had a magnificent presence about him. He was always groomed perfectly—his stubble was trimmed as soon as it appeared and not a hair was out of place (thanks to a generous amount of jasmine-scented hair oil). He was always found in the living room with a newspaper on his lap, sometimes dozing off, sometimes engrossed in watching TV, especially the news.
But in the last few years of his life, he was often baffled by how fast the world around him was changing, and I could sense his struggle to stay afloat. Whether it was technology or the internet or entertainment, everything was moving faster than what he was accustomed to, although he tried his best to keep up. I remember being irritated with him whenever he would offer us cautionary advice about various things—money, banks, the internet, mobile phones—there were many things about the modern world that he found difficult to comprehend, though he was a well-informed man.
In Vellore, where he lived with my grandmother in their rambling, haphazard house which always represented my childhood summers (and parts of which also featured in some of my books), a much younger Papaji often cycled to the main road for work or to meet his friends. Many times, I saw him come back and stash his cycle away, a cloud of cigarette smoke around him, and head inside to change into the comfortable lungi he wore at home. He was busy, important and all-knowing then.
Papaji in Vellore was different from Papaji in Bangalore. He had a certain air about him there, of security and ownership. In Bangalore, I think he felt more like an extended guest, although he kept up a certain persona for a long time here as well. Heading out to meet a friend in another part of the city meant he followed a certain ritual—this involved wearing neatly-ironed trousers, half-sleeved shirt, perfume or attar, and the trademark jasmine oil on his hair which started greying only when he was in his sixties.
He would walk to the main road, hail an auto, head off for these monthly meet-ups with his friend and return with his stash of cigarettes and, sometimes, chocolates for all of us at home, including my mother. As he grew older, the visits became more sporadic and eventually stopped altogether.
Papaji relied on the TV and the newspaper for all his information. The internet was too complicated a concept for him. I'm not entirely proud of how I would tell him that I'd already read some important news on Twitter when he would try to inform me about it. In retrospect, I could have done away with the know-it-all attitude, but youth can be brash.
An avid cricket fan, Papaji would often peer at the television set whenever a match was being telecast. He would watch any cricket match, regardless of whether India was playing or not. To my surprise, I would often find my older son sitting down with him and asking him questions which he would answer patiently. He was Papaji to my son as well, despite being his great-grandfather, and also the source of all his Test cricket knowledge. My son still recalls how Papaji would explain things to him, complete with examples of earlier matches, and says he owes all his cricket knowledge to him.
I'm not entirely proud of how I would tell him that I'd already read some important news on Twitter when he would try to inform me about i
All of us—me, my siblings and cousins—had different equations with him. It's not for me to get into his relationship with the others but with me, I think he felt pride, exasperation and worry at the same time. Having him in the house meant that there was a kind of structure to our daily lives, as we tried to fit in with the routine he religiously followed.
His passing away was a shock. He wasn't sick and no one was expecting him to go so quickly, almost efficiently. I remember how I used to tell him that I didn't have the time to listen to something he was saying, thinking that I could always ask him later. I was startled to realise that there would be no more 'later', no opportunity to sit down with him and just talk once again.
Today's world doesn't have or make time for old people. We are impatient and often annoyed that they can't get things as soon as we can. We are constantly looking ahead, rarely looking behind and but it's important to pause every now and then. We need to see past the thick glasses, the lumbering gait, the dry papery skin and listen to their stories. We need to cultivate time to sit down and learn how to breathe once more.