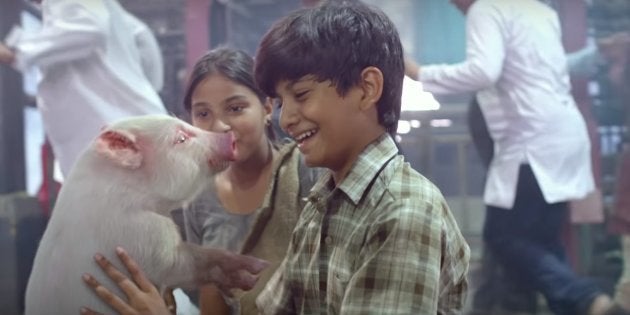 Ravi Babu's zaniness has been on display right from his directorial debut, Allari, which was an adult comedy way ahead of its time. Even today, a decade-and-a-half later, the nonsensical jokes from that movie work to a large extent. After all these years, Babu has made a film that'll either be remembered years later, or may even be forgotten in a week. His latest experiment could swing either way.
Adhugo gave me one of those unique movie-watching experiences. I can't say if I've embraced all the elements of this U/A rated After-Dark movie. But I'm sure that it's going to open the doors for such narratives in the future. The movie's biggest problem is that it tries to cater to both children and adults, and, considering the place it comes from, it'd have been better off had it been written only for adults.
The film opens with a daddy-pig warning his child-pig not to cross the street. And when the latter questions this, the former clears his throat to tell a story (Rajendra Prasad's voice for the animated daddy-pig is the silver-lining that comes into view in the climactic portions). This is probably a set-up from Aesop's Fables. Nevertheless, at this point, I was clueless about the amount of graphic violence this movie was going to drop on my head.
Babu, as usual, wears the suit of a thug. He has an easygoing vibe—he can kill a person at the drop of a hat in one scene, and deliver a poor joke in the next. Still, none of this seems out of place, and that's his greatest strength as an actor. More filmmakers should rope him in to play a variety of roles.
He stars as Shakti in Adhugo... oops! I should call him by his full name; otherwise his subordinates will threaten me. He's Six-Pack Shakti. And his rivals also have colourful names —Bezawada Durga, Gutka Gangaraju and Sharjah Shankar. Each has their own quirks, and they are amusing and foolish at the same time. To add some weight on the sanity side of the scale, there's Raji (Nabha Natesh, the only level-headed person in the film). Her boyfriend Abhi (Abhishek Varma) is the kind of guy who'd break into a song that goes like this, "Raji, Raji, Raji, you're something, something special," while she's being held captive by Shakti's men. Can you imagine the hero praising the beauty of the heroine in such a situation? That's Adhugo for you!
In the film, the rowdies are after a piglet named Bunty (animated, of course), and the young boy who's looking after him is named Chanti. Who would have thought of rhyming names for an animal and a human? Director Babu doesn't stop there. He gives his lead piglet features borrowed from the baby in Baby's Day Out and supplies him with the ingeniousness of Kevin McCallister (Macaulay Culkin from Home Alone). Bunty is a naughty piglet, and his presence of mind is what protects him against the cruelty he's subjected to.
He oinks when he sees Chanti on the streets of Hyderabad and remembers to kick Sharjah Shankar when he encounters him after a hard day of work. All sorts of crazy things happen in less than two hours, and though all of them didn't put a smile on my face (I laughed hard when I saw a sheikh-character run around with a mattress and pillows to go to bed with women anywhere and anytime), I'm glad that Babu's idea has been supported by Suresh Productions (the giant production house behind this year's stunner, C/o Kancharapalem).
Babu will have to let go of the need to satisfy different age groups at the same time if he wants to make a no-holds-barred bonanza like Sion Sono's Japanese film Why Don't You Play in Hell?Adhugo, in its present state, isn't necessarily endearing, but it's a comedy that film buffs shouldn't ignore, for it belongs to a genre that's unexplored in Telugu cinema.