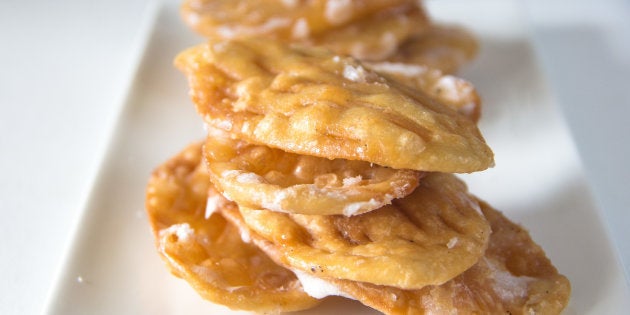 Diwali is all about being with the family and eating some great food. Here are four recipes that will have people spending a lot of time at your dining table.
Jibhe Goja – From Durga Pujo to Diwali!
Madhushree Basu Roy and Anindya Sundar Basu of Pikturenama have fond memories of Diwali being all about homemade sweets when they were growing up in Kolkata. "Now, during Diwali, we have a side table in the dining room that is stocked with a variety of sweets that you can pick up each time you cross it and Jibhe Goja always features on it," says Roy. "It is a sweet that goes very well with tea; if you have a Diwali lunch or dinner, you can wrap up with some Jibhe Goja topped off with ice-cream. It's easy to make and store for up to a week, making it a sweet that moves smoothly from Bijoya Dashami to Diwali. And in the true making of special family traditions, it has also led to some competitive eating between Anindya and his son!"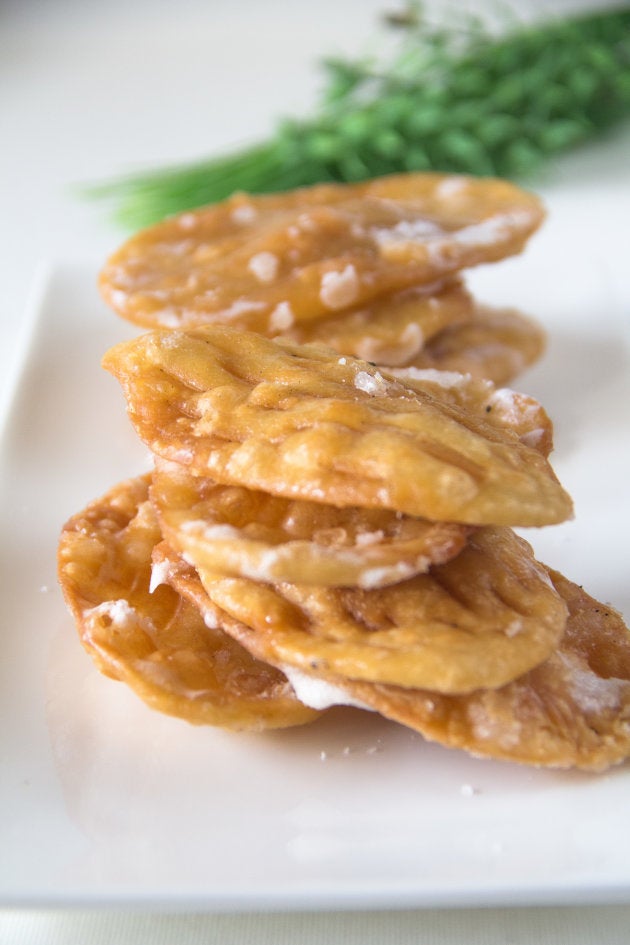 2 cups all-purpose flour
2 tbsp vegetable oil
2 tbsp sugar
1/2 tsp salt
150 ml water
1 1/2 cup sugar
150 ml water
Any vegetable oil for deep frying
Make a firm but pliable dough out of the ingredients listed under dough, using a little water at a time. Knead for at least 6-8 minutes to get the perfect dough. In a saucepan, take the water and sugar for the syrup and bring it to a boil. Continue simmering on medium heat till it thickens and has a syrup-like consistency. This takes about 10 minutes.
Make a small round ball and roll it out in an oval shape to the thickness of a puri.
Score this with a knife.
Place it into the hot oil (just like frying a poori).
When the gojas have turned golden brown, take them out, strain and immediately dip in the sugar syrup.
Make sure that the sugar syrup coats the entire goja. Using a tong, shake off the excess syrup and keep the goja on a plate.
Once the gojas have cooled down, store them in an airtight container and consume within a week.
Badusha—A Family Recipe that has passed down 4 generations!
As a child, for Archana Doshi of Archana's Kitchen, Diwali was all about a hot oil bath, a spoonful of lehyam (a homemade chyawanprash) and lots of Badusha. "This recipe has been handed down from my great-grandmother and today, all of us—my grandmother who is now in her 90s, my mother and I—still make this sweet every Diwali. I still love it because I have grown up eating it. I regard it as the Indian doughnut and I just love the idea of fried dough dipped in sugar," says Doshi, who is now based in Bengaluru.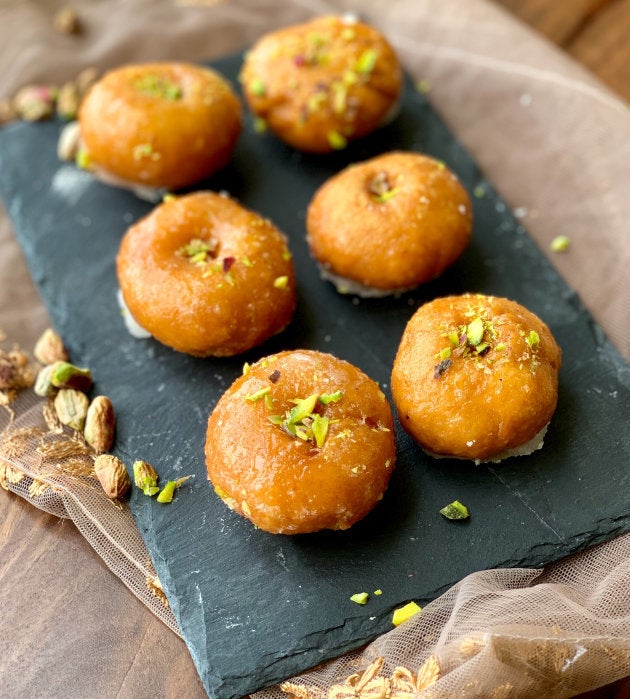 1 cup all-purpose Flour (Maida)
1/4 teaspoon baking soda
1/4 teaspoon salt
1/4 cup ghee
1/4 cup curd (dahi /yogurt), chilled
Cooking oil, for deep frying
1/4 cup pistachios, roughly chopped
1 cup sugar
1/4 cup water
1 teaspoon cardamom (elaichi) powder
In a large bowl, add the flour, salt and 1/4 teaspoon of baking soda. Stir to combine the dry ingredients.
Next, add ghee to the flour mixture. Using your fingers, combine the flour and ghee to make coarse crumbs. This takes about a minute. At this point, add in the yogurt. Knead just enough until all the ingredients come together. Cover the dough with a wet muslin cloth and allow it to rest for about 30 minutes
After 30 minutes, divide the dough into equal portions (large-sized lemon), making a small dent in the centre with your thumb. Cover the dough portions with a wet cloth and allow them to rest for another 15 minutes.
Preheat the oil for deep frying. Start adding a few balls at a time into the oil and fry them on medium heat.
When the dough balls come floating up to the surface, flip over and fry until the bottom half is darker golden brown.
Once both sides are browned well, drain and continue the same with the remaining portions and set aside.
In a saucepan, add 1/4 cup of water, 1 cup of sugar and a teaspoon of cardamom powder. With heat on medium, stir the mixture well until the sugar dissolves and the mixture comes to a boil.
Once the mixture comes to a boil, add in the cardamom powder, turn the heat to low and allow the mixture to simmer until you get a syrup consistency.
Coat each of the fried dough balls one at a time in the sugar syrup until they gets coated all around and arrange them on a platter. Do the same with the remaining fried dough.
Garnish the Badusha with pistachios and allow them to rest until the sugar hardens.
Chikki Brownie—When a Work Experiment Becomes a Diwali Staple
Years ago, when Monika Manchanda of Sinamon Tales was experimenting with new recipes to add something new to her range of customised bakes for Diwali, she thought up the Chikki Brownie. "It was a thought that came to me in an instant and a quick test of the recipe with my partner and I knew we had a winner on our hands," says Manchanda. Today, the Chikki Brownie is such an integral part of her spread at home for Diwali that her son insists no other form of brownie quite hits the spot like it does!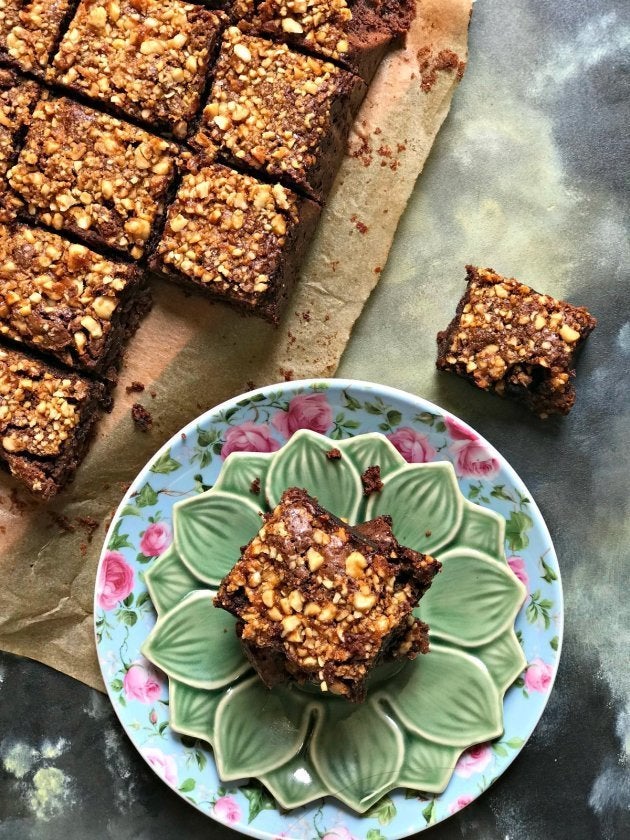 Chikki Brownies (Makes 16)
100 gm dark chocolate
1/3 cup butter
3/4 cup sugar (equal parts brown and granulated)
1/4 tsp sea salt
1 tsp vanilla
2 large eggs
1/3 cup all-purpose flour
1 heaped tbps cocoa powder
50 gm peanut chikki
Preheat the oven to 180C and grease and line a 6-inch square pan with parchment paper.
Melt the chocolate and butter in a double boiler or microwave.
Remove from heat, add the sugar and salt. Mix well till combined. Set aside for 3 minutes for it to cool slightly.
Sift the flour and cocoa powder together twice and set aside. Add the sea salt and mix well.
Add vanilla and one egg at a time to the chocolate mixture and whisk till fully incorporated.
Add and fold in the flour mixture in three parts.
Pour the batter in the prepared pan.
Crush the chikki and sprinkle on top of the batter.
Bake for 30 mins at 170C. Let it cool completely before slicing.
Zarda Pulao—A Muslim-Inspired Dish For Diwali Lunch
Neha Mathur of the Whiskaffair, now based in Pune, comes from the Mathur community, whose food has some influences from the Muslims of Old Delhi. "The Zarda Pulao is a very popular Mathur dish made for most festive occasions. It's very easy to make but a very different take on regular pulaos and can be served as is, or with a range of accompaniments. For us, for years now, the Zarda Pulao is a must on the table for Diwali lunch. It goes well with all that is served, but, we often love to eat it on its own," says Neha.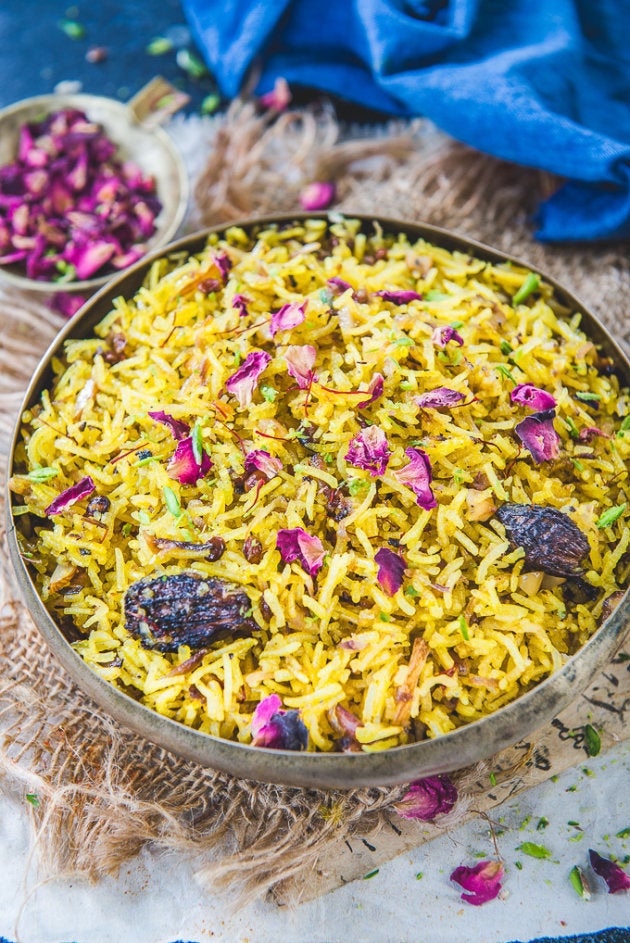 Rice - 1 cup
Sugar - 1 cup
Saffron - 2 pinch
Yellow food colour - 1 pinch
Cardamom - 4-5 crushed
Black cardamom - 2 crushed
Cloves - 8-10
Milk - 1 cup
Rose water - 1/2 tsp
Ghee - 2 tbsp
Chironji - 2 tbsp
Almonds - 10-12 chopped
Cashew nuts - 10-12 chopped
Raisins - 2 tbsp
Gently wash the rice and soak in water for 1 hour. Strain.
Mix milk, yellow food colour, saffron, rose water and sugar in a bowl and set aside
Heat 4-5 cups water in a pan.
When it comes to a boil, add the soaked rice. Cook till the rice is 80% done.
Strain in a sieve and mix a tsp of ghee in the rice. Keep aside.
Heat the remaining ghee in a pan. Add almonds, cashew nuts, chironji and raisins and fry till golden brown. Add cardamom, black cardamom and cloves. Fry for 20 seconds.
Add the milk mixture. Bring it to a boil.
Bring the heat to simmer and add the rice.
Cover and cook on low heat for 10-12 minutes.
Fluff the rice with a fork. Serve hot.