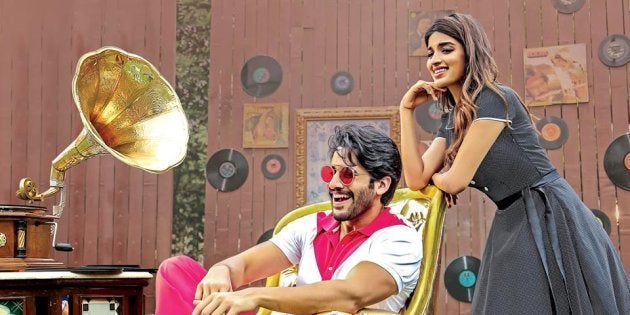 Savyasachi may sound like an exotic Telugu word. We don't use that particular word much in our everyday conversations. But, within the first few minutes, Rao Ramesh (he plays a doctor) explains what "vanishing twin syndrome" means and brings his hands closer together to announce that Vikram (Naga Chaitanya), with the help of his lost twin, Aditya (residing in Vikram's left hand), could become a savyasachi (meaning: ambidextrous). This introduction to his character sets the stage for an emotional drama, as little bits of comedy and poorly written scenes assist in exploring his psyche further.
Before presenting the hero on-screen, however, writer-director Chandoo Mondeti takes a chapter from the mythology to narrate the fate of Bhasmasura, a demon who's made to kill himself by Lord Vishnu's clever tactic. This two-minute story, which is only heard and not seen since it's a voice-over, gives away the mindset of the villain, Arun (Madhavan). The first ten minutes are enough to tell us what's going to happen in the movie. Though, the protagonist and the antagonist don't follow the paths of the mythic characters entirely, we know that the end won't be any less painful for Arun.
This damning setup spoils the fun of watching an action thriller where the hero is chasing after the mighty villain in endless circles. It also acts as a moral story for what people should and shouldn't do.
Mondeti's wafer-thin concept is stretched beyond limits and the only way he thought he could get out of this Padmavyuham would be by adding sub-stories. While he was at it, he didn't, perhaps, stop to think if they'd work, for all of them are tiring and repetitive. Just by the way Chitra (Nidhhi Agerwal) enters the film, I could tell that this under-cooked romance wouldn't serve any purpose to the larger picture. When Vikram gets outwitted by Arun in the middle of the cat-and-mouse game, Chitra takes a look at her beau's reddened knuckles and goes back to their college days where they played Subhadra and Arjuna in a costume drama. Maybe, in another film, this nugget of humor and song-and-dance routine (yes, there's a song, too, that accompanies the flashback episode) could have livened up the proceedings. But, here, it's a dampener as Mondeti's output struggles to flow as a coherent piece.
An hour before the film arrives on this platform, the hero, heroine, and comedian (Vennela Kishore) are in New York to shoot a commercial (Vikram is an ad filmmaker). All of these time-taking plot points don't have any connection to the grudge that Arun holds against Vikram. And that's why they seem out of place. Had the movie been written from the eyes of Arun's POV, there would have been a chance for Mondeti to include more exciting things.
Are Telugu filmmakers roping in Bhumika to play characters that are related to the hero? She starred as Nani's (Nani) sister-in-law in Middle Class Abbayi, and, in Savyasachi, she stars as Vikram's sister. Coincidentally, though, in both the movies, she's attacked by the villain and saved by the hero in the climax. There's absolutely no links between the two films, but these filmmakers - Venu Sree Raam, the director of Middle Class Abbayi, and Chandoo Mondeti – operate in the same area. When the evil-minded villain wants to take revenge on the good-hearted hero, they threaten the family members, and, if that doesn't work, they try to kill them.
It feels like these writers are reluctant to wander away from the basic templates. Would it be too hard for them to go on adventure trips in their films? Also, I must tell you, Savyasachi's action choreography is laughable. Nothing about it makes us drop our jaws, and, in many scenes, I noticed continuity mistakes. The actors' positions change as the camera moves from close-ups to medium-shots. Mondeti isn't a newbie. He should have taken care of this aspect, at least.
Nidhhi Agerwal's Telugu cinema debut has her in a role that doesn't even expect her to wrinkle her brows. And it's sad to see Madhavan in an empty-bag of immorality after watching him excel in pulsating dramas like Irudhi Suttru and Vikram Vedha.
Savyasachi helps nobody – the cast or the ticket-paying audience.