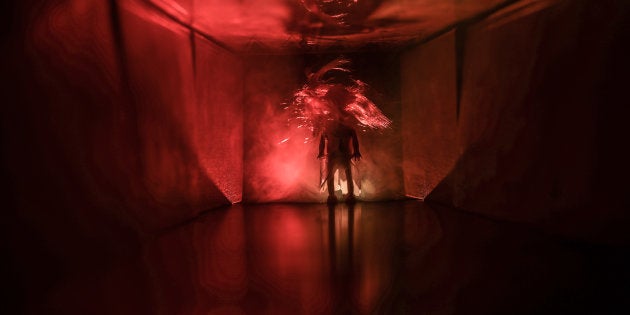 When the academic year for 6th Standard began, our class didn't have a classroom for some reason and we were given the Laura Gill dorm. It sounded majestic and important, but it wasn't. It was an extremely small room on the first floor of a poky little building in which 60 girls sat squashed together, away from the main school buildings. As the name suggested, it used to be a dormitory for boarders. Turning it into a classroom was a classic "jugaad" move by the Bangalore school, and we bore the brunt with much grumbling, but also reluctantly got to like it.
The dorm-turned-classroom at Baldwin Girls' High School was extremely cramped and one couldn't move easily without knocking down pencil cases, books, other paraphernalia or sometimes even each other. Most of my classmates hated it, especially because we were so far away from the source of action—the main school buildings. We were relegated to a corner of the school, near the primary sections (who were babies, of course. Weren't we nearly in high school now?). It felt like we were often forgotten, but our teachers wouldn't give us the joy of forgetting to turn up to teach us.
Often, by the time news filtered to us, it was already hours old and we were the last to know anything that happened in school. One of the windows looked out over the school grounds and it was a good excuse to linger there to see other kids go through the tortuous PT class with the ever young, effervescent and often strict Ms Nathan. Our teachers had to cross these grounds between our classroom and the main building where the staffroom and the other classes were. This meant that every period we would lose at least ten minutes, depending on how fast the teachers made their way to us.
Between classes, as we waited for teachers to appear, and the minutes seemed to stretch longer, we would entertain ourselves by telling stories and recapping the TV shows (like Fauji) that we had watched the previous day. I especially loved this classroom. Whenever it rained, it would become dark and gloomy until someone switched on the tube light that dispelled that near-claustrophobic cosiness.
One such day, I decided to tell the class the story of a movie I'd seen the previous day. Everyone in my family was a huge film buff, my nani in particular. She was fond of black-and-white movies and had made me sit down with her and watch Mahal. I tried to tell them how I'd felt watching the luminous Madhubala on screen and the haunting strains of 'Aayega, aayega', but instead ended up making it sound like a kitschy ghost story, but they loved it.
Becoming the designated class storyteller wasn't easy for me because I often stuttered when I got nervous. But telling the stories became easier and fun, especially when it rained and the classroom would darken ominously, and someone would invariably forget to switch on the tubelight. There were many times when we were startled by a teacher walking in on us, the class somewhat quiet, rain pattering outside, while I relayed one scary-ish story or the other.
I wasn't the only storyteller in class, though. A new girl from Sri Lanka, tall and confident, began telling us stories too. Her stories were scarier than mine had ever been. After all, movies like Bees Saal Baad and Gumnaam could only scare people so much in the retelling.
These stories were about vampires and child-eating monsters and there was no redemption for anyone in the end. No one survived in her stories and they often gave me nightmares, making me wake up in the middle of the night. They prompted me to warily check under my bed or behind the door, even when I was scared witless.
It was never really a competition between the two of us, but she was, hands down, a spookier storyteller than me. I don't know if she was making up these stories or retelling her version of movies she'd seen. They were much scarier than any movie I'd ever seen. Between classes, while we waited for teachers, I often watched her as she sauntered up to the front of the class and narrated her stories. It was good in a way, since I didn't have to do it and stutter before I got into the rhythm of story.
The Laura Gill dorm also had its own enclosure of sorts on the ground floor that added to its sense of exclusion from the rest of the school. We would often be found here in the mornings waiting for the bell to ring. Our music teacher, Mr Mitchell, who huffed his way up those narrow staircases because of a limp, came up with a plan so that he wouldn't have to climb the stairs. He divided our class into teams and asked us to perform the scene with the three witches from Macbeth in the enclosure.
We were all excited and took pains to learn our lines, most of which didn't make sense to us. We practised extensively, planned our costumes and rehearsed our dialogues. I was thrilled to be one of the witches along with my friend and decided to borrow my mom's burkha for my costume. We made some of the props ourselves, including tapering black paper nails and pointy hats. We had way too much fun to worry about the competition and who would win.
For several days after that, I couldn't walk past that enclosure without seeing a glimpse of three hunched witches, stirring something over an imaginary cauldron, throwing their heads back and cackling. As we grew up though, like many places in my school, Laura Gill dorm ceased to exist. It had given way to a spanking new building for the junior classes. I would walk past the ghost of our classroom with a heavy heart, thinking fondly of the place where I began to love atmospheric settings.