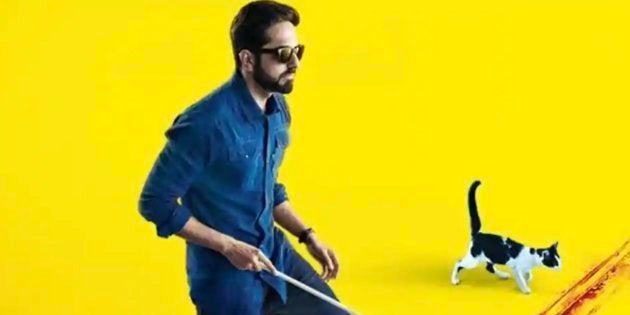 Ayushmann Khurrana is on a career high.
Two of his recent films, AndhaDhun and Badhaai Ho, released within a fortnight of each other, have clicked both at the box office and with critics.
While Badhaai Ho is a family comedy that effectively destigmatizes the idea of old people having sex, AndhaDhun was in darker territory, examining themes of greed, deceit and creative exploration. However, its ending had left many scratching their heads.
For those who've seen the movie, towards the end, Khurrana's character moves to Europe and we see him working as a pianist in a quaint cafe. Radhika Apte's character walks in and she's surprised to find him there. Khurrana then tells her a version of the story which seems to suggest that he didn't harvest Tabu's character's cornea as he felt sympathetic towards her. He remains blind. However, in the closing shot of the movie, Khurrana, who is walking with the help of a stick, casually kicks a beer can out of his way.
So was that instinctive or he did bump Tabu off and implant her eyes?
Speaking to this writer, Khurrana said he enjoyed the confusion surrounding the film's ending and revealed what he makes of it. "So, to my mind, I have killed Tabu off and used her cornea to get my sight back. I am in Europe doing what I was trying to do back in Pune, playing a blind pianist."
Hmmm. The ending also has a whimsical Apte casually walking into the cafe on hearing the piano. Was that a La La Land tribute? In Damien Chazelle's movie, Emma Stone and her partner's characters similarly walk into a bar on hearing a tune on the piano.
"Oh, absolutely. Sriram (Raghavan) loved the movie. It had released at the time they were writing it. It's definitely him tipping his hat to La La Land."
Director Raghavan, in a separate conversation with this writer, confirmed this. He said, "I was listening to the La La Land soundtrack constantly while writing AndhaDhun, so it organically made its way into the script."